Election 2011: Nats to romp home, or will Labour find enough for a grand coalition of the left? Your view on the night's results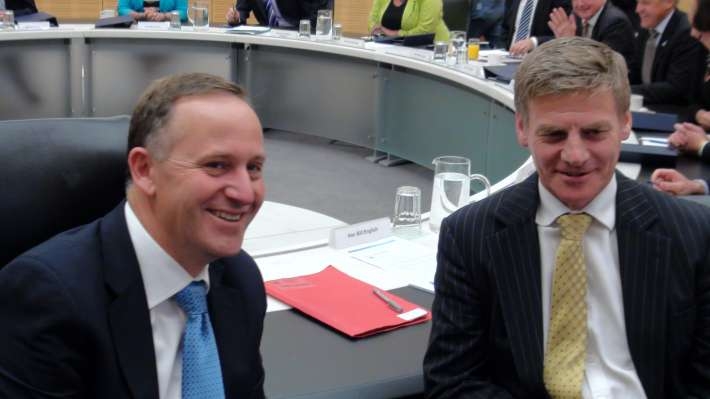 By Bernard Hickey and Alex Tarrant
11:47 pm - Alex - Key says he's going to head off for something a bit stronger than a cup of tea.
Key on TVOne says: "I want to work with the Maori Party."
National has the numbers to put the asset sales programme through, so don't need the Maori Party on that.
Key says hopeful he can put something together with the Greens as well.
Key says govt could return to surplus before 2014/15, but then notes last week's failed German bond issue: "That's virtually unheard of." Says it's going to be a tumultuous three years.
11:34 pm - Alex - Key says for another 3 years there will be a National-led government in New Zealand.
Key says he spoke to Brash and Dunne. Working of formal agreements with those parties over the next few days.
Key says has spoken to Turia. Keen the Maori Party and the National Party are part of a government over the next three years as well.
11:30 pm - Alex - Key on way into Sky City now. Key says: "I'm delighted."
"I'm not entirely surprised" on Peters getting back.
11:21 pm - Alex - Interesting comments from the Maori Party's Pita Sharples.
Asked whether the Maori Party's been punished this election, Sharples says yes: it's partly due to the coalition with National, and also the Harawira episode.
Sharples says Maori Party going to have to consider "very carefully" what it does in the future is terms of relationships inside Parliament.
No tingle on the phone from the PM yet. Caucus meeting tomorrow morning.
11:16 pm - Alex - Rodney Hide says Labour owes it to Phil Goff, or else Labour would have had a worse result than tonight's 27%.
10:56 pm - Alex - Goff tells media he's made a clear decision about what he wants to do (in regards to leadership), but will talk to caucus first.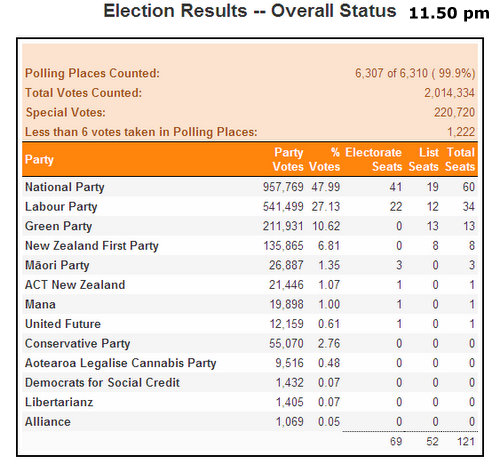 10:50 pm - Alex - Goff says it's been a long and hard battle. Sadness and regret on losing some very good caucus colleagues. Goff says Nash and Davis will be back in Parliament in the future.
"The people have made their decision and we treat their decision with humility and respect."
"It might not have been our time this time but our time will come again."
Goff says Labour a bit bloodied but not defeated.
Goff says he wished Key well for the next three years. Labour will support good decisions made by a National-led govt, but attacks decisions with no mandate such as asset sales.
No mention of party leadership at all from Goff.
10:40 pm - Alex - Brash says he will tender his resignation tomorrow to the ACT board.
Brash says he's had a call from Key, who wants to work with the ACT Party (ie. work with Banks).
10.33 pm - Bernard - The more you look at it the uglier this looks for Labour. Not only has their party vote slumped, but they've lost many of the fresh MPs who came in in 2008, including Kelvin Davis and Stuart Nash. Carol Beaumont also missed out. She had done a good job campaigning against loan sharks.
10:29 pm - Alex - Cunliffe in New Lynn: Says some of Labour's vote has bled to the Greens and some of it's gone to NZ First.       
"It's just not the time to be speculating," he says when saked about the leadership
The way it's shaping up for Labour, young guns Davis, Sepuloni and Nash will miss out. Nash was one of the big drivers behind Labour's tax package, and Davis is touted as the future of the Maori wing of the party.
10.21 - Bernard - Sad to see Stuart Nash missing out in Napier for Labour and not high enough on the list to get back in. He was a good MP with plenty of energy. Maybe Labour should have been a bit more ruthless on its list.
10:19 pm - Alex - FYI ACT needs 1.2% for Brash to get back in. They have 1.08% with 95.8% of the vote counted.
10:16 pm - Alex - Garner says the Maori Party could sit down with Key next week and stop asset sales – as they could hold the balance of power.
However, looks like Nats could go with ACT and UF, and not need Maori Party. But what if they want to get something through one of those two don't agree with? They're probably going to need the Maori Party at some stage. 
10:09 pm - Alex - Banks says it's been a hard six months. Thanks ACT on campus – who he's very indebted to.
Rodney Hide on TV3 says that, as it looks like Brash isn't getting back in, effectively you can't have one MP in Parliament and he's not the leader #leadershipchange?
Hide says Banks effectively going to be just another National MP in Parliament.
10:08 pm - Alex - Norman talking to Green Party supporters
"For the first time in our history we have achieved over 10% of the Party vote."
Norman says Greens went into this campaign with target of 10% of the party vote.
10 pm - Bernard - Greens co-leaders Russel Norman and Metiria Turei have arrived at Greens' HQ on K-Rd. They're likely to get 13 MPs and nearly 11% of the vote. They're about to partay.
9:59 pm - Alex - Dunne accepting Ohariu on TVOne
Key looking like he'll need Dunne and Maori Party
Does Key need ACT? "That's his call," Dunne says.
"He's shown himself to date to be a pretty inclusive leader."
Dunne says he's always been very confident of winning his seat back. Dunne says return of Peters a huge surprise – born out of the cup of tea.
9:54 pm - Alex - Garner on TV3 calls it for Banks in Epsom, says Parker's votes are the difference
9:54 pm - Alex - Turia says Maori Party aren't prepared to pledge anything at this point (looks like they have 3 MPs). Going to talk to their people in Auckland tomorrow, and perhaps they may decide to go back into Opposition.
She says Peters and Harawira gained votes at the Maori Party's expense.
"We're not the left or the right."
9.40 pm - Bernard - Winston Peters is thrilled. He's arrived at NZ First HQ and is talking on live national television.
He thinks MMP is great. He's obviously back...but not that far back. National looks like it has enough seats to govern with United Future's 1 seat and ACT's 1 seat. Maori has 3 seats National could use as well.
9.30 pm - Bernard - One News is forecasting National getting 59 seats in the 120 seat Parliament, but with 1 ACT MP and 1 United Future MP then National would scrape in. NZ First would be back in with 9 MPs... Full fresh results here at Elections.org.nz
9.15 pm - National looks like it will win, either on its own or in coalition with ACT's 1 seat and Maori's 3 seats. The slight surprise is NZ First are back in.
9.10 pm - Bernard - With more than a third of the votes counted, National may win alone, but it's tight with NZ First back in. The combined NZ First, Labour, Greens vote equals 54 seats to National/ACT/Maori's 66 seats.
I wonder if NZ First's anti-foreign ownership and anti-asset sales stance was more popular than many thought.
9.00 pm - Bernard - Hone Harawira looks like he's going to win his electorate. He's talking tough about not dealing with National.
Results so far here:
8.45 pm - Bernard - With 25% of the vote counted, Kiwiblog's David Farrar is saying NZ First and Winston Peters looks like it's going to get back into parliament with 6.8% of the vote. He's thrilled. He says it would be great for bloggers. But we're not sure yet whether it means National will be able to govern alone. So far it looks like ACT's John Banks will get in.
Here's the running total with 25% of the vote counted. NZ First looks like it's back with 6.8% of vote; National has 50%; Labour 25%; Greens 10% .
8.25pm - Bernard - The running total so far on One News shows NZ First has 6.8% of vote with 9.7% of vote counted. National is on 50%, Labour on 26% and Greens on 10%.
National's victory is far from assured, although it would have 62 seats on the count so far.
7.20 pm - Alex - The polling booths have just closed and the votes are being counted. Will National get the majority the polls have been forecasting, or will Labour manage to cobble together a grand coalition of the left?
And what will happen with possible king-maker Winston Peters?
We welcome your thoughts on the night's results as they come in. TVOne and TV3 have rolling coverage from now. What do you think about what their analysts are saying?
And of course who is going to win?
(Updated with count so far with 99% of polling booths counted)