Big earthquake hits Christchurch; measured at 5.8; Fresh building damage; evacuations announced; power phones affected; Your experience?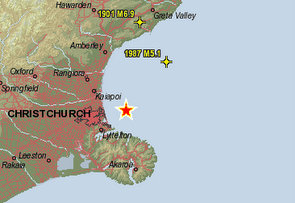 An earthquake measuring 5.8 on the Richter scale hit the Christchurch region just before 2 pm this afternoon and was followed just over an hour later by an bigger aftershock measured at 6.0, Geonet reports.
Cantabrians report via Twitter the quake was violent and caused power outages, cut phone lines and damaged buildings.
Residents reported liquefaction in some suburbs.
Police reported one injury, but said there had been no serious injuries or widespread damage.
Police said they were urging drivers to slow down.
"All available Police units have been mobilised across the city to provide reassurance and check on safety and damage," Police said in a statement.
They detailed the following around 4pm:
 Scarborough rockface has suffered some collapse but this has been contained by the containers at the foot of the cliff.
 Lyttelton tunnel is open
 Airport has been evacuated
 All major shopping malls have been evacuated and closed
 1 person is reported to have been injured at Eastgate Mall and has been taken to hospital.
Around 5 pm they detailed the following:
People are urged to stay away from hill suburbs because of risk of rockfalls.

- Some residents at Windsor Hospital rest home in New Brighton were reported to be trapped on the second floor, but are being evacuated by the Fire Service.

- Significant flooding and liquefaction eastern suburbs including Avonside and Bexley, Retreat Road, Bower Ave.

- Stopbank in Kaiapoi is damaged.

- India Blue restaurant in Sumner is damaged and has been cordoned off.

- Building on the corner of Charles St and William St, Kaiapoi is at risk of collapse.

- A vacant house at 81 Aynsley Terrace has collapsed.

- A red-stickered house in Oram Ave, New Brighton has collapsed.

- Drivers are urged to slow down and be patient as congestion is building up in some areas. Stay off roads if you do not need to travel.

- Phone networks are under pressure - text rather than phone.

Police continue to urge residents to check on their neighbours.
Federated Farmers called for farmers to report damage to utilities.
"Initial reports to Federated Farmers from our members is that is was an especially violent event," says Bruce Wills, Federated Farmers President.
"While it has not been centred on the City it has struck rural Canterbury."
Geonet said the first earthquake struck 8 kilmetres beneath Canterbury at a point 20 kilmotres north east of Lyttelton and 20 kilometres east of Christchurch.
Residents reported the second shake appeared to do more damage to windows and may have been shallower.
Geonet reported the second one was at 6.0 on the Richter scale.
The New Zealand dollar was steady around 77 USc despite the quakes.
'Four more years'
Local bank economists have been told it may be four years before Christchurch stops shaking, and some fear as many as one in 10 residents will leave the region if major aftershocks like today's continue in coming months.
"At this juncture, there's not much other than to look to the sky above," said the ANZ's chief economist, Cameron Bagrie of the major after-shocks on the last normal business day before the Christmas weekend.
"He's been dishing out the bad stuff in spades. Sure, we got the Rugby World Cup, but we need some other good news on the ledger."
Not only do the quakes inevitably delay the Christchurch rebuild, but they were likely to encourage a much larger exodus from the city than was already likely, he said.
The aftershocks recorded at 1.58 p.m. and 3.18 p.m. were 5.8 and 6.0 strengths respectively, the first out to sea at a depth of eight kilometres, while the second was a relatively shallow 5.8 kms deep, centred on the spit at South Brighton.
The ANZ had predicted after the September 2010 quake the city could lose as much as 5 percent of its population, and been accused of being too pessimistic, said Bagrie.
"It could be, from today, that was being conservative," he told BusinessDesk. "Now, looking at Christchurch, that 5 percent seems too light and you could be up to 10 percent.
"That has massive consequences for infrastructure, networking, the whole capability of the city."
'2012 rebuild now 'heroic' assumption'
The latest shakes came as nervous people had just started dropping their guard, said head of strategy at the Bank of New Zealand, Stephen Toplis. "This is going to scare them."
While no deaths or injuries were immediately reported, Christchurch mayor Bob Parker said they inevitably put the rebuild of Christchurch back, and were "very distressing" on the eve of Christmas after a difficult year. Major aftershocks on Boxing Day 2010, Feb. 22, June 13, and during the Rugby World Cup in September, have put back reconstruction several times.
"My immediate reaction is to assume that the rebuild in 2012 is a pretty heroic assumption," said Bagrie. Most economic forecasts, including the Treasury's, have assumed the insurance-funded rebuild would kick in later in 2012, but every delay so far has pushed out the rebuild by three months or more.
However, every major aftershock creates months of additional delay because of its impact on global reinsurers who stand behind New Zealand insurance companies, and have suffered huge losses because of the quakes, which wiped out the country's $6 billion Earthquake Commission insurance fund.
The rebuild will create a construction boom, but in the meantime the damage has cut a swathe through employment in the retail and hospitality sectors, with a report this week highlighting one-third of women's jobs in those sectors have disappeared since September last year.
Toplis said the government geological service, GNS, had warned it could be four years before the shaking settled down.
"This is all part of the same thing and it's going to keep happening," he said.
Initial financial market reaction has been muted, with market watchers expecting the Reserve Bank of New Zealand to keep interest rates lower for longer because of delayed reconstruction, but not to cut the official cash rate, already at a historic low of 2.5 percent.
"The insurers have said they will not be paying up in full until they're confident that things are stable - this just tells them it's not," Toplis said. Still, it's "a postponement not a cancellation" and it was "grossly premature to start talking about interest rate cuts."
(With Pattrick Smellie of BusinessDesk)
(Updated with more detail from Police, Geonet, Federated farmers, economist reaction)