Kiwibank finance company boss aims to create 'well rounded asset funding division' and exit within 5 years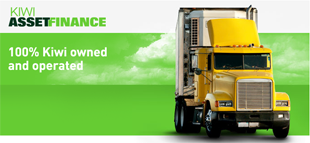 By Gareth Vaughan
Kiwi Asset Finance, state owned Kiwibank's finance company, has already lent about NZ$20 million and could grow to five times that size over the next few years says the man shoulder-tapped to run it.
Stephen Cole, Kiwi Asset Finance's CEO, told interest.co.nz he and long time business associate Leo Davis were approached by Kiwibank seeking their involvement in what he describes as "an exciting opportunity." The two industry veterans now have a 20% stake and an agreement to sell this back to Kiwibank in no more than, and probably less than, five years.
"We've written a plan for the next five years but it doesn't have huge, aspirational growth," Cole said. "I don't think you can do that in this economy. You need to be fairly wary. But there is a gap in the market."
Kiwi Asset Finance, was launched in late 2010 by Kiwibank to provide term loans to businesses buying capital assets such as machine tools, earth moving equipment, commercial trucks and trailers and motor vehicles.
Davis managed Nationwide Finance for 21 years up to 2000 where Cole was executive director from 1994 to 2001. Prior to his stint at Nationwide, Cole worked for UDC Finance. More recently the two have been at the helm of Business Finance, which like Kiwi Asset Finance specialises in loans to companies buying assets such as vehicles and machinery.
Kiwi Asset Finance's website says it will lend businesses up to 100% of the purchase price of a new asset with loans starting from NZ$20,000 on offer for terms of six to 60 months.
Cole said Kiwi Asset Finance, which is funded by Kiwibank and has no plans to seek retail debenture funding, was targeting small and medium sized businesses that have a requirement for some sort of capital plant and equipment. He said the firm's lending book was "heading for" NZ$20 million now and could grow as big as NZ$100 million.
"The main business out there from my observations is refinancing. There's not a lot of new purchases taking place," said Cole. "We're all optimistic of course that (significant new purchasing) is going to happen but I don't think we can hang our hats on it at the moment."
UDC the big competitor
The key operators in the market targeted by Kiwi Asset Finance are UDC, GE Capital and Marac, with the latter now part of the Heartland Building Society. The ANZ owned UDC, New Zealand's biggest finance company, is the big kahuna of the asset financing market. It had gross loans and advances as of September 30 last year of NZ$2.251 billion and NZ$1.488 billion worth of secured debenture stock on issue. UDC has an NZ$800 million credit facility with its parent ANZ, which as of late last year it had drawn down by NZ$350 million.
UDC's profit after income tax for the year to September 30 rose NZ$10.732 million, or 59%, to NZ$28.901 million as its provision for credit impairment collapsed to just NZ$4.891 million from NZ$17.343 million. See more on UDC here.
Of himself and Davis, Cole said the two had stuck to their knitting over the years in asset financing rather than venturing into property development where many finance companies came unstuck.
"We haven't gone beyond our areas of expertise. And the track record, in being asset financiers, I'd like to think is pretty good," Cole added. "And Kiwibank, I guess, recognised going forward that they needed to be a more rounded bank and part of that would be to fund assets. At the moment they're mainly mortgage lenders."
The initial focus has been on setting up systems and getting the business operational.
"It (Kiwi Asset Finance) has been set up as a separate entity but it's really just an asset lending division of Kiwibank," said Cole. "Ultimately if we get it right, Kiwibank will have a well rounded asset funding division."
There's no plan to seek to borrow money through retail debentures with Cole considering any significant money raising via this method "finished," at least for the short-term, after the spate of finance company collapses over recent years. See full details of the collapses in our Deep Freeze list here.
Kiwi Asset Finance currently has about six staff with all of them focused on lending. They're able to link with Kiwibank's about 80 nationwide business bankers.
This article was first published in our email for paid subscribers this morning. See here for more details and to subscribe.