NZ economy back in 2005 due to recession after the chase for short-term borrowed growth came to an end, NZIER says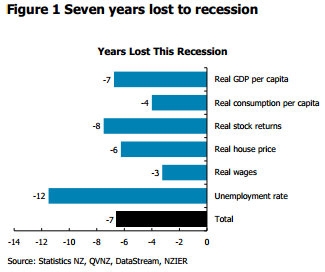 The New Zealand economy is now back at its 2005 level after losing seven years having lived on borrowed time, the New Zealand Institute of Economic Research (NZIER) says.
The claim comes after NZIER principal economist Shamubeel Eaqub and CEO Jean-Pierre de Raad replicated the Economist's 'Proust index'* for New Zealand after it appeared in the magazine in late February.
"The recession has cost us dear. In economic terms, New  Zealand is now back in 2005. This loss is similar to that of Italy and France, and better than Britain or the United  States. Greece has lost 12 years," Eaqub and de Raad said in an Insight paper.
"Australia performed better; its clock has only wound back to late 2008," they said.
"The indicators show New Zealand had been living on borrowed time. Over the past decade we (and other countries) borrowed growth and income from the future. We are now living through that future with subdued economic growth while we restore our balance sheets."
There were important policy lessons to be leaned from the findings.
"Short-term borrowed growth should not be wasted on poor economic policies that do not address our productivity challenges or the other long-term issues stemming from an ageing population. For the central bank, it shows the perils of asset bubbles and excessive credit creation," Eaqub and de Raad said.
"Lost economic time will have long term implications, for example, for retirees whose savings are smaller or for the unemployed who, if they lose touch with the labour market, will find it hard to get jobs in the future," they said.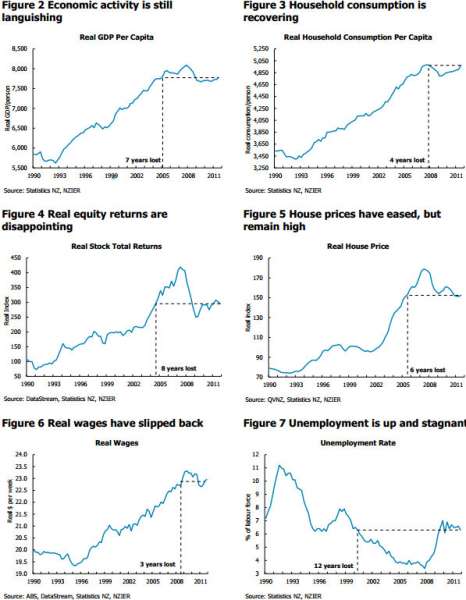 _______________________
* Proust's À la recherche du temps perdu (In search of lost time) inspired the Proust index in The Economist newspaper of 25 February 2012. The Economist looked across a number of economic measures to see how far back countries have slipped since the global economic crisis.