Kiwibank, NZ Post seek help for modernisation and upgrading of ATMs, self service technology and cash management services in branches
This article was first published in our email for paid subscribers this morning. See here for more details and to subscribe.
By Gareth Vaughan
Kiwibank and its parent New Zealand Post are seeking help with their plan to spend tens of millions of dollars modernising and upgrading ATMs, self service technology and cash management services as they look to reduce queues and spruce up branches deemed "tired" by customers.
As part of a "retail transformation programme", the the NZ Post Group has issued a registration of interest document (ROI) seeking responses by noon on Tuesday June 26. NZ Post and Kiwibank say should a request for proposal follow, it'd be issued in July or August with the successful respondent(s) picked in September or October.
In its Statement of Corporate Intent for 2011-14 NZ Post says it'll spend NZ$30 million in each of 2011/12 and 2012/13 on "transformation Investments" to, in particular, cover changes to store networks. A store network transformation will improve the network's sustainability and affordability, NZ Post says, by establishing a new sales and service framework, culture change programme, reviewing the number, location, design and layout of stores, and implementing a new franchise model. This is planned as Kiwibank targets successful entry into new markets, including corporate and commercial, transactional banking, rural, Maori and bancassurance.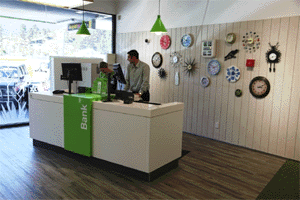 Initially the retail transformation programme has been trialled through a pilot project in Kapiti (see more about it on a Kiwibank Facebook page here), which the ROI says has been successful. NZ Post and Kiwibank say the Pilot branches have a strong self service component to support the shift of high volume, low value transactions away from the counter. They say this will enable staff to spend "quality time" working on high value transactions, including attracting new customers and selling products. * The picture accompanying this story shows an open counter trial for banking services in a Kapiti branch.
"Kiwibank and New Zealand Post customers have provided feedback that our queues are too long and that our branches are perceived as being tired," the ROI says.
"For Kiwibank, we have a focus on diversifying our business, including growing our business banking capability to acquire larger and more complex small and medium enterprise businesses. This growth will again increase the volume and complexity of transactions in our retail environments and wider physical channels."
Improved return on investment sought
The NZ Post Group says the aim is for the investment in its physical retail channel and associated services to deliver an "industry leading customer experience" and increased return on investment. For the 2010/11 year NZ Post's return on equity (RoE) was -5.3%, with return on capital employed -2.6%. The statement of intent forecasts RoE to improve to 4.1% in 2011/12, 6.4% in 2012/13, and 8.3% in 2013/14. Return on capital employed is forecast to rise to 5.2% in 2011/12, 8.8% in 2012/13 and 12.3% in 2013/14.
"A project team (for the retail transformation programme) has been established to design, test, plan, and implement the strategy. The team is made up of a multi-disciplinary cross-organisational team from both New Zealand Post and Kiwibank," NZ Post says.
This project team, plus NZ Post and Kiwibank business owners responsible for the management and delivery of ATM, self service technologies and cash management services for the NZ Post Group, are now looking  to identify vendors who can help provide services to help with the retail transformation programme.
NZ Post and Kiwibank say they are soliciting responses from vendors in regard to the provision of ATM, self service technology and cash management services.
"New Zealand Post Group customers are changing, so our business needs to change too... Consequently, in early 2011, New Zealand Post Group began the Retail Transformation Programme."
The scope of the ROI includes:
• Self Service Kiosks: Postal - Pricing and payment of packaging, stamps and postal services. BillPay - Invoice payments for parties for whom New Zealand Post is an affiliated agent (e.g. utility bills). Information – Internet browsing with custom homepage. Forms and Brochures - Printing and completion of forms and brochures instore

• ATMs: Management of Kiwibank's existing fleet and future needs

• Converged Kiosk Solution: A future self service device offering multiple service functions

• Cash Management: Operational and handling services supporting ATMs, kiosks and our store network, and potentially direct to customer activities

• Managed Service: The provision of day to day functions to manage and operate some or all of the above services.
A separate Request For Information has been issued for a teller cash security service.
Kiwibank eyeing record annual profit
The retail transformation programme comes with Kiwibank set for record annual profit in the year to June, having posted unaudited profit after tax of NZ$61 million in the nine months to March 31. That's just NZ$2.6 million shy of the highest annual profit it has previously recorded, with this made in the June 2009 year.
However, the Government is preparing to tip new capital into Kiwibank over the next three years, with that likely to come from the proceeds of its partial sales of state owned enterprises such as Mighty River Power. The Government's recent Budget included a new unquantified specific fiscal risk relating to the Government's investment in the State-owned bank.
"Kiwibank has indicated that it may require new equity within the next three years mainly to meet the Basel III regulatory capital requirements," Treasury said in Budget 2012. "New Zealand Post is reaching constraints in its balance sheet to support Kiwibank."
The Government also put in place a NZ$300 million "uncalled capital facility" for NZ Post in 2010 to help maintain the group's credit rating (it has an AA- rating with a negative outlook from Standard & Poor's) and Kiwibank's growth that would be called in an emergency.
In NZ Post's statement of corporate intent Kiwibank's given an enterprise value, which includes equity and debt, of between NZ$790 million to NZ$850 million. The NZ Post Group is given an enterprise value of NZ$1.507 billion with equity of NZ$1.024 billion attributed to the Crown.
The NZ Post group says between 500,000 and 700,000 people visit one of its outlets weekly. Between them, NZ Post and Kiwibank have about 600 post only centres, about 212 "referral branches" where postal, banking and financial services are offered,  about 12 "assisted application branches" offering postal, banking and financial services, plus in branch applications of complex services, and about 59 "approval branches" with dedicated postal, banking and financial services and "in branch" approvals of complex services.
Annually NZ Post processes about 21 million financial transactions such as bill payments, vehicle registrations, banking services and travel insurance. Having launched in 2002, Kiwibank now has more than 800,000 customers and operates a network of 285 ATMs.