Although only 5% of customer transactions are now done through its branches, ASB says branch network will always be 'integral' to retail service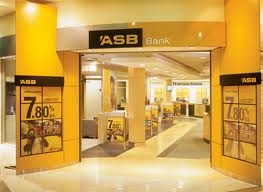 By Gareth Vaughan
Even though only about 5% of its customer transactions are now done through branches, ASB says its 140 plus branch network will always be an integral part of its retail services.
In a recent question and answer feature in Idealog Magazine ASB CEO Barbara Chapman said the number of transactions that go through branches is now "very small, around 5%." For a bank long regarded as the leader among the big four banks in the adoption of new technology - from mid-July ASB is due to become the first New Zealand bank to enable customers to make payments to their Facebook friends - Chapman's comment appears to beg the question as to just how important branches are now.
An ASB spokesman told interest.co.nz the 5% figure is accurate. However, in a comment attributed to Ian Park, ASB's executive general manager for retail & business banking, ASB said this compares with 7% of transactions being branch processed five years ago. But it's not strictly an apples with apples comparison as the bank's seeing large growth in overall transaction numbers with much of the increase stemming from online and mobile banking services.
"The branch transaction volumes are declining slightly as customers embrace some of these other channels, but the branch network remains a key distribution channel," said Park.
"Changing customer behaviour and technology developments are driving changes in the way we interact with customers, be it online, Facebook Virtual Branch, mobile phone, contact centre, mobile sales force or branch," added Park.
"Branches will always be an integral component of our retail services offering and they remain the channel of choice for many customers, particularly in relation to high-value and complex transactions such as home loans. We continue to invest in our branch network of more than 140 branches across the country. Indeed, over the next few months alone we will be opening new branches in Rangiora, North Canterbury and Lunn Avenue and Park Road in Auckland to be followed by Lambton Square Wellington in early 2013."
The new branches come as part of a five-year branch expansion programme, largely due to ASB - formerly the Auckland Savings Bank - looking to bolster its presence outside Auckland.
Meanwhile, In the second annual Ernst & Young Global Consumer Banking Survey, out yesterday, the auditing and financial services firm included figures on bank customer preferences in terms of using branches and/or the internet broken down by age groups. This showed a higher percentage of older people prefer to use the internet than branches for access to account information and to do simple transactions. However, younger people were generally found to be more likely to use the internet over branches for advice on products and services. In terms of where they choose to do complex transactions, the 25-34 age group was found to be most likely to use the internet. (See chart below).

Park's comments are similar to one made earlier this year by Westpac Group CEO Gail Kelly. She said banks' branch networks would "always have a very important role." However, Kelly predicted fewer branches in the future, that'll be smaller and staffed differently.
"Branches will be smaller. People in branches will be different...higher skilled people, bank managers, advisers. Less tellers, less of the day to day customer service people and high level advice will be in these smaller branches," Kelly said in February.
"I expect there will be fewer branches five years from now than there are today in the banking system as a whole and I suspect they'll be smaller and they'll be providing advice to customers. This is the nature of the work that we're doing. We are reshaping our business fundamentally to suit the times."
This article was first published in our email for paid subscribers this morning. See here for more details and to subscribe.