Westpac boss says group striving to combat seismic shifts in banking with 'decade of low growth' ahead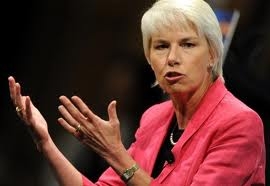 By Gareth Vaughan
Westpac Group CEO Gail Kelly says the bank is making seismic changes to the way it operates in preparation for a decade of low economic growth rather than merely cost cutting.
Earlier this month Westpac confirmed it was cutting about 400 jobs in Australia. Across the group Westpac has about 38,000 staff. Speaking to analysts yesterday after Westpac reported a 6% fall in first quarter cash earnings to A$1.5 billion, Kelly said Westpac was fundamentally changing the way it operates out of necessity for a post Global Financial Crisis (GFC) world with the European sovereign debt crisis also expected to have a long-term legacy.
"We're moving into a completely different world than we were in prior to the GFC in banking," said Kelly. "There are some big, seismic structural shifts coming through the sector and we are adapting to those. Clearly there are seismic shifts coming in regards to what's required in capital, what's required in liquidity, what's required in terms of funding and the profile of your funding."

"There are some big shifts coming with regards to regulation that we actually have to deal with," Kelly added.

"We're in a deleveraging world. One of the impacts of what's occurring in Europe is even the best case scenario in Europe means we're in for a decade of low growth. There's a compounding factor of deleveraging happening at every level in Europe and it leads to low growth. Here in Australia too we've got cautious consumers and I think we should all expect that we're going to be in a lower growth environment for some period to come."
The major Australasian banks are striving to source more of their funding from customer deposits, as opposed to international wholesale funding markets where costs are rising, encouraged by the Reserve Bank's core funding ratio in New Zealand, and adapting to new global banking rules, so-called Basel III, which mean they'll have to hold more capital.
With ongoing uncertainty in international financial markets the banks are also holding more liquid assets than they used to through the likes of cash, Treasury bills, call deposits with central banks, bank bills and residential mortgage backed securities with the idea they can be quickly converted to cash if and when needed by the bank. The big four New Zealand banks, combined, hold just under NZ$39 billion worth of liquid assets , according to their latest general disclosure statements.
'Less branches in the future'
On top of needing to hold more capital, greater liquidity and a "more sustainable" funding mix, plus dealing with "material regulatory changes" and deleveraging, Kelly said there's also changing customer preferences to grapple with as online and mobile banking develops.
Although banks' branch networks would "always have a very important role" Kelly predicted there will be less branches in the future, they'll be smaller and staffed differently.
"Branches will be smaller. People in branches will be different...higher skilled people, bank managers, advisers. Less tellers, less of the day to day customer service people and high level advice will be in these smaller branches," Kelly said.

"I expect there will be fewer branches five years from now than there are today in the banking system as a whole and I suspect they'll be smaller and they'll be providing advice to customers. This is the nature of the work that we're doing. We are reshaping our business fundamentally to suit the times."
'Not a cost cutting drive'
Meanwhile, Kelly said Westpac was making "solid progress on all fronts" in terms of improving productivity.
"I really do want to emphasis that this is not a cost cutting drive. What we're dealing with is structural change to the sector and our response to that," she said.
Kelly pointed to the group's newly established Australian Financial Services (AFS) division which includes retail and business banking operations in Australia such as Westpac Retail & Business Banking, St.George Banking Group, BT Financial Group, plus Westpac's banking products and risk management units.
"We've removed areas of duplication and administration and support functions resulting in a reduction of senior and middle management roles," Kelly said. "Longer-term revenue opportunities from heightened coordination and better leverage of individual brands in various markets are underway."
A new group services division, including technology, banking operations, legal and property services has also been established at Westpac Australia. This was in part designed to build stronger relationships with suppliers and standardising and simplifying the way the group operates, she said.
"We're driving our productivity agenda hard. It's not an easy journey but we're making the tough decisions and we're making steady progress."
"We're into a new world for banks and it is critical that we adapt," said Kelly.
This article was first published in our email for paid subscribers this morning. See here for more details and to subscribe.