Mysterious bidder for Aussie retailer David Jones incorporated second New Zealand company on Friday the 13th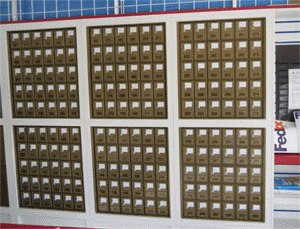 By Gareth Vaughan
The man behind a suspicious aborted bid for Australian retailer David Jones has registered a second company in New Zealand just as the government argues it can crack down on overseas entities abusing our company registration system, which the World Bank says is the world's easiest, without actually tightening company registration rules.
Companies Office records show British man John Edgar registered a company named RVP NZ Limited on Friday July 13. This follows LBC NZ Limited, which he also incorporated via the Companies Office in December last year. Both use suite 141, 2a Byron Avenue, Takapuna as their registered office and address for service. This address merely incorporates a series of mail boxes and basic office services (see photos accompanying this story).
Edgar's EB Private Equity was behind a recent takeover offer for sharemarket listed Aussie retailer David Jones, which is now the subject of an Australian Securities & Investments Commission (ASIC) probe. Fairfax Australia journalist Elizabeth Knight reported this week that Edgar is believed not to have profited from his "hoax" bid. Knight said the bid appeared to have been some sort of "bizarre corporate terrorism" with Edgar not motivated by financial gain, but rather by a desire to manipulate the market.
His unfunded A$1.65 billion offer, which appeared to have stunned David Jones, cost investors about A$175 million.
Earlier this month interest.co.nz reported on Edgar's LBC NZ Ltd, which was registered in New Zealand on December 19 last year, and alerted the Financial Markets Authority to its existence. Edgar previously launched a now defunct business in New Zealand named Goodinvestor.com in 2002. At that time he told the NZ Herald it would provide mortgages and credit cards online, plus expand into managed investments such as unit trusts, and possibly also insurance and sharebroking. Today, launching such a business legally would require Reserve Bank approval.
Govt 'committed to maintaining the ease at which people can set-up a company'
News of Edgar's second New Zealand company comes as a new government bill, the Companies and Limited Partnerships Amendment Bill, has its first reading in Parliament. Commerce Minister Craig Foss says the Bill aims to crack down on overseas-based people and entities abusing "one of the most red-tape free company registration systems in the world", without actually making it harder to register a company in New Zealand.
Foss says the government is committed to "maintaining the ease at which people can set-up a company," whilst also "sending a warning" to anyone who sets out to abuse the registration process .See more from Foss in Alex Tarrant's story here.
Among numerous companies to abuse New Zealand's simple company registration system is the now struck off First Capital Savings & Loan Limited. Jeffery Lowrance, its American owner, this month pleaded guilty to using his New Zealand registered company to run a US$25 million Ponzi scheme out of Panama. Lowrance faces up to 15 and a half years in a United States jail.
(The picture below shows 2a Byron Ave on Auckland's North Shore).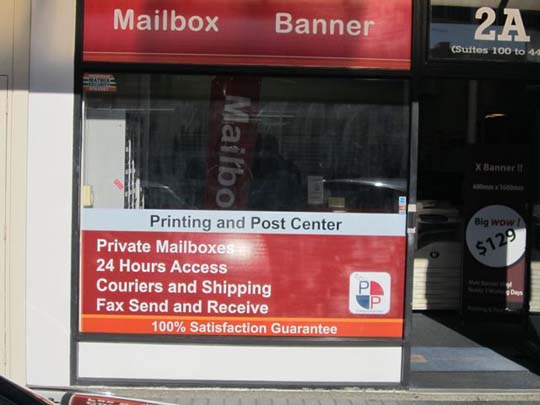 The World Bank and International Finance Corporation have ranked New Zealand the easiest of 183 countries in which to start a business. The Ministry of Economic Development run Companies Office itself points out: "Starting a company online (incorporating) is as simple as reserving your company name (NZ$10.22), completing the incorporation application (NZ$153.33) and returning your signed consent forms."
ASIC investigation
In a brief statement on July 3 ASIC confirmed it was probing the David Jones offer.
"Consistent with its usual practice, ASIC is looking at potential issues regarding disclosure and trading in David Jones stock both by domestic and international parties. ASIC's priority is to ensure market integrity is maintained and that markets are fair, orderly and transparent and that, if there has been a breach of the law, those responsible are held to account," the Aussie regulator said.
On his EB Private Equity website Edgar, christened the man from nowhere by Knight, said of the bid: "Our intention was to hold preliminary discussions with the David Jones board while financial partners continued to be approached. Recent unfounded, inaccurate and ill informed publicity around our proposal has made it difficult for these discussions to take place."
"Our proposal was made in an effort to engage with the board. However, the board has made it clear it does not intend to engage in these discussions based on our proposal. This is our only statement on this matter and we are not giving further interviews and comment in any way," EB Private Equity added.
'Unable to obtain any meaningful information'
Quizzed on its disclosure around the offer by the Australian Securities Exchange (ASX), David Jones itself said the bid had come via an unsolicited letter and was highly conditional, uncertain and an incomplete expression of interest.
"The company subsequently undertook inquiries in relation to publicly available information in relation to EB Private Equity and was unable to obtain any meaningful information in relation to it. That remains the case today." See the full correspondence between David Jones and the ASX here.
LBC NZ Ltd lists John Edgar of 58 Low Friar St, Newcastle, NE15UE , United Kingdom as its sole director and shareholder. RVP NZ Ltd lists sole shareholder and director John Edgar of apartment 432, 41 Oxford Street, Leamington Spa, Warwickshire, Great Britain. Both British addresses, like the Auckland one Edgar uses, appear to merely be mail boxes.
This article was first published in our email for paid subscribers this morning. See here for more details and to subscribe.