Countdown looks to Britain's Tesco and parent Woolworths for lead on financial services push by retailers, not Superbank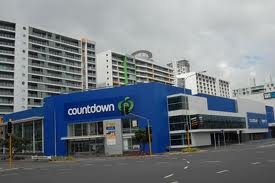 By Gareth Vaughan
Supermarket chain Countdown, preparing to launch a credit card, says it has no immediate plans for further financial services products but points to its Australian parent Woolworths and British supermarket group Tesco as examples of what supermarket chains can achieve in financial services despite the failure of the Superbank initiative by Foodstuffs and St George Bank here in New Zealand.
Countdown, part of the Woolworths owned Progressive Enterprises, said last week it would launch a Visa credit card in the first half of next year through an alliance with finance company GE Capital. Countdown's statement said a credit card was its "logical entry point" into financial services and it aimed to bring a "fresh new perspective to the industry, challenging the existing market and invigorating it with new and differentiated competition."
Asked by interest.co.nz for further comment, a Countdown spokesman said there were no immediate plans to launch any other financial service products. He confirmed the Countdown credit card would be a general purposes card, not one simply for use in Countdown supermarkets.
Foodstuffs, Woolworths' big New Zealand rival and owner of Pak'n Save, New World and Four Square, had an unsuccessful foray into banking a few years ago through St George Bank Bank New Zealand Ltd, which traded as Superbank, in partnership with Australian bank St George. Launched as a phone and internet bank in February 2003, Superbank was shut down in 2006 having racked up losses of NZ$48.1 million, with its residential mortgage portfolio sold to GE Money and its depositors, where they chose to, transferred to Kiwibank.
It surrendered its banking licence in December 2006 and St George Bank New Zealand, latterly fully owned by Westpac, was finally deregistered from the Companies Office in June this year.
Westpac Banking Corporation bought St George for A$18.5 billion (about NZ$24 billion) in 2008. Peter Clare, now Westpac NZ's CEO, was a director of Superbank during a period when his day job was group executive for strategy at St George in Sydney.
A 'proven complement'
Despite Superbank proving to not be so super, the Countdown spokesman said financial services were a "proven" complement to retail, pointing to Tesco and Woolworths.
"We think we'll be able to bring something unique that will resonate with customers," the Countdown spokesman said. "Retail companies can be credible players in financial services and add value for customers."
Countdown has 160 supermarkets and says it serves about 2.5 million customers weekly.
In Australia Woolworths operates two MasterCard credit cards issued by HSBC, being an everyday money credit card and one offering Qantas frequent flyer points through purchases, and MasterCard reload and prepaid cards. Woolworths also offers travel, car, life and pet insurance and is planning a push into home and contents insurance. Its underlying cover comes from the Hollard Insurance Company and reinsurance giant Swiss Re.
Launched in 1997 as a joint venture between Tesco and the Royal Bank of Scotland, Tesco Bank now has 6.5 million customer accounts with its products and services including motor, home, pet, travel, dental, health and life insurance, credit cards, mortgages, personal loans, and savings products. In 2008, Tesco acquired Royal Bank of Scotland's 50% shareholding for £950 million (about NZ$1.8 billion).
According to Tesco, Tesco Bank's credit cards comprise 12% of all MasterCard and Visa credit card transactions in Britain, and 1.5 million people insure their cars and homes with Tesco Bank. Tesco's annual financial statements show Tesco Bank with £4.4 billion of loans, and just under £5.5 billion of deposits.
For its 2011/12 financial year, Tesco said its banking operations contributed £1 billion, or 2%, of group revenue, and £168 million, or 4%, of trading profit. Although Tesco Bank recorded annual revenue growth of 14%, trading profit was down 36% after the write-down of a fair value provision - dating from the purchase of half the business from Royal Bank of Scotland - by £133 million to £22 million.
This article was first published in our email for paid subscribers this morning. See here for more details and to subscribe.