ANZ and National Bank now together on one core banking platform after weekend move apparently without major problems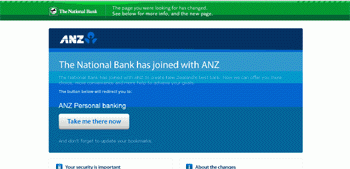 ANZ's big weekend move to National Bank's core 'Systematics' banking platform appears to have gone through without major problems.
Although, as the bank warned there would be ahead of the switch, there were interruptions to internet, phone and mobile phone banking services, the move - at least outwardly - appears to have been free of major drama.
ANZ tweeted overnight: "We're done! All of our systems are back up and running. Thank you for your patience over the weekend." Here's the updates website the bank has been running.
ANZ CEO David Hisco said last week the plans were "pretty tight" and expectations high that things would proceed as planned, following thorough testing. Hisco says the National Bank platform was chosen ahead of the ANZ one for the two banks to merge to because it's more customer focused.
Coming nine years after the ANZ Banking Group bought the National Bank from Britain's Lloyds TSB, the move to one core banking system comes as ANZ moves to phase out the National Bank brand over two years. It's part of a "simplification programme" that has thus far cost NZ$246 million after tax.
National Bank's customer accounts have been rebranded "ANZ."