1.9% food price rise in January is highest for year-and-a-half, but annual rise remains low at 0.8%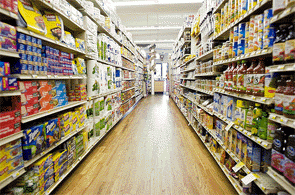 Food prices shot up 1.9% last month - the biggest monthly rise since July 2011 and the first increase in prices since August 2012.
Statistics New Zealand's prices manager Chris Pike noted that food prices often do rise in January.
He said the increase last month reflected more expensive grocery food after drops in prices in recent months, while fruit and vegetables showed seasonal increases.
ASB senior economist Jane Turner said food price deflation had been a key factor in the recent low overall inflation rate as measured by the CPI (with an annual rate of 0.9% as at December).
"Much of this was a result of declines in commodity prices, particularly dairy, over 2012. However, it now appears food prices may have troughed, and are set to increase over the coming year. The [Reserve Bank's] focus will remain on underlying inflation trends, and for now these remain subdued. As such, we expect the RBNZ will continue to leave the OCR unchanged at 2.5% until March 2014."
In the past month grocery food prices rose 1.9% led by a 5.4% price increase for cakes and biscuits, a 9% rise for yoghurt and a 2.3% bread price rise.
Offsetting this partially was a 17% drop in the price of olive oil, which was discounted in January and sold at its lowest price level since December 2002.
Fruit and vegetable prices increased 3.5%, led by seasonal increases in mandarins (23%), apples (7.7%), lettuce (20%) and broccoli (38%). Lower prices were experienced for nectarines (down 23%) and pumpkin (down 13%).
During the month the price of meat poultry and fish climbed 2.2% and non-alcoholic beverages rose 2.2. Pike said that there had been less discounting in the price of lamb, which rose 25% and also less discounts for soft drinks, which climbed 3.6% in price.
In terms of the annual overall food price rise of 0.8 % for the year to January, fruit and vegetables, with a 5.9% price rise, made the biggest contribution.
Meat, poultry and fish prices increased 1.9%, led by a 9.6% rise in chicken price.
Grocery food, down 1.5%, was the only food category to show a fall during the year mainly due to drops in the prices of dairy products. Fresh milk prices, for example were 9.6% lower than in February 2011 when they peaked.