Today we are launching a new feature for regular users of our mortgage and term deposit rate tables.
Our rate tables feature arrows that indicate changes up or down. 

 or 

The default setting for these arrows is that they will show if there was a change over the past week.
We have now added some flexibility.
However, control of these settings is only available if you are registered and signed in.* Register here.
You can set the time sensitivity to one of the following. Show changes over the past:
one day
one week (default)
two weeks
four weeks
3 months (91 days)
6 months (183 days)
This will be helpful for both intensive users (who may well just want to see changes over the past 24 hours) to more casual users.
When you are signed in, you can set this arrow control from your Profile page.
Go to the View tab to find the choices, and select.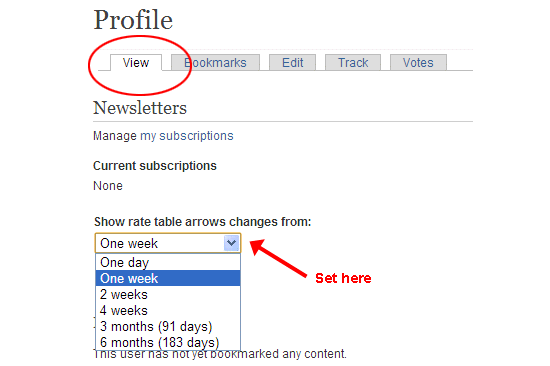 They will change immediately and stay on the selected setting until you change them again.
At this time, only the Mortgages page, and the two Term Deposit pages can be customised in this way. Other rate table pages may be included later. Your new selection applies to all rate pages with this feature activated.
Feedback is appreciated, as always.
---------------------------------------------------------------------
* Apologies in advance for the 'hard' Captcha code. We are in a war with spammers and trolls and get hundreds of hack attempts daily. The enemy is automating their efforts and can easily defeat 'easy' Captcha code. We think our service is greatly spoiled if our comment stream is full of spam and trolling, so we have chosen more difficult options. Sorry if you find it frustrating. Email or phone us if you can't work with it and we will find a way to register you.
---------------------------------------------------------------------
While you are logged in, remember you can choose the daily or weekly email updates you would like to receive too.