PM John Key says Treasury has increased estimated cost of Christchurch rebuild to NZ$40 billion but govt still on track for 2014/15 return to surplus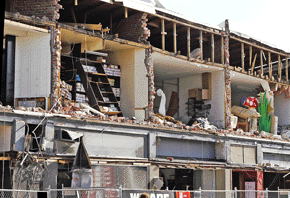 Prime Minister John Key says next month's Budget will show the rebuild of Christchurch is going to cost NZ$40 billion, NZ$10 billion more than previously estimated. However, Key says the Government remains on track for a return to surplus in the 2014/15 year.
Key says the estimated cost to taxpayers has increased by NZ$2 billion since Treasury's half-year fiscal update last December, to around NZ$15 billion.
"Treasury has revised upwards its estimate of the total capital cost of the rebuild from NZ$30 billion - the number in last December's half-year fiscal update - to NZ$40 billion," says Key. "This will be contained in next month's Budget."
The increase is mainly due to more precise information becoming available about what the actual costs are across a range of areas, Key says, from housing and social investment to infrastructure and commercial development.
"These estimates will continue to be updated from time to time, but they do not change the Government's commitment to Christchurch and Canterbury," says Key. ""We will do what it takes to rebuild our second largest city, and that commitment will be unwavering."
He says the estimate includes capital costs "incurred by entities, such as commercial entities," plus the Crown.
"The Budget will also show that the estimated net fiscal cost of the earthquakes to the Crown will rise from around NZ$13 billion at the half-year fiscal update last December, to around NZ$15 billion. Despite this, the Budget will still show the Government is on track to a surplus in 2014/15," says Key.
Meanwhile, Key says considerable progress was being made on the rebuild with the Government spending money on core public facilities and services.
"We want to focus taxpayers' money in social assets rather than putting that money into competition with private sector players."
Given the Christchurch rebuild is the largest and most complex single economic project in New Zealand's history, it was always going to be difficult to get "an exact handle" on the total estimated cost "straight away," Key says.