The NZ trustee that 'conservatively' estimates it oversees more than €5 billion on behalf of some of the world's wealthiest people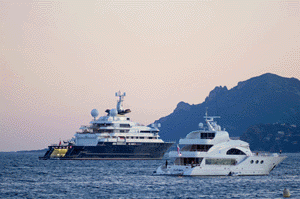 By Gareth Vaughan
Equinor Trust Limited, a New Zealand registered trustee with links to Kiwi Deposit Building Society (KDBS), a controversial entity now being dissolved, claims to oversee around €5 billion worth of assets on behalf of some of the world's richest people.
This comment is included in correspondence between Lachlan Williams, managing director of KDBS and executive director of Equinor Trust, and Reserve Bank officials obtained by interest.co.nz under the Official Information Act. The correspondence shows an aggressive approach taken by Williams, a solicitor who is a former councillor of the City of Boroondara in Melbourne, towards the Reserve Bank.
The correspondence shows Williams threatened to sue the Reserve Bank over comments made by a central bank official to a Danish journalist, and a rejected request in August 2009 for the Reserve Bank to supervise and audit KDBS's compliance with Anti-Money Laundering and Countering Financing of Terrorism laws to help it avoid having to disclose customer details to Swiss banks. The Reserve Bank rejected Williams' request.
As interest.co.nz reported last month, KDBS is now being dissolved after unsuccessful legal action against ASB late last year when the bank moved to terminate its relationship as its bank. A document filed to the Registrar of Building Societies by KDBS outlines depositors claims of NZ$108 million. It puts total liabilities - as of December 31, 2012 - at just over NZ$121.2 million and assets at nearly NZ$134 million.
'Very interesting client relationships'
In a background and business rationale paper provided to the Reserve Bank, Williams said Equinor Trust is responsible trustee for almost 150 trusts with assets "conservatively" worth more than €5 billion being boats, planes, real estate, bankable assets and share participations. Equinor Trust specialises in the establishment and operation of New Zealand foreign or exempt trusts for high net worth and wealthy families and is a wholly owned subsidiary of the Copenhagen-based Equinor International A/S, which he said specialises in onshore international wealth and tax planning and management.
"In short Equinor has some very interesting client relationships with some of the world's wealthiest individuals and families (located in all parts of the world), and their bankers and advisers," the paper said.
The €5 billion, or just under NZ$8 billion, Equinor Trust is said to oversee is equivalent to more than half the total NZ$14.5 billion of KiwiSaver funds under management.
Equinor Trust's annual report for the year to September 30, 2012, filed with the Companies Office, gives little indication of that sort of scale. It shows fee income of just over NZ$1 million, income tax expense of NZ$75,664, and net profit of NZ$194,151.
Williams described Equinor's fee billing model as one of fee for service - with billable hours and set up and annual running fees for client entities, largely irrespective of the value of assets held.
"In 2008/09, with chaos in international financial markets and the demise of Swiss bank secrecy, it was observed that there was an opportunity to move into money management where the more attractive fee model of a percentage of assets under management applies."
"With this broad objective of establishing an asset management and banking business, a building society was chosen as the corporate form. Kiwi Deposit Building Society was incorporated on March 13, 2009."
Another NZ building society claims US$6.2 billion of investment holdings
KDBS has been one of three building societies registered in New Zealand but operating offshore, largely without regulation by New Zealand authorities. The other two are General Equity Building Society and Safe and Sound Building Society.
Interest.co.nz reported in April last year that, among other things;
* A General Equity Building Society fund claimed to hold almost US$5.5 billion of equity through unnamed mines, gold, silver and granite ore. In its latest annual report the fund, General Equity Building Society Asset Builder Fund 1, now claims US$6.2 billion worth of investment holdings through gold, nickel and silver mining, oil and gas refining technology and granite.
* A New Zealand-based director of Safe and Sound Building Society with a background in ready mix concrete, Frederick Frtiz Mendl Stonnell, said he was only on the board because the Australian based chief executive, a relative, asked him, and he has no financial services experience.
* A wholly-owned Danish subsidiary of KDBS was referred to the police by Denmark's equivalent of the Financial Markets Authority - Finanstilsynet - in 2010 after buying into a sharemarket listed Danish company and waiting nine days before informing the market of its obligation to make an offer to minority shareholders. It was fined. Williams said the delay was unintentional and blamed his firm's Danish lawyer.
'We will have to consider our legal options in New Zealand - sorry to say'
Williams' threat of legal action against the Reserve Bank came when KDBS was bidding for a 64.5% stake in GR Vision A/S, a listed company owned by the Danish government.
In an email to Reserve Bank head of communications and board secretary, Mike Hannah, on September 15, 2009 Williams outlined his anger at comments made by Andy Wood, manager of the Reserve Bank's domestic deposit taking oversight, to a Danish journalist.
"I have been informed that Mr Wood has been quoted as saying that; Kiwi Deposit Building Society is not subject to Reserve Bank of New Zealand prudential supervision, and that Kiwi Deposit Building Society is owned by Equinor or interests associated with it.," said Williams.
He said KDBS wasn't owned by Equinor International A/S or associated entities.
"Given outrageous allegations made against Equinor - smuggling diamonds, being involved in attempts to sell nuclear material - (which  I might add are false), Mr Wood's comments threaten to derail our bid for GR Vision and cause us loss and damage. If such damage eventuates, we will have to consider our legal options in New Zealand - sorry to say."
Then in a later email, again on September 15, 2009, Williams backtracked. He told Hannah that although in an earlier conversation he had suggested the Reserve Bank "urgently get legal advice" and make quick clarifying statements - if needed - to limit its potential exposure to any liability in the event of any defamatory, false or misleading statements that might have been published and could cause KDBS loss and damage; "To be frank we would be very reluctant to go down this path against the RBNZ and I confirm that we will not be doing so."
And in a later email to Wood he said; "To be clear, I am asking RBNZ to withdraw their comment and no more."
This came after Williams told Wood on September 17, 2009 that he personally controlled 100% of the voting shares in KDBS in his "individual capacity."
"The managing director of Equinor does not give me directions about the operation of KDBS, as he does in relation to Equinor Trust Limited," said Williams."Equinor provides services to KDBS and did advise and assist it with its registration. But the relationship goes no further than that."
He was particularly irked by Wood's comment to the journalist that; "As far as we are aware, this entity (KDBS) is controlled out of Denmark by the Equinor group of companies."
"With respect, we do not think that it is proper for the RBNZ to be commenting publicly on matters relating to who controls KDBS - there is no way that you could definitively know," Williams added. "That is not to say that we are not prepared to be open and transparent about such matters and would appreciate it if questions on this topic in future are directed to us."
Wood agreed to direct future questions about KDBS ownership, or associated matters, to Williams where appropriate.
'Frankly we are baffled by your reaction'
However, this came after Wood had said KDBS's claim on its website to be supervised "pursuant to the Reserve Bank of New Zealand Act 1989" was "somewhat misleading." This, he said, was because it wasn't prudentially supervised by the Reserve Bank and the Reserve Bank Act doesn't establish a regime for prudential regulation by any other regulator.
"Frankly we are baffled by your reaction to my comments regarding the ownership of KDBS," Wood added. "I did not state that KDBS was owned by Equinor as you claim. Rather I said that 'as far as we are aware KDBS is controlled out of Denmark by the Equinor group etc.' This reflects the fact that both directors of KDBS (yourself and Mathieu Pouletty of Frederiksberg, Denmark) are also executives or board members of Equinor in Denmark, evidencing a considerable degree of influence by the Equinor Group."
Meanwhile, on August 4, 2009 Williams told Doug Widdowson, of the Reserve Bank's domestic deposit taking oversight department, that KDBS wanted to establish correspondent banking relationships in Switzerland. He said a Swiss bank was normally required to get a prospective customer to fill out a Form A, a document that discloses details in relation to the ultimate beneficial owners.  However, for commercial reasons, KDBS didn't want to disclose such details to Swiss correspondent banks. He added that, under Swiss law, there was no need to provide these details if the Reserve Bank was to supervise and audit KDBS's compliance with Anti-Money Laundering and Countering Financing of Terrorism laws.
"In effect, we request that we come under the RBNZ's direct supervision in relation to AML/CFT matters. We understand that this would meet Swiss concerns, and we would then not be required to fill out the Form A," Williams wrote.
Wood responded noting there was no anti money laundering supervisor for non-bank deposit takers in New Zealand. The Reserve Bank was therefore "not empowered to act in the manner suggested by your letter". Although passed by Parliament in October 2009, New Zealand's Anti-Money Laundering and Countering Financing of Terrorism Act doesn't take effect until June 30 this year.
'You may choose to interpret that as a lack of innovation; the Reserve Bank does not'
In September 2011 the Reserve Bank then rejected an application from KDBS for a Reserve Bank Exchange Settlement Account System, which helps to allow individual transactions between financial institutions be settled electronically as they happen. Williams said the rejection meant KDBS was reliant on local banks for clearing services, including cut off times they impose for transaction processing. Furthermore the rejection "appears to indicate that financial services innovation is discouraged" by the Reserve Bank.
Asked by Williams for more explanation for the rejection, Reserve Bank chief financial officer Mike Wolyncewicz cited the absence of audited or financial statements and a lack of detail about KDBS's business activities. He also cited "a complete lack of detail" on how the proposed system would operate and interact with the rest of the New Zealand dollar payments community.
"A registered building society which does not provide as its principal line of business services that one would expect a registered building society to provide, without a clear and credible explanation, will not be granted an ESAS account," Wolyncewicz wrote. "You may choose to interpret that as a lack of innovation; the Reserve Bank does not."
This article was first published in our email for paid subscribers. See here for more details and to subscribe.