Banks, other companies likely to face new anti-bribery and corruption rules after OECD report on NZ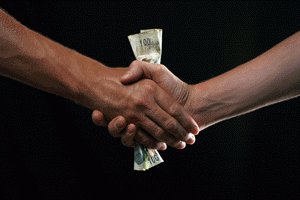 By Gareth Vaughan
Banks and other financial institutions still bedding in the recently adopted Anti-Money Laundering and Countering the Financing of Terrorism Act (AML/CFT Act) may soon have another significant compliance issue thrust upon them by the weight of global regulatory pressure.
For although New Zealand may regularly feature in surveys as one of, if not the, least corrupt country in the world, an OECD evaluation of this country's anti-bribery and corruption policies due out in October, isn't likely to be flattering. This may see the Government move to beef up our outdated anti-bribery and corruption laws to catch up with more recent laws established in countries such as Britain.
NZ's laws designed to combat bribery and corruption in both the public and private sectors are the Secret Commissions Act 1910 and the Crimes Act 1961.
NZ is something of a contradiction when it comes to bribery and corruption. Transparency International's latest Global Corruption Perceptions Index, which ranks the public sector of 176 countries, placed NZ first equal with Denmark and Finland. And Forbes rates NZ as the best country in the world to do business in. But, as reported by interest.co.nz last year, NZ is yet to ratify the United Nations Convention Against Corruption (UNCAC) even though our government signed it 10 years ago.
This is an abridged version of this article. The full version was published in our email for paid subscribers. See here for more details and to subscribe.