Finance Minister Bill English says ASB should have listened to RBNZ warnings; High LVR pre-approval withdrawal 'tough on first home buyers'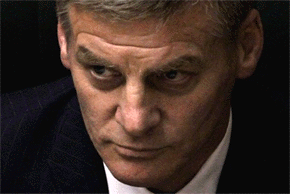 By Bernard Hickey
Finance Minister Bill English has criticised ASB's decision to withdraw pre-approvals for high Loan to Value Ratio (LVR) mortgages, saying the bank should have listened to the Reserve Bank's warnings six months ago and not made promises it couldn't keep. 
"The Reserve Bank was talking about this kind of policy from earlier this year. It looks like ASB weren't really listening. They seem to be the only bank that's got themselves in that position," English told reporters in parliament.
"All of this is a bit tough on first home buyers in the short term. In the longer term though, they are best served by lower interest rates that helps them with their borrowing and by the government's main initiative on housing affordability, which is to get the supply working faster," English said.
He pointed to the Government's passing of legislation and a finalised agreement with the Auckland City Council to set up special housing areas.
Asked if ASB was being unfair, English said: "It's really a debate between ASB and their customers and ASB and the Reserve Bank.  I'm making the point six months ago the Reserve Bank Governor was talking about bringing in restrictions on low deposit loans and this seems to be the only bank that's got themselves in the position where they're letting down people who they gave approvals to."
English said he didn't expect other banks to follow suit.
"It's pretty tough on first home buyers who had expectations of getting loans," he said.
English said the government was working to improve housing supply.
"The good news for first home buyers over the next two or three years is we are taking action to increase the supply of housing on the ground because in the long run that will make signficantly more difference to house prices than the current policy of the Reserve Bank."
English also pointed to the government's moves to increase income and house price thresholds for first home buyers withdrawing money from KiwiSaver schemes and using Welcome Home Loans.
"The ones who are caught in this now have an argument with their bank, not with the government. It's their bank that gave them approvals knowing it was quite likely policy was going to change so I suggest those first home buyers who will feel let down take that up with their bank."
'Runaway house price inflation damaging'
English said one of the most damaging things that could happen to an economy was runaway house prices, which could damage the export sector through pushing up the currency and could damage the economy when they come back down.
"The Reserve Bank is taking a long term view about financial stability and in the longer term that will serve the interests of all home owners and buyers better if we have a more stable housing market," he said.
"In the next two or three years the increase in supply will take some of the steam out of the price increases, it will give us more financial stability and it may provide the opportunity for the Reserve Bank to relax those restrictions."
(Updated with more detail)