New online retail index reveals the extent of our purchases outside the GST borders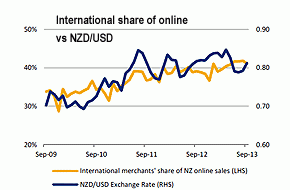 Kiwi online retailers have the lions share of New Zealand's online trade, but that share is being eaten into by international websites.
New data released today by BNZ shows that domestic online retail sales are growing at 11% per year, almost three times as fast as the overall retail industry.
Online sales by local merchants generates NZ$1.6 billion in sales per year of the $44 billion retail market.
But the growth of our online trade being captured by international websites is twice that level - 21% per year, according to the BNZ data.
These international sites are now attracting more than NZ$1 billion in trade per year.
If these rates of growth are sustained, it is likely we will be buying as much from overseas websites in 2016 than from local ones.
One of the striking features of the data released today is how well the growth in our purchases from offshore retailers matches the rise in the exchange rate (see chart above). The appreciating kiwi dollar has been the catalyst for online buyers to chase bargains from those overseas sites. A high dollar is making us border-free when we now shop online.
Online sales are equivalent to 6% of all reported traditional retail sales (which include some online transactions), and if groceries and liquor sales are excluded, the proportion rises to just under 10% (9.5% in this BNZ report as at September 2013). Another doubling of share is likely not only as penetration is expected to grow, but we are lagging the levels already being seen in the US and UK.
Retailers should be expecting this to be a NZ$5 billion segment by 2016 at least.
Another interesting feature of this BNZ/Marketview data is how Canterbury responded during the earthquakes. The growth in online purchases in Canterbury surged by over 40% in 2011 and 2012 following the local physical retail infrastructure damage - showing that the online channels became part of the disaster response and coping processes.
BNZ's new survey does not include cars or fuel purchases, accommodation or foodservice, nor the person-to-person trade in second-hand goods (ie via Trade Me), but it does cover retailer-to-customer Trade Me transactions.* Among the data sources used for the survey are the BNZ credit and debit card transaction records.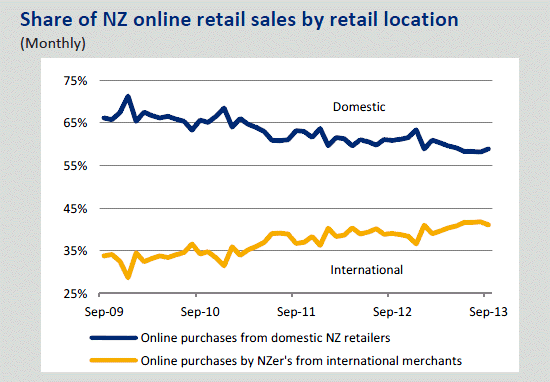 * This survey has been designed to cover the same retail transactions as the Statistics NZ retail sales Division G, except for motor vehicles, car parts, fuel, and some marine equipment. By doing it this way the BNZ survey can be directly compared with the equivalent Australian one, and the two surveys show equivalent growth trends over the three years to September 2013.