Govt says 66,000 retail investors allocated Genesis Energy shares; broker offer scaled back 20%; Bids over NZ$5,000 scaled back sharply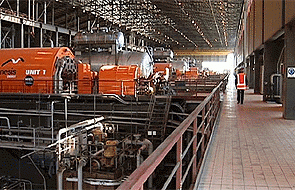 By Bernard Hickey
The Government has announced more than 68,000 retail investors have been allocated shares in the general share offer for Genesis Energy after demand was stronger than expected and forced a sharp scaling back of those who bid for more than NZ$2,500 worth of shares.
Brokers are now expecting 'stag' first day profits of more than 10%, sparking Opposition claims the Government staged a 'fire sale'.
Bids for more than NZ$5,000 had been scaled back sharply and the allocation to stock brokers had been cut 20%, Finance Minister Bill English and State Owned Enterprises Minister Tony Ryall announced.
Genesis would have the third largest share register once it listed on the NZX at 1pm tomorrow, behind Mighty River Power and Contact Energy. Meridian Energy was the fourth largest. The Government had already announced the initial public offering price of 49% of shares in the power generator and retailer at NZ$1.55 per share.

"Keen interest in the Genesis offer means scaling has been required across all investor groups including institutions. A progressive scaling policy has been applied to the general offer as part of the Government's commitment to put New Zealanders at the front of the queue for shares," the ministers said.

"This will see larger applications scaled more significantly than smaller applications. The scaling policy effectively places a cap of approximately $5,000 on all general offer applications," English said.

"Due to demand in the general offer, the broker firm offer was reduced by 20 per cent, with these shares re-allocated to the general offer," he said.

Genesis would be 88% New Zealand-owned when it listed, with the Government owning 51%,  New Zealand retail investors holding 26.7%, New Zealand institutions 10%, offshore institutions 12% and Iwi 0.3%.
Ryall said 111,000 common shareholder numbers had been issued during the share offer programme, indicating that tens of thousands of New Zealanders have become shareholders for the first time. A total of 249,000 investors invested in the four share sales, although many will have been duplicates.

Those who applied for up to NZ$2,500 of Genesis shares would receive the full 1,613 shares at NZ$1.55 per share.
Those who bid for between NZ$2,500 to NZ$5,000 would receive 1,613 shares plus 28.75% of what was applied for.
From $5,000.30 (3,226 shares) to  $40,650.30 (26,226 shares), investors would receive NZ$3,217.80 (2,076 shares) plus 5% of what was applied for beyond NZ$5,000.30.
For those who bid for NZ$40,650.30 (26,226 shares) and above, they would receive NZ$5,000.30 (3,226 shares).
Political reaction
Labour SOE spokesman Clayton Cosgrove described the share sale process as a "a massive bonfire of a fire sale."
"Just 68,000 Kiwis bought shares in Genesis, little more than 1 per cent of New Zealanders. This is despite massive taxpayer lolly bags to convince them to buy in. The Government is trying to claim 68,000 is a success but it is just 5,000 more than the failed sale of Meridian attracted," Cosgrove said.
"National spent hundreds of millions of dollars on lawyers, accountants, advertising agencies, financial institutions, bonus schemes and public relations. This is the most scandalous waste of money on state assets since Think Big," Cosgrove said.
"The Government should apologise to New Zealanders for selling off their assets at the political equivalent of a garage sale."
(Updated with more detail, reaction)