Outgoing SBS boss Ross Smith sees successor bringing IT and marketing skills to the job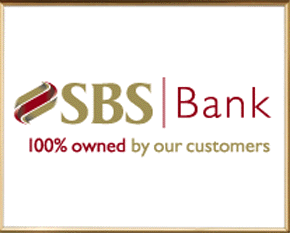 By Gareth Vaughan
Ross Smith, the departing CEO of mutually owned SBS Bank, expects his successor, who founded and ran a consumer finance company, to bring expertise in IT and marketing to the role.
Smith leaves at the end of July after 22 years at the helm. He'll be succeeded by Wayne Evans, founder of Finance Now and until recently CEO of the SBS majority owned consumer credit and commercial finance provider. Smith told interest.co.nz he wasn't involved in selecting his successor.
"He (Evans) has founded and run a very successful business in association with SBS in the past. And I think the board have seen there are areas of expertise, particularly in IT and marketing, that he was able to execute in that business that were very successful. And they're probably thinking that if he can overlay those skills into SBS, there may well be some benefits that flow from that," said Smith.
Evans was also also CEO of GE Money between 1998 and 2000 and head of marketing at ANZ from 1995 to 1998. Finance Now, which launched in 2000, is described by SBS as "the $120 million consumer finance subsidiary of SBS Bank."
Smith joined SBS in 1992 from United Bank, shortly after SBS members voted down a takeover offer from Westpac. He departs with SBS reporting a $1.3 million, or 9%, rise in net surplus after tax for the year to March 31 to $15.6 million. The bank's profit was boosted by a $6.8 million, or 39%, drop in credit impairments to $10.5 million. Operating income fell $744,000, or about 0.81%, to $$90.8 million, and operating expenses climbed $4.9 million, or 9%, to $58.2 million.
"It's a very, very good result in terms of SBS and the organisation is in very good heart," Smith said. "It's comforting to know that you can leave an organisation that you know has a strong balance sheet, has recorded an excellent profit, and it's in good shape."
Impairments 'under control'
On the impairments front Smith said SBS wasn't seeing the emergence of new ones.
"And that's the real comforting thing. We are now seeing a trend downwards, for the last two years, and our forward looking figures are certainly indicating that's going to continue."
SBS' annual report shows individually impaired assets at $20.2 million as of March 31,  up $2.6 million, or 14.5%, from $17.7 million at December 31. Assets at least 90 days past due rose $5.6 million to $7.9 million from $2.2 million at December 31. Gross advances, or loans, stood at $2.3 billion as of March 31, that's up about $678,000 in the March quarter, and up about $48 million, or 2.1%, year-on-year.
SBS' annual rise in expenses featured a $4 million, or 15%, increase in personnel costs to $31.9 million. Smith said this was driven by the bank's decision a couple of years ago to boost spending on the development of inhouse infrastructure to support online and mobile banking, rather than "buy off the shelf and tack it on to our banking system."
Meanwhile, SBS is also preparing to launch an automated online lending service, in the third quarter of the calendar year. It will cost "in the millions" of dollars, Smith said.
"Essentially what we want to be able to do is have the ability for people to go online and apply for a loan. Have third party originators go online, and have that facility to just enter directly in it. The data is only entered once. We could have online credit scoring, we could have online approval," he added. "We could give people indicative approvals online within seconds of them applying."
Debit card launched, credit card to follow
SBS launched a MasterCard debit card during the year, giving customers the ability to purchase online with the card, something their EFTPOS cards don't allow them to do. Smith said a credit card is also on the agenda, and will be looked at this year. Additional new products rolled out are likely to include mobile banking applications such as one allowing customers to access information on houses they could potentially buy, Smith added.
After opening for business in the Auckland mortgage market last year, SBS now has about 10% of its home loan book from Auckland, Smith estimates. He suggested this could get as high as 20% over the next couple of years. SBS has developed what it calls a centralised lending unit based in Invercargill. Described as a virtual SBS branch, it provides support to mortgage brokers throughout New Zealand.
Nonetheless Smith said SBS still plans to open physical branches in Auckland, and is likely to do so within 18 months to two years.
Home loan book grows
SBS' annual report shows its residential mortgage book stood at $1.719 billion as of March 31, up about $16.9 million, or 1%, in the three months to March 31. Its high loan-to-value ratio home lending was down a full percentage point to 22.17% of the book, or about $381.4 million. Much of this lending is done via Housing New Zealand's Welcome Home Loan scheme, where lending is insured by the taxpayer.
The value of SBS' redeemable shares increased $25 million in the March quarter to $$2.248 billion, and customer deposits dropped $11.3 million to $209.5 million. Total assets dropped about $22.4 million to $2.787 billion, and total liabilities declined $26.3 million to $2.553 billion. Equity stood at $234.2 million at March 31, up $3.96 million from December 31.
As reported by interest.co.nz last year, SBS increased its shareholdings in two businesses it already had control of, Finance Now, and funds management products and financial advisory services provider Funds Administration New Zealand. SBS lifted its stake in Finance Now to 85% from 71.5% and in Funds Administration NZ to 85% from 57%. SBS also agreed put and call options to lift these shareholdings to 100% over five years.
SBS' annual report shows the bank's investments in subsidies rose by $10.7 million in the year to March, to $25.9 million.
 
| | | |
| --- | --- | --- |
| SBS Bank | Year to March 31 | Year-on-year change |
| Net interest income | $69.4m | Down $1.99m, or 2.8% |
| Total operating income | $90.8m | Down $744,000 |
| Operating expenses | $58.2m | Up $4.9m, 9% |
| Provision for credit impairment | $10.5m | Down $6.8m, 39% |
| Operating surplus | $22m | Up $1.1m, 5.4% |
| Net surplus | $15.6m | Up $1.3m, 9% |
| | | |
| --- | --- | --- |
| Regulatory capital ratios | SBS at March 31 | Minimum RBNZ requirement |
| Common equity tier 1 capital ratio | 13.26% | 4.50% |
| Tier 1 capital ratio | 13.39% | 6% |
| Total capital ratio | 13.69% | 8% |
| Buffer ratio | 5.69% | 2.50% |