NZ Association of Credit Unions says Co-operative Bank's attempt to block its name change to 'Co-op Money NZ' is attempt to own the word 'co-operative'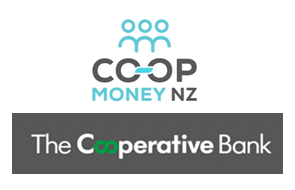 By Gareth Vaughan
What's in a name? A lot if you're the Co-operative Bank or the New Zealand Association of Credit Unions (NZACU).
The NZACU says the Co-operative Bank's attempt to prevent it changing its name to "Co-op Money NZ" threatens the very concept of co-operative organisations. But for its part the Co-operative Bank says it just wants to avoid confusion in the marketplace.
On June 5 the NZACU announced plans to begin trading as Co-op Money NZ from mid-July. CEO Henry Lynch said the NZACU had been operating as a co-operative and representing the financial co-operative movement for over 50 years, and had decided it was time its brand better reflected the "modern, friendly nature" of its members as they are today.
However, Bruce McLachlan, CEO of the Co-operative Bank which was known as PSIS until 2011, quickly described NZACU's planned new name as "significantly detrimental" to Co-operative Bank's brand and said the Co-operative Bank would respond accordingly.
On Friday he told interest.co.nz NZACU using the name Co-op Money NZ would cause confusion.
"We have not invited this disagreement," McLachlan said. "They have a view that they want to rebrand and they have reasons for that. But the fact that they're seeking to come up with a name so similar to ours causes us, as it would cause any business, concern."
"It worries us because of the potential confusion it could make in the marketplace, and we don't think that that's appropriate. We've invested a lot in our brand and so clearly we're going to do everything we can to protect that as is reasonable," McLachlan added.

"We are intending to defend our position. We had hoped to do it by getting them to see reason. We don't want to be in court battles. But they are committed and as you've seen they released a press release saying they are doing this, so you'll see our response soon."
Asked whether his expectation is the dispute will end up in court, McLachlan said unfortunately it is.
"We would love to take whatever opportunity to ensure that didn't happen. That's not what we're about, it's not the way we want to do business. My personal view is there's plenty of space out there for all of us, you've just got to carve out your own space and not interfere with others," said McLachlan.
The Co-operative Bank is one of NZ's smaller registered banks with total assets of $1.6 billion.
'Big bank bullying'
However, Lynch's response suggests the dispute is indeed heading for court.
"The Co-operative Bank does not have a monopoly on the word 'cooperative' let alone `co-op'. This to us is big bank bullying and we will strenuously defend for all New Zealanders the right to use this word," said Lynch.
"The concept of co-operative organisations (owned) by communities and individuals is under threat if the bank gets their way. There are thousands of organisations describing themselves as cooperatives, including the community banking movement. We represent 22 credit unions and mutual building societies, with over 205,000 mum and dad members," Lynch added.
"This this can only be seen as big banking attempts to own the word co-operative."
"I challenge anyone when you see the logos side by side to say they are similar," added Lynch.

Lynch went on to say the NZACU has "absolutely no desire" for there to be any confusion between its operations and the Co-operative Bank.
"We have reiterated this in writing to the Co-operative Bank many times as we have a distinctly different name and a completely different logo and are not in the same field of activity, and we do not deal with the general public. So there is no real scope for confusion to arise," added Lynch.
"We have suggested in writing to the Co-operative Bank that the sensible course of action is for the bank to co-exist with us in the same way that we all have to co-exist with all other co-operatives which wish to describe themselves as such."
"We have operated as a cooperative for over 50 years in NZ and take exception to any organisation that has only in recent times (less than 3 years) used the generic word in their name and now wish to monopolise its use and thereby potentially preventing small community organisations from using that word," said Lynch.
'The co-operative concept transcends commercial interests'
Lynch estimates one in four New Zealanders are part of co-operative organisations in everything from finance to food. And he says NZ co-operatives directly employ 43,000 people and are responsible for 3% of GDP.
"The concept of cooperative organisations is public property and transcends commercial interests. This is now under treat. The cooperative financial movement had existed in the western world since the 18th century. In NZ the NZACU has existed for over 50 years," Lynch said.
"We are not attempting to own it (the word 'co-operative')or prevent its use. We just want to use a name that describes what we do."
"Commercial attempts to lock up reference to the name or even the shortened 'co-op' version, undermine the whole point of the movement," added Lynch.
This article was first published in our email for paying subscribers. See here for more details and to subscribe.