Labour would encourage immigrants away from Auckland and into the provinces through increased incentives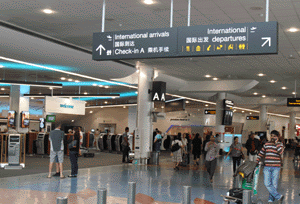 The Labour Party says if elected to government it will entice immigrants away from Auckland by increasing incentives for them to accept jobs or establish businesses in regional New Zealand.
Labour also says it will manage inward migration to reduce peaks and troughs in net migration, thereby taking pressure off an overheating housing market.
The party's immigration policy was released by immigration spokesman Trevor Mallard on Saturday morning. Here's the full policy document and Mallard's statement here.
"Around half of permanent arrivals to New Zealand move to the Auckland region. If our policies were based on the development of some of our most promising regions this could be a trigger for attracting some migrants to these centres," the policy statement says.
"This approach holds greater promise if a particular industry or types of industries were clustered in a region for the recruitment of highly skilled migrants and businesses specifically for that region. In this way immigration can be a critical input into regional development and a brake on growing our cities even bigger."
Labour says over time new industries could be located in provincial centres, and existing industries there could be supported by smarter immigration and investment policies.
"Migrants with particular skills that are consistent with the opportunities provided in regional centres have the potential for a win-win situation for New Zealand as well as migrants," Labour says.
"Appropriate incentives could be designed to attract the right people in the numbers required. Presently under the points system for Skilled Migrants and Entrepreneur visas a small amount of bonus points are available for locating outside of Auckland. More varied and larger incentives under the points system coupled with an increase in the total number of points required provide a way to incentivise larger numbers of migrants to move to regions facing skill shortages and create more jobs there. This could be adjusted regularly to ensure migrants are being incentivised to locate to the regions they are most needed."
Labour says it will increase incentives through the points system for migrants to accept jobs or establish businesses in the regions. This will be adjusted as required to ensure migrants go where they are most needed. And to encourage them to stay in the regions, Labour will make the residency process easier for people who have worked in struggling regions for "a number of years."
"Labour will investigate the role of immigration in regional development based on attracting people with specialist knowledge and skills required in advancing the economic development of selected regions. Labour's Economic Upgrade will focus on investment, innovation and industry to create more and better jobs in the regions," Labour says.
Meanwhile, the party says it will manage inward migration to reduce peaks and troughs in net migration to take the pressure off an overheated housing market, but ensure skilled labour needed for economic growth is prioritised.