Ex-BNZ boss Andrew Thorburn takes 2 BNZ executives, Andy Symons and Renee Roberts, to NAB with him, acknowledges need for better shareholder returns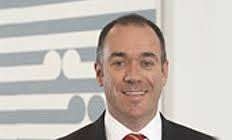 Former BNZ boss Andrew Thorburn has wasted no time in shaking things up in his new role as CEO of BNZ's parent National Australia Bank, announcing changes to the executive leadership team on his first day in the job that see two of his former charges from New Zealand follow him to Melbourne.
Thorburn, who stepped down as BNZ managing director in May, officially succeeded Cameron Clyne at NAB today. He has appointed Renee Roberts, who was BNZ's chief risk officer having crossed the Tasman from NAB in 2011, as NAB's group executive for enterprise services and transformation.
Andy Symons, BNZ's retail director of four years, has been seconded to NAB. There he'll "develop and deliver a significant project" for NAB's global digital strategy, reporting directly to Thorburn. Symons was likely to have been a candidate to succeed Thorburn at BNZ, however the top job went to BNZ's former head of business banking Anthony Healy.
BNZ has named David Bullock as acting director of retail banking. Bullock has had a series of roles at BNZ since joining in 2005 including head of business strategy and operations for retail banking.
Roberts has been replaced at BNZ by Peter Thomas, BNZ's chief credit officer who'll be acting chief risk officer. Thomas was formerly head of property finance at BNZ after a stint as CEO of commercial property financier Equitable Finance, which was placed in receivership in 2010.
In a statement Healy said a "rigorous process" was underway to recruit permanent replacements for Roberts and Symons, which would include both internal and external candidates.
Back at NAB, Roberts will oversee the NextGen core banking platform and simplifying processes, all Australian-based technology, operation and service functions for NAB, including customer servicing, processing and payments, and commercial network services.
Thorburn also announced other appointments and departures from NAB's leadership team, with both those at NAB and BNZ effective immediately. See NAB's statement here that includes full details of the executive changes.
"Selecting a leadership team is one of the biggest decisions a CEO makes, and I have taken the time since my appointment was announced in April to consider who are the best people to take NAB forward," Thorburn said.
"We understand the need to deliver better returns for our shareholders. We will do this by focusing on our customers and building a stronger Australian and New Zealand franchise. Together our leadership team has a very clear direction to ensure that we do the right thing and deliver for our customers, our shareholders and our employees," added Thorburn.
He also said there would be no change to the NAB group's operating model or organisational structure.