A spike in aircraft imports comes as exports fall and we splurge on new and used cars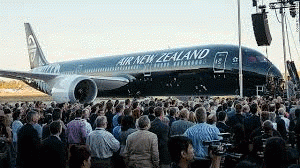 After a long run of better than expected trade data, the tables have turned in September.
New Zealand's actual trade deficit was $1.35 bln.
This is also the largest single-month deficit on record.
Markets were expecting a deficit of half this, about $625 mln.
Exports fell.
Milk powder, butter, and cheese - New Zealand's largest export commodity group - led the fall in seasonally adjusted exports in the September 2014 quarter, with the value down $330 mln or 8.8% ($330 million. This fall was price driven as the quantity rose 2.7%. This is the third consecutive fall in values for a quarter, following falls of 8.6% in the June 2014 quarter, and 3.7% in the March quarter.
The value of exports in the September 2014 quarter, compared with the June 2014 quarter, also fell for crude oil – down by 96 mln or 21% , (with the quantity down 23%), and logs, and wood down by $90 mln or 10% lower.
On the other side of the coin, imports were up in September.
A big part of the rise however was the one-off importing of large aircraft, which added $600 mln to the import bill for the month, (presumably an Air New Zealand 787 Dreamliner although the official data did not reveal the detail.)
Imports of new and used cars has also increased strongly. They were up $66 mln in the September quarter, a +6.4% rise. Imports of cars have been rising for two years.
Petrol and aircraft fuels decreased by $30 million in the latest quarter, down 8%, following an 11% decrease in the June 2014 quarter.
Stepping back for the monthly and quarterly changes, for the year to September we still have a trade surplus of $649 mln and this is the ninth consecutive month where the twelve month result is a surplus. Prior to that we had a period of 21 months where the annual trade was in deficit.