Finance Minister Bill English says returning to surplus 'challenging' with dairy prices falling and inflation low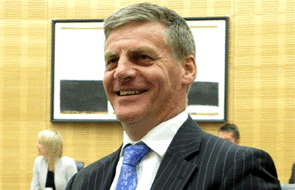 Finance Minister Bill English says returning the government books to surplus this year will be "challenging" against a backdrop of falling dairy prices and low inflation.
Speaking to an ASB business breakfast in Auckland, English said the Government's annual Budget Policy Statement, which will be issued on 16 December along with Treasury's Half-Year Economic and Fiscal Update, is being put together in "unusual times" for global economies.
"Falls in global commodity prices such as oil, forestry and dairy, together with weak international consumer price inflation, are posing challenges for governments and central banks around the world," Mr English said. "New Zealand is not immune to these global trends," English said.
"This combination of lower commodity prices and low inflation means that the nominal or dollar value of New Zealand's economic output will not grow as fast as previously expected. This will affect farm and company incomes and we expect this to flow into the Government's books through lower revenue."
On the other side of the coin English said the current economic outlook was positive for households.
"Low global inflation, a strong dollar and more jobs mean we are not seeing the cost of living increases that would usually go with the kind of real economic growth we're experiencing right now. This means New Zealanders have more spending power as, on average, their incomes are rising a bit faster than the cost of living. Low inflation also means there is less pressure on the Reserve Bank to raise interest rates."
The Government remained focused on controlling its spending and returning to surplus this year, as well as reducing net debt to below 20% of GDP by 2020.
"The Treasury's best assessment of the latest data and the impact on government revenue will be included in the Half-Year Update next month. The unusual current combination of economic circumstances is likely to have an impact on these updated forecasts," Mr English said. "As we've said all along, returning to surplus this year will be a challenge," English said.
"But we believe the strength of the economy and constrained government spending can deliver a surplus when the final accounts are published late next year."
"The overall trend in the Government's accounts is positive. The OBEGAL (operating balance before gains and losses) balance has improved from a deficit of 9.2% of GDP in 2011 to a deficit of just over 1% of GDP in 2014, and we're on track to reduce net debt to below 20% of GDP," English said.