We have launched a new rate resource page revealing peer-to-peer investment opportunities for investors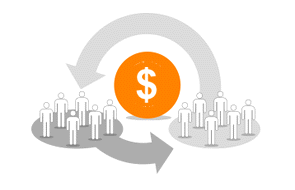 Some readers may have noted that earlier this week we added a new page to our savings section - peer-to-peer investment opportunities.
The peer-to-peer, or P2P, concept is new to New Zealand and at present only one peer-to-peer platform is 'live'.
We expect at least two others will be licenced by the Financial Markets Authority (FMA) and launch in the first quarter of 2015.
The concept of a peer-to-peer marketplace is that borrowers and lenders 'deal directly rather than anonymously via a bank or other financial institution.'
The platform exists as a marketplace to bring the two groups together.
The benefit for borrowers is they should be able to get loans at lower interest rates than via a traditional financial services company.
The benefit for a lender (investor) is they should be able to get higher returns than via a traditional financial services company.
The reason both benefit is that the interest rate spread between the two has traditionally been large. That is why banks make substantial returns.
A feature of the peer-to-peer systems is that there is substantially more transparency in the total relationship.
However, each platform is unique and offers its own variations.
The Harmoney platform is focused on personal loans. It also offers fractionalising strategies - which is where investors take small bites (usually in $25 lots) of many loans, enabling a spreading of risk.
Each loan on the Harmoney platform has a credit score, and they disclose a probability of default.
For example, a $5,000 fractionalised investment could be over 200 borrowers. An investor can select by a number of categories, including credit score and/or loan purpose.
Our new service lists all loans currently open on the Harmoney platform. Many loans appear and get funded quickly, disappearing fast off the list. Others take a while to get fully funded. It is updated daily.
We are providing this service as a resource for investors, but it is indicative only. You will need to register on the platform to get the official data. We would like feedback.
We are also listing Harmoney's indicative personal loan offers here. The full offer for borrowers can only be seen on their website.
Other platforms will be added to our service as they become operational.
As with any other major financial decision you make, it's important to understand the possible risks and rewards of  peer-to-peer marketplaces. Here's an interview with FMA director of compliance Elaine Campbell on the regulator's expectations from peer-to-peer marketplaces. And here's an indepth look at peer-to-peer marketplaces, including potential risks and rewards, from Gareth Vaughan.