Key says President Xi Jingping asked for NZ help to extradite number of corrupt Chinese officials living in NZ with ill-gotten gains; working on extradition treaty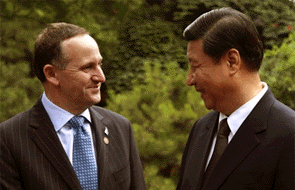 By Bernard Hickey
Prime Minister John Key has disclosed he had talks with President Xi Jingping last month about extraditing a number of Chinese nationals who the Chinese Government believed had fled to New Zealand with corruptly obtained funds.
Key said the Government was in early discussions with China about signing a modified extradition treaty that would allow the extradition of such officials and associates, as long as New Zealand's concerns about human rights and China's use of the death penalty were taken into account.
"He did raise the broader issue of concerns that the Chinese have about nationals that may come to a country like New Zealand and other countries around the world with money that he would claim is not theirs, and it's from a variety of activities," Key told his last post-cabinet news conference for the year. 
"He indicated he thought there were a few people that were in New Zealand," Key said.
"They're certainly keen to get a few people back from New Zealand," he said, adding he was not aware of formal cases except for one involving allegations of inappropriate sexual behaviour.
Operation Foxhunt
Key's comments followed an FT report in September that the Chinese Communist Party's Central Commission for Discipline Inspection (CCDI) had included people linked to former vice mayor of Guangzhou, Cao Jianlao, in its 'Operation Foxhunt', which is a programme to hunt down and extradite corrupt officials and their associates from countries all over the world.
President Xi has made a corruption crackdown known as a hunt for "tigers and flies" a centrepiece of his leadership programme.
The FT reported that Tan Bingzhao, a New Zealand citizen and prominent Guangzhou property developer, is alleged to have paid big bribes to Cao and his relatives to buy land cheaply and win contracts. Cao's wife and mistress were living in New Zealand when Cao was detained by officials in September.

"Following a CCDI investigation, which was able to extract a confession from Mr Cao, the Chinese government has asked Wellington for information on these New Zealand-based assets and to interview these residents and citizens on New Zealand soil," the FT's Jamil Anderlini reported in September. He added investigators had accused Cao of corruption of up to US$43 million and having at least 11 mistresses.
He reported the CCDI was an extra-judicial body with the power to indefinitely detain party officials and had been accused of torture and politically motivated investigations. China also uses the death penalty in cases of corruption.
Key would not give details of the specific concerns raised by President Xi or the exact number of Chinese nationals being sought.
"It's a reasonable number that they believe may in New Zealand with those kinds of resources," Key said.
"They are very keen to progress their extradition treaty," he said.