Fitch expects 'sound' performance from NZ banking system in 2015, but sees risk of already high household debt continuing to rise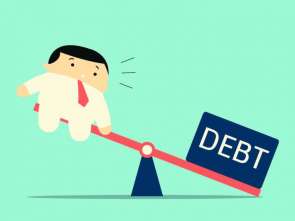 International credit rating agency Fitch Ratings has highlighted New Zealand's high household debt levels in its 2015 outlook for New Zealand banks.
Although saying it expects the performance of the New Zealand banking system to remain sound in 2015, Fitch notes household debt has risen to 156% of disposable income from 152% in 2011 and is "high."
"Fitch does not foresee a significant improvement in this ratio in 2015. In fact, there is a risk that household debt could continue to increase if property prices continue to rise on credit supply," Fitch says.
"A significant correction in house prices and a sharp increase in the Official Cash Rate could pose a risk for the banks' household exposures."
However, the credit rating agency says the stabilisation of household debt levels during 2014 reflects measures such as the Reserve Bank's introduction of high loan-to-value ratio (LVRs) "speed limits" on home loans, and tightened underwriting processes by the banks. It says this helps limit the build up of further risks in the banking system.
New Zealand banks' loan books are dominated by home loans. The latest Reserve Bank sector credit figures show total household claims of $210.881 billion at November 30 last year, a rise of 4.6% year-on-year.
Fitch's comments on New Zealand's high household debt comes after the London-based Lafferty Group recently put this country's consumer credit to personal disposable income ratio at 164%. Lafferty figures for a range of other countries had only Canada ahead of this at 166%.
Key outlook sensitivities
Fitch says key outlook sensitivities for New Zealand banks include an economic slowdown in China, increased risk appetite at the banks, and rising macro-economic risks such as prolonged low dairy prices. It predicts "mid-single digit" loan growth in 2015, and says the dairy sector is likely to withstand one year of weaker milk prices as most farmers have used the previous year's record payout to invest in their business or deleverage.
Meanwhile, Fitch says bank asset quality should stay sound this year in the absence of severe external shocks. It says an improving labour market should support the asset quality of banks' household loan portfolios. The LVR restrictions should help limit bank losses stemming from any sharp house price correction.
"Serviceability testing also provides a buffer (with) a borrowers' capacity to  repay usually assessed at an interest rate about 150 basis points to 200 basis points above the best two-year fixed mortgage rate on a principal and interest basis regardless if the borrower has chosen an interest-only mortgage," Fitch says.
'Sound prospects for bank profitability'
The credit rating agency sees sound prospects for bank profitability, noting New Zealand banks are among the more profitable in the developed world, with Fitch expecting them to maintain strong net interest margins. Reserve Bank figures show New Zealand's retail banks had a combined net interest margin of 2.35% in the September quarter of last year.
"Capitalisation is expected to remain strong, while funding and liquidity profiles should remain stable."
"Counterbalancing the banking system's strength are increasing risks to asset quality, although Fitch does not expect these to manifest before end-2015. Sound economic prospects and further improvements in the labour market should help support asset quality within the banks' household exposures. There is however some downside risk to agriculture exposures should dairy prices remain low until mid-2015," says Fitch.
"However, the dairy farm industry finds itself in a better financial position relative to 2009 recession. Further increases in New Zealand's official cash rate (OCR) would also increase repayment pressure on some borrowers, although monetary policy is expected to remain supportive for some time."
"If either scenario were to occur it is unlikely to have a noticeable impact on asset quality until late 2015. The use of buffers in serviceability testing for borrowers provides some offset to this risk," says Fitch.
"Any reduction in asset margins due to fierce mortgage competition is likely to be offset by further funding cost reductions. In addition, cost management should remain efficient. Loan impairment charges may increase, although from a low level."
Overall, Fitch says it forecasts "healthy profitability" supporting internal capital generation.
"Capital levels are likely to remain adequate at current levels although the capital structure for larger banks may alter. Funding and liquidity are likely to remain stable, although some improvements in maturity profiles are possible. Generally, banks are focused on funding lending growth through either customer deposits or long-term wholesale funding."
Fitch also says it expects banks' liquidity positions to stay sound, at least enabling them to cover short-term funding maturities.