Key says Government won't add to NZ$30 million of support given to Rio Tinto to keep Tiwai Pt open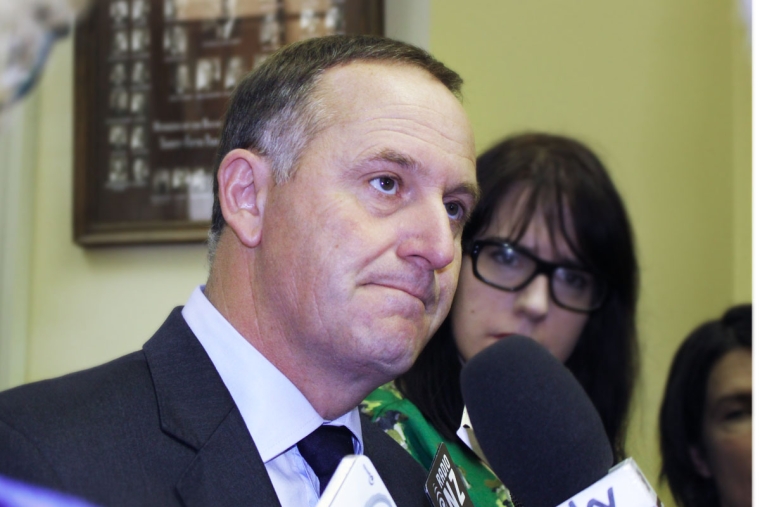 By Bernard Hickey
Meridian Energy has granted New Zealand Aluminium Smelters until August 3 to decide on the future of its power supply deal for the Tiwai Point aluminium smelter. The deadline for a decision on whether to stay open and who to buy electricity off if it did had been 5pm later today.
On the eve of the deadline, Prime Minister John Key reiterated that the Government would not top up the NZ$30 million grant it gave Rio Tinto two years ago to keep it open beyond 2017.
Rio Tinto's NZAS was scheduled to announce on Wednesday whether it closes the Bluff smelter on January 1, 2017, or decides to buy electricity at discounted prices from providers other than its current supplier Meridian Energy.
"Obviously I would be deeply concerned if they did close because the government did everything it possibly could to support the aluminium smelter basically to stay," Key told reporters in Parliament.
"We did that by putting cash in and I think myself that was the right thing to do, but the Minister of Finance has made it very clear to New Zealand Aluminium Smelters they won't be getting any more cash injections, so in the end it will either survive or fall," he said.
"But my strong preference is that is survives. It's a big exporter from New Zealand's point of view."
Around 3,500 jobs in Southland are at risk if the smelter closes, although most analysts expect Rio Tinto to keep it open given the potential for prices to recover, the NZ$500 million cost of rehabilitating the site and the potential for transmission costs to drop NZ$50 million a year if an Electricity Authority proposal for a new pricing methodology is accepted.
NZAS could also choose to notify Meridian Energy, which operates the Manapouri power station, that it would buy no more than 400 MW of power from it after 2017, and buy the balance of 172 MW in the current contract from other providers such as Genesis Energy, Contact Energy and Mighty River Power.
Share prices in the four power generators have slumped 15% to 20% in the last two months on fears that the some or all of the 572 MW used by Tiwai Pt, which represents 13% of New Zealand's power supply, could be dumped onto the market, suppressing wholesale prices and profits.
"It obviously uses a fair bit of electricity which would take a while, some of it, to redirect. It's a very large employer, both directly and indirectly, in Southland," Key said.
Asked if there was any way the Government could recover its NZ$30 million bailout if Tiwai Point closed, he said: "No. That was always seen as some money that was point in to encourage them to work through the process, to buy a bit more time and for what could happen to that surplus electricity if required."
"Let's just wait and see. It's very high quality aluminium and I still think there is a lot of good reasons why the owners would want to keep the smelter going - but there's no more cash from the government."
More time given
"NZAS has been in discussions with a number of parties, including Meridian, with respect to its electricity requirements at its Tiwai Point smelter. NZAS requires more time to fully analyse its options before making a decision," said Meridian Chief Executive, Mark Binns.
"We think it is in all parties' interests to ensure that a decision is based on the most complete information," Binns said.
'We want lower transmission costs'
Meanwhile NZAS Chief Executive and site General Manager Gretta Stephens said the extension allowed NZAS to continue pursuing commercially competitive electricity arrangements, which Invercargill Mayor Tim Shadbolt interpreted as meaning the smelter had decided to stay open and was only negotiating the cost of power.
"NZAS is one of the most operationally efficient smelters in the world, but pays one of the highest prices for power," Stephens said, adding NZAS' electricity costs, combined with high transmission costs, and historically depressed aluminium prices, continue to place significant pressure on the smelter.
NZAS currently paid as much as 10 times more for transmission than other smelters internationally, she said.
"We welcome the Electricity Authority's recent paper outlining options for transmission pricing reform which acknowledges that NZAS pays more than NZ$50 million a year for transmission infrastructure it receives no benefit from," Stephens said.
"We look forward to working with the Authority to achieve the right result for New Zealand; however, our immediate focus between now and 3 August 2015 is on securing our electricity arrangements."
'Subsidy for big business'
New Zealand First Leader Winston Peters has criticised the Electricity Authority proposal as a subsidy for big business which would be paid for by domestic power users in places such as the West Coast and Northland.
"Building corporate welfare, particularly for foreign-owned companies is a hallmark of this government," Peters said.
"The annual lines charge in this proposed base option per customer for West Power goes from $179 to $676, Top Energy goes from $155 to $421 and Northpower surging from $300 to $560. Even Auckland's Vector will see their customer charges on average increase from $327 to $519.  That is not good for the poor, the elderly or working parents trying to make ends meet," Peters said.
"How on earth are regions likes Northland and the West Coast supposed to develop when the price increase is massively greater than inflation?"
(Updated with delay, NZAS comment, Peters comment)