We compare the 'default' and 'excess' interest rates that face mortgage borrowers who don't make their payments on time or bust their limits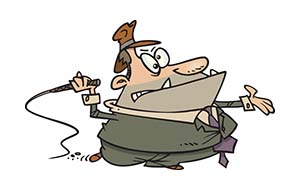 ANZ has updated its website to disclose its 'default' interest rates in a clearer manner.
These are the rates that will apply if you miss a payment or don't make one by the due date.
Or, as ANZ says, "If you do not pay the amounts when they are due, we can charge you interest on those amounts at the default rate".
Presumably, the key reason you might miss a payment is because your are financially stressed. After the bank is finished with you you will be even more financially stressed.
Default rates generally range from +2% to +5% on top of the interest rate you are paying, with BNZ applying the low at +2%.
ASB takes a quite different view, applying a flat 22.5% rate for both excess and default rates which works out at about +16.25%.
But at least ANZ might make you ever so slightly less stressed than at ASB.
Here is where each bank stands on default interest with some key examples:
as at August 11, 2015

Carded rate
Default rate
Excess rate
 
 
% pa
% pa
% pa
ANZ
Floating mortgage
6.24
11.24
 
 
2 year fixed
4.89
9.89
 
 
Revolving credit
6.35
11.35
21.35
 
 
 
 
 
ASB
Floating mortgage
6.25
22.50
 
 
2 year fixed
5.25
22.50
 
 
Revolving credit
6.25
22.50
22.50
 
 
 
 
 
BNZ
Floating mortgage
5.99
7.99
 
 
2 year fixed
4.69
6.69
 
 
Revolving credit
6.24
8.24
13.2 +margin
 
 
 
 
 
Kiwibank                
Floating mortgage
6.15
11.15
 
 
2 year fixed
4.65
9.65
 
 
Revolving credit
6.15
11.15
22.00
 
 
 
 
 
Westpac
Floating mortgage
6.15
11.15
 
 
2 year fixed
4.69
9.69
 
 
Revolving credit
6.15
11.15
26.95
An "Excess Rate" applies if you go over your "credit limit" which can happen in a revolving credit arrangement because it essentially operates like a giant overdraft, secured against your property. Some banks call this an 'unarranged overdraft fee".
All rates in this story have been sourced from each bank's websites today. They are subject to change. Banks allow themselves discretion in their fine print by saying "may charge ..." or "can charge" rather than "will charge ...".
Obviously if you think you may have trouble making a payment or meeting a due date, you are almost always better to raise the possibility with the lender well before that date arrives. No one wants to show weakness to their bank but facing up to the consequences without warning them it is coming will likely be tougher.
Your "friendly loan company" is closely associated with the "unfriendly collection company".