PM says European dairy production surge in 2015 a one-off; banks tell him they're being cautious; but a few very indebted farmers will go under; Govt not taking action on Fonterra's tougher payment terms for suppliers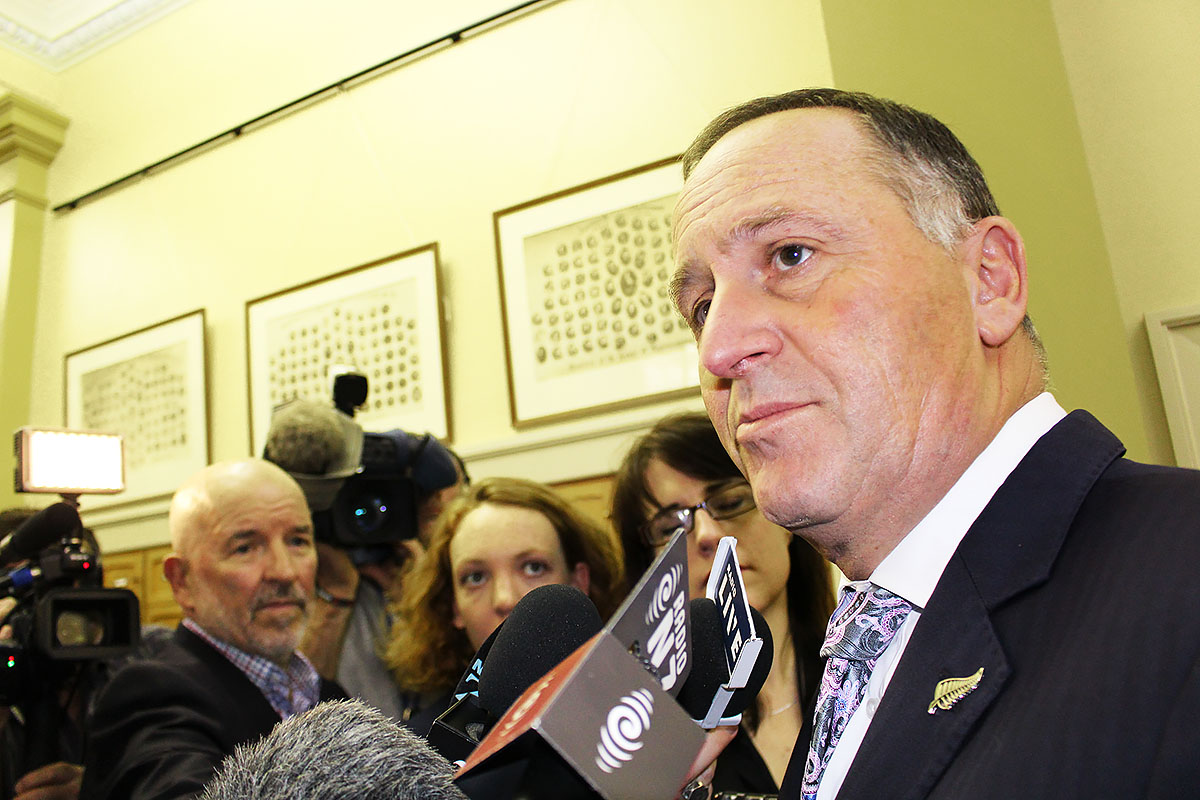 By Bernard Hickey
Speaking after Fonterra cut its payout forecast by 25c to NZ$3.90/kg, Prime Minister John Key has repeated his confidence in the long term outlook for dairy, saying last year's production surge in Europe was a one-off and the long-term outlook for demand from the growing middle classes of Asia was strong.
Key said he was also confident that most farmers were resilient enough to cope with the low payouts and that bankers had told him recently they remained supportive of farmers.
"You are seeing some farmers realising this is a tougher period for longer and starting to make changes to on-farm production costs," Key told reporters in Parliament.
"Inevitably you'll probably see some farms being sold, but overall, as we've said before, farmers are very resilient at dealing with these issues. They know they go up and down with prices," Key said.
Bankers he had spoken to were taking a considered and cautious approach.
"I've seen a couple of chief executives in the last week. They're very much taking the view that they're not going to rush to be forcing people off their farms, but inevitably there are a few that are going to be highly indebted," he said.
Asked if he remained confident in the Government's long-term outlook for dairy prices given extra demand from Asia's middle class had been matched by increased European and US output, he said he still saw a bright future. The Government's Business Growth Agenda includes a strategy of doubling the value of primary industry exports by 2025, including significant growth in dairy production and returns.
Key said a ramping up of a production in Europe last year was a technical one-off situation linked to the end of export quotas and a switch of production from Russian cheese to milk powder.
"You've seen a lot of one-off adjustments there, but ultimately they are going to respond like we're responding. Yes, New Zealand farmers aren't making much money and it's much easier for a farmer being subsidised in Europe to eke out a living, but at the end of the day they're still not making money either so you will see adjustments to their herds," he said.
"There's a one-off adjustments happening in Europe. There's a whole lot of restrictions that changed because of what came out of Nairobi, and secondly in terms of Europeans getting rid of subsidies over time so there was a one-off increase."
European governments agreed at a WTO meeting in Nairobi in December to phase out dairy export subsidies by 2018. Europe abandoned its quotas on dairy exports on April 1, sparking a fresh surge in production. US production has also risen. (See chart below)
Finance Minister Bill English also said some farmers would be under pressure and others were having to re-assess their long term outlooks.
He would not comment on the Reserve Bank's decision on interest rates due on Thursday in connection with the lower dairy payout, but said a 0.25% fall in the rate would not do much to help those with the highest debt.
Fonterra's tougher credit terms criticised
Meanwhile, Fonterra's decision late last year to extend its payment terms to 2,000 suppliers to payment within 90 days rather than 30 days has come under fire from some in provincial New Zealand. Some said it had also demanded price reductions from suppliers of contracting and other services of 10-20%.
National MP for Whanganui Chester Borrows has criticised Fonterra for 'bullying' suppliers.
"It's scary to companies who are servicing an industry that is already under pressure and trying to keep people in jobs," Borrows said.
Small Business Minister Craig Foss said he had also seen some complaints about Fonterra's new terms, and he was looking at the broader issue.
"I've already made it a larger priority of mine in my portfolio to look at issues such as extending payment terms and cashflow management for small businesses as they engage with larger businesses," he said.
"There's many large companies doing something similar -- extending terms," he said, acknowledging there was not much the Government could do as long as the company was within the law.
"I think public awareness of how some companies may be operating, that court of public opinion may influence some of the behaviours," he said.
English later told Parliament he was not aware of Fonterra breaking the law on payment terms.