Justice Minister confirms Govt accelerating 2nd round of Anti Money Laundering rules to include real estate agents, solicitors and lawyers by mid 2017; move follows Panama Papers publicity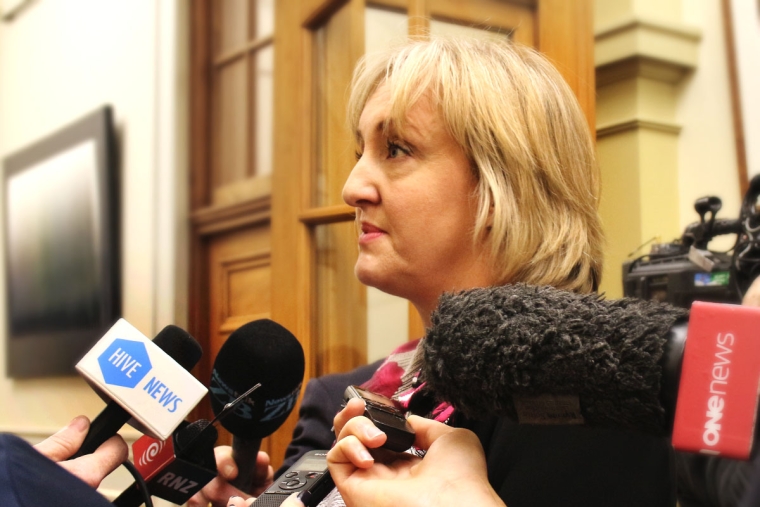 By Bernard Hickey
Justice Minister Amy Adams has confirmed the Government has accelerated plans to bring in a second round of Anti-Money Laundering (AML) rules that would bring real estate agents, solicitors and lawyers into the compliance regime that already includes banks, stock brokers and fund managers.
"I kicked that work off in the middle of last year, but to fair we've decided obviously this year to prioritise that work and speed them up a bit so that work is now proceeding at some pace," Adams told reporters in Parliament. 
Prime Minister John Key said on May 9 the second round of reforms would be accelerated in the wake of the publicity around the Panama Papers detailing the role of trust lawyers in setting up vehicles for overseas beneficiaries to protect assets, and after fresh calls for the AML rules to be extended so lawyers and real estate agents are forced to check whether funds being transferred and invested are legitimate. See our May 9 article for more detail.
Key repeated again late on Monday that the reforms would be accelerated after fresh reports showing corrupt Kazakhstan and Brazilian politicians have used New Zealand trusts to hide assets and that one of the lawyers involved, Cone Marshall, was not registered with the Department of Internal Affairs for AML purposes.
"We certainly need to pass part two of that and there's no question that, as a result of the debate around the Panama Papers and the sort of wider public debate globally about this issue, we're certainly trying to push part two of that through as quickly as we can," Key told his post-cabinet news conference.
Adams said she could not be definitive when proposals for the second round of AML reforms would be put forward, but the general aim was to have it in place by mid 2017.
"It's an extensive regime across a number of new Zealand professionals. It involves thinking about potentially setting up another reporting entity to oversee it. We'll have to go through all of that and work out exactly how it's structured, the compliance impacts and how we do the reporting framework," she said.
"It's not something that's developed in five minutes. It is an extensive and complicated piece of legislation, but we are proceeding at pace," she said.
"But as a result of recent events we have decided to proceed a lot more quickly and have it in place as soon as we can."
'No push-back from lawyers'
Adams said she had been talking with the Law Society about the reforms and had not received any push-back.
"I meet with the Law Society reasonably regularly and it's something we discuss. But they've never expressed any concern that they shouldn't have to face it. They are expecting to face it, and we have just been talking through impact and the like, but there's been no push back at all," she said, adding she had not discussed it with real estate agents.
"We want to have it in place by mid next year. That's the timeframe we are currently working to, which includes obviously legislation, the legislative process, select committees, drafting and the like. But obviously first of all we have to get the policy landed and that's what we are focusing on now," she said.
"We are going to do it, but we have to make sure we do it in a way that has that balance right. You are dealing with a large number of people who are affected by it, and people, firms practitioners - whereas with banks and casinos and the like obviously it's a smaller number of operators, so that is one of the complicating factors. It's one of the factors that drives significant compliance cost, but that is what it is. We are still committed to doing it. But it does mean that it is a more complicated process to understand the impacts of what we are doing and to make sure that we get that compliance cost and public benefit right."
Bankers and others have been arguing for the earlier introduction of round two, although real estate industry and accounting industry lobbies are understood to have been cautious about the introduction, given the extra compliance costs involved.
The New Zealand Bankers' Association (NZBA) and ANZ argued last year that new disclosure rules for home buyers should be accompanied by the second round of AML rules, to take some of the onus for identifying the source of funds for property purchases off banks.
Two years of delay until now
Gareth Vaughan reported in May last year the Government had not decided when to push ahead with the second round of anti-money laundering legislation.
A Ministry of Justice spokesman said in May last year that the Ministry had begun initial policy work for the so-called phase two of the AML-Countering Financing of Terrorism Act (AML/CFT).
"But the timing and scope for this work is yet to be determined. We will communicate with the legal profession and other sectors about phase two at the appropriate time," the Ministry of Justice spokesman said then.
Key said on May 9 this year that Justice had previously (before the Panama Papers) told the Government it had other higher priorities in its policy work.
The May 2015 comments suggested little or no progress since October 2014  when the Ministry of Justice said initial policy work for phase two was underway, but no decisions had been made on the exact timing of this, or the specific sectors that will be brought within the Act's scope.
Phase two is expected to extend AML/CFT obligations to businesses and professions including lawyers, accountants, conveyancing practitioners, real estate agents and businesses that deal in high-value goods such as auctioneers and bullion dealers.
An IRD proposal for a review of foreign trusts in late 2014 was dropped by the Government after lobbying by trust lawyers. The sector is now being reviewed by John Shewan in the wake of the Panama Papers publicity last month.