Mossack Fonseca's man in NZ says Panamanian firm still active here despite voluntarily deregistering its NZ registered company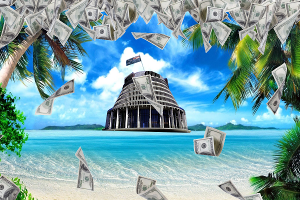 By Gareth Vaughan
The New Zealand offshoot of Mossack Fonseca, the Panamanian law firm at the centre of the so-called Panama Papers, has been quietly deregistered as a NZ company.
Mossack Fonseca & Co. (New Zealand) Limited, was voluntarily deregistered last month, according to Companies Office records. A letter from the Inland Revenue Department in June said the IRD did not object to the company being removed from the NZ Companies Register. Mossack Fonseca & Co. (New Zealand) Ltd was registered on December 16, 2013. Orion Trust (New Zealand) Ltd, a related entity that also featured in the Panama Papers, remains registered in NZ.
Roger Thompson, NZ resident director of Mossack Fonseca & Co. (New Zealand) Ltd and also an Auckland-based director at Bentleys Chartered Accountants, told interest.co.nz the deregistration was not significant.
"Mossack Fonseca & Co (New Zealand ) Ltd was a non-trading company so the de-registration is of little significance. We continue to provide services in relation to clients of Mossack Fonseca all of whom have passed rigorous AML [anti-money laundering] due diligence," Thompson said.
The Panama Papers story broke in April after millions of files were leaked (or hacked) from Mossack Fonseca's database and given to German newspaper Suddeutsche Zeitung, and from there to the International Consortium of Investigative Journalists. 
Stories that emerged through international and local media coverage featured the use of secretive NZ foreign trusts set up by Mossack Fonseca - that pay no NZ tax on foreign earnings, don't have registered beneficiaries and don't file accounts with any public body - by the likes of the Maltese Energy Minister Konrad Mizzi and the Maltese Prime Minister's Chief of Staff, Keith Schembri, the suspended speaker of Brazil's lower house of Congress Eduardo Cunha, and the exiled former Prime Minister of Kazakhstan, Akezhan Kazhegeldin. Here's Mossack Fonseca's response to the Panama Papers). 
The Government subsequently hired former PwC chairman John Shewan to do a report on foreign trust disclosure rules, and has accepted his recommendations to tighten these rules.
When contacted by interest.co.nz on April 4 as the Panama Papers story was breaking globally, Thompson declined to comment about Mossack Fonseca's NZ operations. Thompson is a former managing director of accounting firm Staples Rodway, has been an associate at law firm Kensington Swan, and in the 1980s had stints as both an inspector at IRD and as a manager at Allan Hawkins' Equiticorp. More recently he was a director of Panasuisse (New Zealand) Ltd, which is the local arm of a trust and company service provider that also has a presence in Panama and Switzerland.
Mossack Fonseca is just one of dozens, if not hundreds, of global oriented firms arranging the likes of NZ companies, trusts, limited partnerships and financial service provider registration for clients scattered all around the world. See more on the others here. 
*This article was first published in our email for paying subscribers. See here for more details and how to subscribe.