Key says would still recommend first home buyers go for apartments despite 35 projects failing to get off ground due to funding, cost issues; says consenting still strong; English points to ramping up of Govt building plans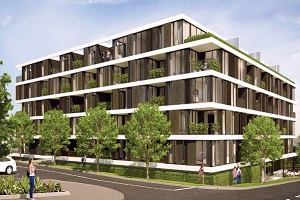 By Bernard Hickey
Prime Minister John Key has downplayed a report that 35 apartment and townhouse developments in Auckland have fallen over in the last year because of funding and cost problems, saying new building consents remained strong and he did not see this issue as a major problem.
Anne Gibson reported this morning that Pete Evans, Colliers International's residential project marketing national director in Auckland, had said 35 residential developments had not gone ahead in Auckland in the last 12 months because of funding and building cost problems. The comments came in the wake of news yesterday that the 91-unit 'Flo' development in Avondale had been cancelled because the developer, Jon Sandler, said banks had tightened their lending practices. Deposits had been paid on 81 of the 91 units, although deposits will be returned. 
Key was asked about the report by reporters in Parliament, given the Government's strategy for dealing with the Auckland housing crisis is to increase housing supply, largely through the private sector developing more affordable apartment and townhouse-style projects. Developers have reported in recent months that banks have changed their risk appetites, particularly for riskier apartment developments and for rental property investors buying off the plan. Interest first reported on June 3 that ANZ had stopped lending to rental property investors buying apartments and house-and-land packages off the plan.
"What it shows you, of course, is that there is always risk when it comes to property development and it's one of the reasons why, when people say 'just fix the housing supply issues', it's never quite as simple as people say because it's real people's money that's on the line," Key said.
"And, of course, the developer would be going ahead if they thought they could make money easily out of it. So it's just an interesting fact that that's there, but I wouldn't take too much out of it. While they may not be happening, the consenting looks very strong. If you look at the numbers that came out two weeks ago, the numbers of properties being developed in Auckland, already on the go, is very strong," he said.
"From time to time you'll always get a few developments that all over."
There were 970 new dwellings consented in Auckland in August, including 163 apartments and 273 townhouses. The trend for new dwelling consents in Auckland has picked up in recent months to just over 900 a month in recent months, but remains well below the 1,100 a month seen necessary to keep up with population growth, let alone eat into the 40,000 shortage currently estimated for Auckland.
Key said he stuck by his advice to first home buyers to go into apartments, despite some saying they were disappointed the Flo project had fallen through.
"t seems to be around the building costs for the developer. So, in the end, if you own the property, I think apartments are a very credible alternative for people to buy for a whole variety of reasons, everything from convenience to affordability," he said.
Banks pulling back lending to developers
Challenged on the funding issues cited by developers, Key said this was not new.
"Some of the banks actually have a policy that they don't lend on apartments in a major way," he said.
Asked about an apparent change of approach by banks in recent months, he said: "Yeah, well, what the banks are concerned about is that if there is a fall in the property market, they are worried that apartment may be affected a little more significantly than other properties. So they are just being a little bit more conservative. They always have a certain degree of the number of apartments they have on their balance sheet, so it just varies. Every bank takes a different position."
Key said he asked all the banks about their lending policies.
"Some of them lend pretty fully on apartments, others are a little more cautious," he said.
Asked if the Government needed to step in to meet a need the market could not meet, he said: I don't think you can entirely say that is the case at the moment. As I said, if you look at the consenting numbers they are quite strong. But you are always going to get some things that don't go ahead, and that demonstrates what I said earlier, it's not as straightforward as some people might want to maintain."
Meanwhile, Finance Minister Bill English pointed to Government plans to ramp up its own developments on Housing New Zealand land in coming years.