Treasury reports OBEGAL Budget surplus of $222 mln for 3 mths to Sept 30, which is $725 mln more than forecast in May Budget; Revenues $523 mln higher than forecast on stronger economic growth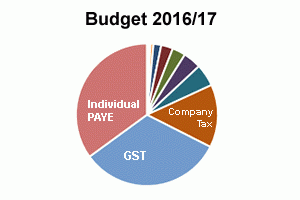 By Bernard Hickey
The Government's surplus is growing fast as it moves into an election year, with stronger than expected economic growth boosting income tax and GST revenues.
Treasury reported a Budget operating balance before gains and losses (OBEGAL) surplus of NZ$222 million for the three months to September 30, which was NZ$725 million better than forecast in the May 26 Budget.
This was largely due to core Crown tax revenue being NZ$523 million or 3.1% more than forecast. Expenses were close to the May forecasts.
Treasury said the Government's residual cash deficit of NZ$810 million was NZ$1.4 billion smaller than expected, primarily reflecting higher than expected tax receipts of NZ$1.2 billion.
"This lower-than-forecast cash deficit, together with the lower than forecast opening net debt position ($0.4 billion), has flowed through to net debt which was $1.7 billion lower than forecast at $63.1 billion (25.1% of GDP)," Treasury said.
Corporate tax revenues were NZ $252 million or 11.8% above forecast.
"Most of the variance was caused by provisional tax being higher than forecast for both revenue and receipts, indicating that taxable profits for the current tax year may be higher than expected," Treasury said.
GST revenue was NZ$134 million or 3% above forecast. Treasury estimated GST arising from residential investment and inbound tourism was above forecast.