The best bits of election reaction that affect you... Tony Alexander suggests fixing for three years, downplays impact of Trump victory on NZ, the yuan falls to a six-year low, Turnbull talks TPP with Trump, Facebook's role in outcome debated, and more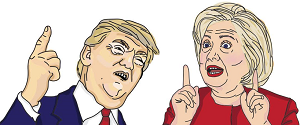 Donald Trump has been elected President of the United States. What now?
Here's a running commentary of how financial markets, commentators, movers and shakers are reacting, and how it affects you.
4.25pm
What should mortgage holders be doing post-election? BNZ chief economist Tony Alexander suggests fixing for three years. He says: 
"Some migration boost may ensue to NZ, but it is important to look beyond the initial dummyspitting by those who opposed Mr Trump and see how things settle down.
"There has already been some extra upward movement in US medium to long-term interest rates overnight in anticipation of larger budget deficits and higher inflation and this adds to the already growing pressure for fixed home lending rates to rise here.
"Big movements up are unlikely, but perhaps this time post-GFC we can have very high confidence that we have finally gone past the low point for the fixed rate cycle. I'd fix three years now."
Alexander notes market "recovery was swift as attention turned to a likely economic stimulus from higher infrastructure spending, possible absence of the previously expected tightening of US monetary policy next month, likely tax cuts, and reduced burdens upon sectors such as health and banking."
He has downplayed the impact of a Trump victory on the New Zealand economy, saying: "My personal view remains that the Kiwi dollar has support from a wide range of factors, not the least being the strong state of the economy plus the new element of recovering international dairy prices.
"Any weakness attributable to the uncertainty surrounding the President-elect may already have been and gone."
4.05pm
Social media has played a huge role in this election. Bloomberg explores the extent to which it helped Trump win:
America just endured its first presidential election in which the majority of the electorate got its news from social media. And the outcome is already prompting soul searching by the companies that shaped it.

Facebook Inc. will have to contend with mounting dissatisfaction over its role as the most widely used news filter in history. Forty-four percent of American adults get their media through the site, many consuming news from partisan sources with which they agree.

The proliferation of fake news on Facebook has also been a problem: false stories about the Clinton family committing murder and Huma Abedin being a terrorist flew fast and furious despite refutations from responsible news organizations. Those stories shaped public opinion, said Ed Wasserman, the dean of the University of California, Berkeley Graduate School of Journalism.

"This is a landmark," he said. "Trump was able to get his message out in a way that was vastly influential without undergoing the usual kinds of quality checks that we associate with reaching mass public. You had a whole set of media having influence without really having authority. And the media that spoke with authority, the authority that comes after careful fact checking, didn't really have the influence."
3.45pm
The Chinese yuan has fallen to a six-year low against the USD.
The onshore yuan opened trade at 6.798 per dollar, while the People's Bank of China set a weaker official midpoint for the fifth consecutive day at 6.789.
Trump has labelled China a currency manipulator, and threatened to impose a 45% punitive tariff rate on all Chinese imports.
ASB's chief economist Nick Tuffley says this could see China's exports to the US could fall by as much as 80%.
"Given 4.6% of China's GDP is exports to the US economy, we anticipate China's real GDP growth will slow from 6.5% to 5.5% as US tariffs imposed on China are offset by Chinese domestic stimulus measures," he says.
"The slowing in China's economy would have some flow-on economic implications to the rest of Asia, including NZ and Australia."
3.15pm
The Sydney Morning Herald reports:
Everybody was caught with their pants down when it came to Donald Trump's unexpected election victory, including the bookies, which are paying dearly for their collective misjudgement.

Sportsbet reports it has paid out $11 million to 25,000 punters who backed Trump, including one punter who picked up $10,100 from a $100 bet on Trump in 2014.

The company, owned by Irish bookmaker Paddy Power/Betfair, hasn't said how much was bet on a Hillary Clinton victory, but twice as many bets were made on Trump, suggesting the losses across the industry will be substantial. 
2.55pm
Australian Prime Minister Malcolm Turnbull has wasted no time pressing Trump over issues core to Australia's interests, the Australian Financial Review reports.
During a 15-minute phone call to congratulate Trump on his victory, Turnbull urged him to rethink his opposition to the TPP. He also raised his concerns over the US's military presence in Asia-Pacific.
2.40pm
ASB chief economist Nick Tuffley:
At face value Donald Trump's policies are inflationary.  Lower taxes and higher government spending are stimulatory. Consequently, there is the prospect of stronger US growth and an earlier lift in inflation pressures. Furthermore, the proposed cut in the company tax rate would improve the after-tax return of equities, generating larger capital inflows into the US economy. US corporates would repatriate profits that are now subject to less tax into the US economy. This mix of policies points to higher US interest rates, higher US equity prices and a stronger USD.

The implications of a Trump Presidency on NZ are mixed, and depend much on what policy shifts dominate NZ's export demand. The big uncertainty is to what extent any trade protectionism undoes the impact of a US fiscal boost on NZ. 

The mix of NZ monetary conditions is likely to shift in favour of a weaker than otherwise NZD, counterbalanced by higher term interest rates via higher US interest rates. The NZD impact may overall win out, but at this stage the net effect does not look like it will be dramatic.

The RBNZ has a lot of time up its sleeve to assess the likely NZ impact of the Trump presidency. Even the next Monetary Policy Statement, on February 9, may be too soon to for the RBNZ to incorporate any economic changes given Donald Trump's inauguration is less than 3 weeks prior.

For the time being, we see the implications for NZ monetary policy as mixed.  We continue to expect the RBNZ to keep the OCR on hold at 1.75%. The risks are slightly skewed to the downside, with the incoming President Trump one further uncertainty to respond to.
2.20pm
Standard & Poors has affirmed the US' investment-grade 'AA+/A-1+' sovereign rating further to Trump being elected. It says:
"We assume the longstanding institutional strengths and robust checks and balances of the U.S. will support policy execution in a Trump administration, despite the president-elect's lack of experience in public office, which raises uncertainty on policy proposals.
"The credit strengths of the U.S. include its diversified and resilient economy, extensive economic policy flexibility, and unique status as the issuer of the world's leading reserve currency. However, high general government debt and now increased uncertainty over its trajectory constrain the ratings."
2.05pm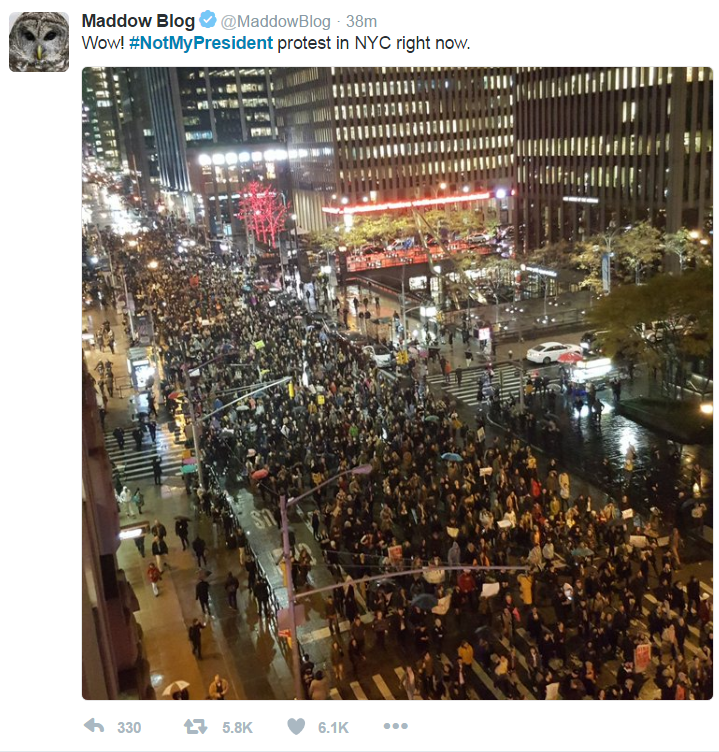 1.20pm
Will Trump actually have the power to start a nuclear war? Yes and no, says New Zealand-based security expert, Paul Buchanan on Radio New Zealand.
"The command of the nuclear arsenal, the order to fire, is done by the president alone, there are no checks or balances on him once he makes that choice. He doesn't have to consult with Congress, he certainly doesn't have to consult with the judiciary," Buchanan says.
Yet he notes the president will have to operate under the weight of US foreign and domestic policy and will be closely vetted by military officials.
"And then there's the check of ultimate resort."
Buchanan says twice before, when Nixon was in the middle of his Watergate troubles, and during the time that Reagan was suffering from Alzheimer's, the military stopped them from pulling the trigger.
"I would imagine if Trump starts operating in a very erratic way, they would do the same thing to him," he says.
12.55pm
Here's a map of what the election result may have looked like if only millennials voted, according to polling firm, SurveyMonkey.
Yes, we have all learnt a lesson about the accuracy of polls in this election, but even with a sizeable margin of error, the results are telling.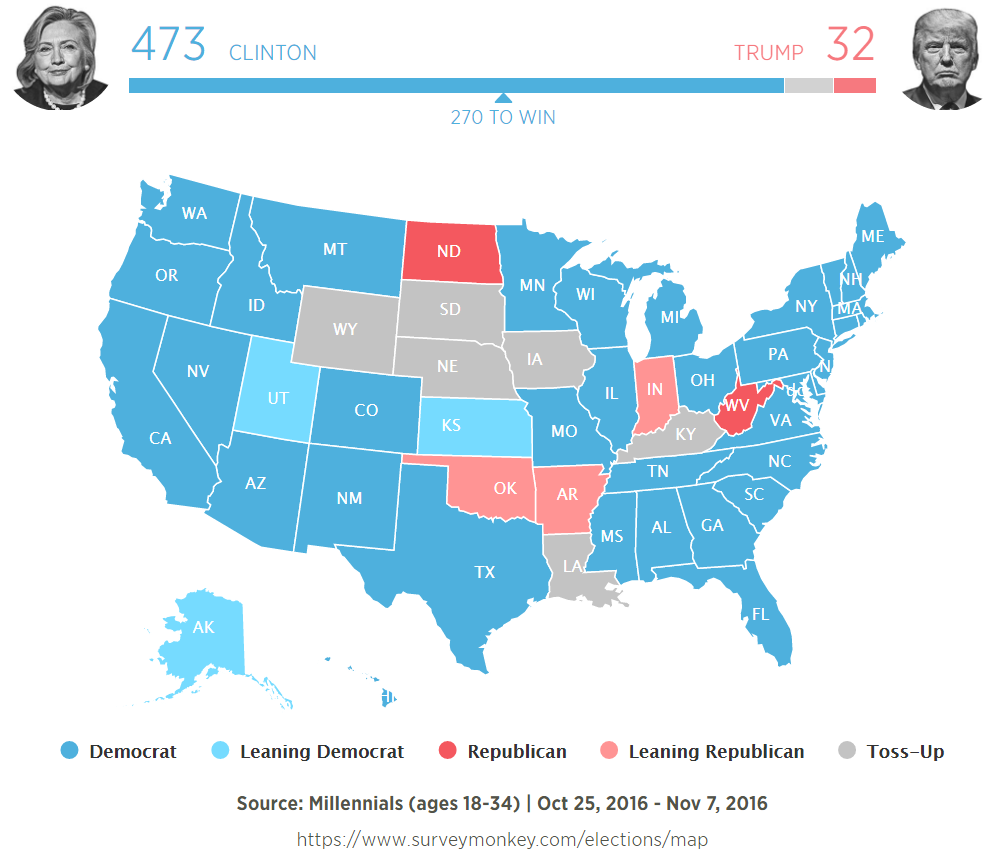 You can hone in on other demographics on SurveyMonkey's website. See this page for its methodology.  
12.40pm
Xero CEO Rod Drury is keen to recruit staff from the States. Here's a snippet from a letter he sent his staff this morning and published on Twitter:

12.30pm
Prime Minister John Key on Radio New Zealand about what will happen to the Trans-Pacific Parternship. 
"It's definitely not going anywhere in a hurry...
"We've had a great and growing and strong economy - one of the strongest economies in the developed world - without TPP.
"It would have been nice to have, but we're not going to have it in the short term...
"But does that mean there will never be an attempt to re-negotiate it? No, because President Trump will get the same advice from the State Department, from the Pentagon, from the Treasury that President Obama got, which is that you need to have influence and you need to have presence in Asia and to do that free trade locking you in there is the way to do it."
12.25pm
Speaking at a press conference this morning, Reserve Bank Governor Graeme Wheeler said the decision to cut the Official Cash Rate had been reconsidered today in light of the US election result. The RBNZ "reaffirmed it was the right one".
12.15pm
To begin with, this from BNZ markets expert, Nigel Collins:
The US will trumpet in a new President in January, and as the sun rises on the day after this apocalyptic election result there is a degree of calm after some extreme intra-session volatility.

The end result is that contrary to pre-election forecasts the Trump victory has seen the USD and most risk assets actually stronger.

Many analysts have adopted the view that Trump's policies are likely pro-growth and inflation, and that he will likely instal 2 more hawkish Fed Governors in next year's rotation.

- Markets initially completely priced out the chances of December fed rate hike, but that has been reversed and market pricing once again indicates an 82% probability of a hike.

- US 10 yr bond yields have swung a massive 37 bp range, and are closing near the highs around 2.05%

- Equity futures were initially pounded, but US stocks have finished up around 1.5% on the day.

- The USD is stronger, responding to the hawkish rates markets, with USD/JPY swinging a 5% range, but settling near 106 – the highest level in months.

Our currency was slow to react to a Trump victory, but has ultimately opened over a cent lower but not nearly as low as we thought a Trump victory would dictate – following more the USD strengthening trend, rather than the anticipated risk off forces.

It will take a while for markets to get this one right, as who knows which of the many Trump threats he will actually follow through on – and what the ultimate rebalanced impact will be on NZD and asset prices.