Insurers put embargo on transferring home insurance from vendors to buyers from Rakaia to Masterton; Wellington deals frozen as mortgages impossible without insurance, say agents; Boom stopped dead in its tracks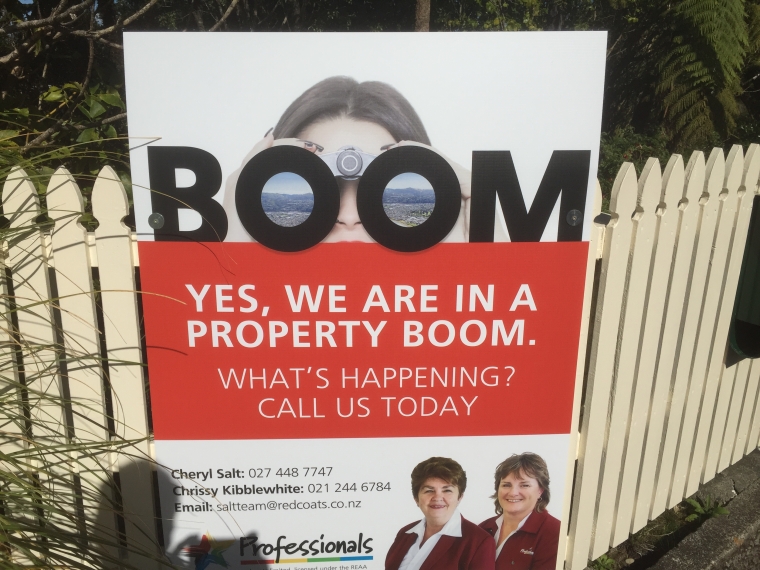 By Bernard Hickey
Wellington's new-found property boom appears to have been stopped dead in its tracks shortly after midnight on Monday because of an initial freeze on rolling over insurance.
Real estate agents in Wellington report that house sales were frozen mid-settlement Monday, Tuesday and Wednesday because insurers initially refused to roll over cover on properties from vendor to buyer, as they did in the immediate aftermath of the Canterbury earthquakes.
Later on Thursday the Insurance Council said it had negotiated an urgent 'un-freezing' of the moratorium on rolling over insurance from vendor to buyer, although insurers still retained the right to refuse insurance to buyers with criminal records or signs of fraud.
"We've confirmed with almost all the insurers that they will consider insuring the purchaser where their vendor is selling," Insurance Council Chairman Operations Manager Terry Jordan told Interest on Thursday afternoon.
The Hanmer earthquake at 12.02 am on Monday was upgraded from a 7.5 magnitude to a 7.8 magnitude late on Wednesday and has been followed by over 1,000 aftershocks.
Tall Poppy Director Sam McIntyre said on Wednesday afternoon that three home sales his firm was handling in the Hutt Valley had stalled before settlement on Monday and Tuesday, while another sale in Palmerston North had also been put on hold because of the embargo being applied by insurers.
Insurers were refusing to offer new cover to buyers until they could provide a new builders' report done after the earthquakes, which meant the deals were stalled, given mortgages could not be issued without insurance.
"We expect the number of delayed settlements will grow exponentially over the coming week if we continue to experience severe aftershocks, as we have over the past 36 hours. We also expect some house sales to fall through," McIntyre said.
Most deals are settled on Thursday and Friday so the freeze on the real estate sector will become evident today and tomorrow, with the potential for chains of deals throughout the upper half of the South Island and the lower half of the North Island to break from there.
"Many vendors signed contracts prior to the earthquake to purchase another property, made on the basis that their property sale would be completed," he said.
McIntyre told Interest on Thursday afternoon that one of the three frozen deals had been unfrozen when an insurer had changed its policy back in the wake of the industry-wide deal, but there was still uncertainty with other insurers.
"We managed to get one of the agreements across the line, but it's still a bit of a lucky dip," he said.
Insurers confirm embargo
Insurance Council CEO Tim Grafton confirmed the embargo on Wednesday on insurance cover for homes in affected areas, and that insurers were treating this quake differently to immediately after the Canterbury quakes in 2011 and 2012.
"Globally it is typical after a significant natural disaster for insurers to place a widespread embargo on new business or requests to increase existing cover," he said.
"In the Canterbury earthquakes, insurers supported the housing market by initially coming back on risk fairly quickly, but then as more seismic events occurred it took longer to return to business-as-usual. In the 2013 Seddon earthquakes, this embargo generally lasted a couple of months," Grafton said.
"Following the 14 November 2016 earthquakes, there has been some disruption to the availability of insurance for people seeking new or increased insurance cover," he said.
IAG, which owns AMI, State, NZI and Lumley, confirmed the restrictions on property sales in the upper South Island from Rakaia to Masterton in the lower North Island.
"Restrictions across various commercial and personal insurance products and underwriting are likely to apply in upper South Island and lower North Island areas as aftershocks continue to be experienced," IAG Spokesman Craig Dowling said in a statement early on Thursday morning.
"Restrictions may be in place in regions further north and south of the most impacted areas and insurers will be reviewing such restrictions regularly," he said.
A request for comment on the industry-wide unfreezing is pending.
New policies required
IAG advised buyers of homes already subject to an unconditional sale and purchase agreement on November 14 that they would be automatically covered by the vendor's insurance for any damage, but any deals signed since November 14 would require a new policy.
"Where a home is already insured with IAG and ownership is being transferred from an IAG customer to a new owner (whether with an existing relationship with IAG or not), we will generally agree to continue to insure the building subject to acceptance of the new owner, provided that any damage to the home has either been fully reinstated or any claim(s) for earthquake damage has not been cash settled and remains un-repaired," Dowling said.
"Our advice to people who are in the process of buying a new property in an area where restrictions on new insurance apply, and where they are an IAG customer but the vendor is not, is to liaise with the vendor's insurer to see if they will provide cover as that is a common solution."
However, Tall Poppy's McIntyre said the embargo applied across the industry, which meant buyers requiring insurance before they could get insurance were being asked for new builders' reports and for new insurance agreements before deals could settle.
Apartments most affected
The actual damage to stand-alone houses in Wellington is limited, although there are questions over apartments, which have been selling briskly in recent months.
Some apartment buildings in Wellington, including on Tennyson St, have been evacuated and many are undergoing engineering checks. One office building at 61 Molesworth St is slated for demolition after structural damage, while several buildings along the waterfront and near Parliament (BNZ, Statistics NZ and Defence HQ) have been deemed uninhabitable for up to a year.
(Updated with news of industry-wide deal to 'unfreeze' deals and allow rollovers, with conditions, corrected title for Terry Jordan)