Growing number of National MPs publicly declaring support for Bill English as PM; outcome of Monday vote may be fait accompli later today; Paula Bennett seen most likely choice as deputy; Collins focused on back-benchers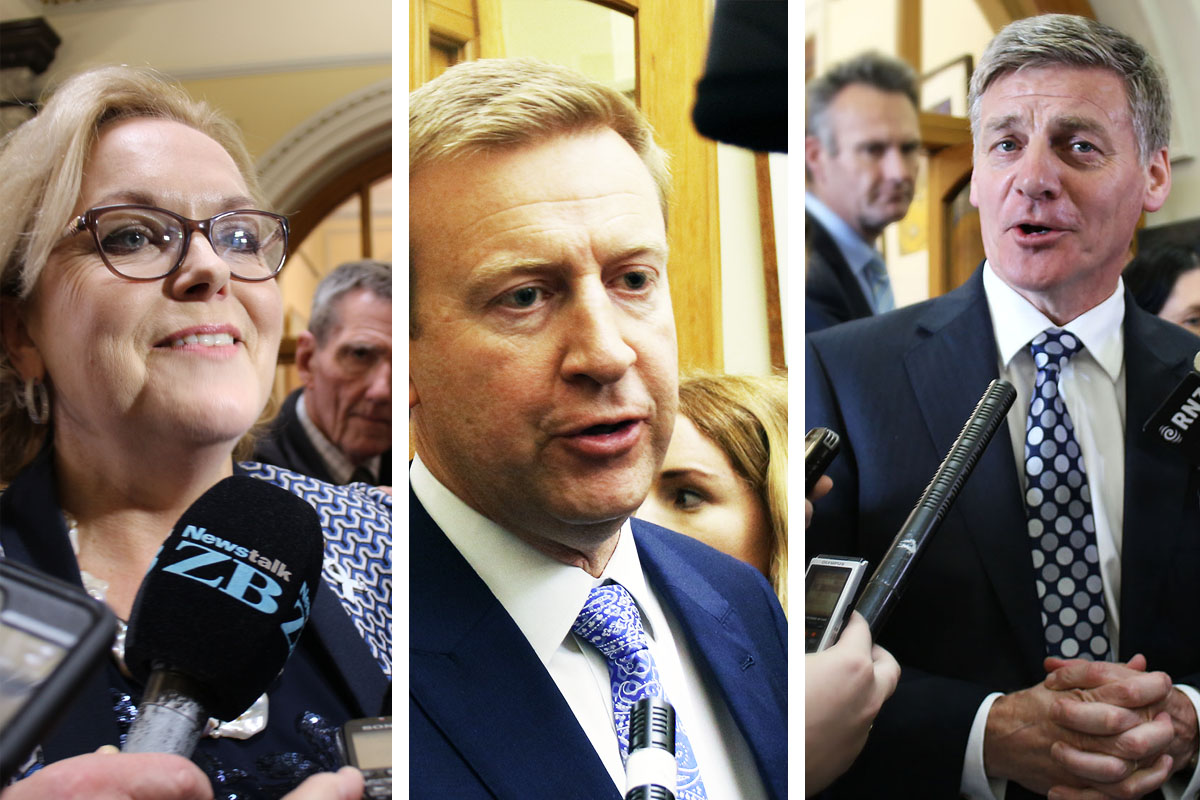 By Bernard Hickey
Bill English is set to be selected as the National Party leader and become New Zealand's 39th Prime Minister in an uncontested vote next Monday.
Contenders Judith Collins and Jonathan Coleman pulled out of the running on Thursday afternoon after it became clear that English had won the support of more than 30 of the 59 National MPs who will vote in the secret ballot.
Public displays of support from National MPs surged through the morning. High profile back-benchers Todd Muller and Chris Bishop announced their support around mid-morning, adding to a list of cabinet and junior ministers who have also expressed support for the Deputy Prime Minister to step up to the top job.
Paula Bennett and Simon Bridges will contest a separate vote in the meeting on Monday to be Deputy Prime Minister. English has said he could work with either.
But it's clear the contest has opened up a fault line over the issue of tax cuts and a sense of impatience on the back-bench about the long-running dominance of John Key's 'kitchen cabinet' of English, Steven Joyce, Gerry Brownlee, Murray McCully and (latterly) Paula Bennett in policy decisions.
Debate over tax cuts
Both of the other leadership contenders Judith Collins and Jonathan Coleman came out against using the growing surpluses for plain tax cuts, and would instead prefer a more targeted family package and more health spending respectively. Both have talked about the need for generational change and of the back-benchers' eagerness to get more involved in the big decisions.
Collins was specific in pointing out back-benchers outnumber the cabinet in a caucus vote where each vote is equal. "I think the back-bench vastly outnumbers the cabinet and I think that for most people in the back-bench this is their very first time involved in a leadership contest. I think many of them are very excited by it," Collins told reporters yesterday in Parliament.
"And I also think many of them are actually very unsure because it's their first time," she said.
The issue of how to spend the fast-growing surpluses will be in even sharper focus later today when Treasury's publishes its Half Yearly Economic and Fiscal Update (HYEFU) at 1.30 pm.
Debate over iwi and RMA
Collins also referred to caucus unease over RMA reforms that would give iwi more of a say in consenting decisions.
"I think iwi have a right, as does anyone else, but I think this country needs to think very carefully about the economic results of being able to say that one particular group can stop anything," she told Isaac Davison in an interview published in the NZ Herald.
Bennett favoured for deputy
Elsewhere, the field narrowed with Simon Bridges and Paula Bennett both indicating their willingness to go for the Deputy Prime Minister role, with Bennett seen as having the inside running to be English's deputy.
"He's a Southland farmer and I'm an Auckland city girl and I think we would make a great combo," Bennett said.
"I think we've got a nice difference in personalities, if you like. I've got my strengths and I've got my weaknesses and he does as well, and together we would make a great team," she said.
Some have suggested there is a chance English could appoint Judith Collins as deputy, but that's very unlikely.
English openly criticised Collins in the wake of the publication of Dirty Politics in 2014.
(Updated with Coleman and Collins pulling out)