Labour promises minimum wage boost, aims to link it to two-thirds of average wage; Reveals employment relations proposals; Little says working people's slice of the economy has shrunk under National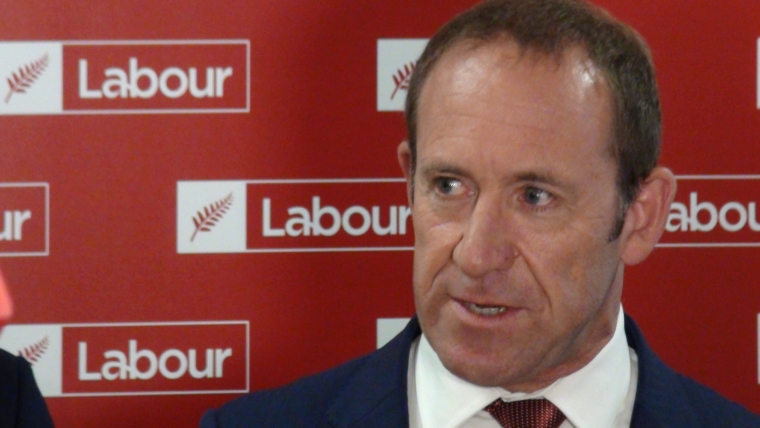 By Alex Tarrant
Labour has taken another swipe at National's economic management, saying working people's share of the economy has shrunk over the past nine years.
As part of a drive to focus the Election 2017 campaign on helping lower-to-middle income New Zealanders, Labour on Thursday promised a boost in the minimum wage while revealing a set of employment relations proposals for if it heads a government after 23 September.
Leader Andrew Little said the policies would "prevent the small number of bad employers undercutting good employers and driving a 'race to the bottom' on wages and conditions".
"After nine years of National, working people's share of the economy is falling," Little said.
"Less than 40% of economic growth under National has gone to working people through higher pay. If working people's slice of the economy hadn't shrunk under National, pay packets would have been a total of $23 billion larger.
"When 40% of children in poverty live in a working household and two-thirds of workers' pay fell in real terms last year despite the economy growing, working people are not sharing in economic prosperity. That's just not fair," he said.
Included in the wage and employment relations package announced Thursday are:
Increasing the minimum wage to $16.50 an hour (from $15.75 currently).
Replacing the current National Government's 'fire at will' law with fair trial periods that provide both protection against unjustified dismissal and a simple, fair, and fast referee service.
Introducing Fair Pay Agreements that set fair, basic employment conditions across an industry based on the employment standards that apply in that industry.
Promoting the Living Wage by paying it to all workers in the core public service, and extending it to contractors over time.
Doubling the number of Labour Inspectors.
The proposals should have been expected – many mirror Labour Party policies from the 2014 election when Little was the party's spokesman on the issue. When Little became party leader he put all policies under review.
Labour's key criticism of Steven Joyce's May Budget was that the incomes package as announced would make the wealthier better off while only delivering small income boosts to the lowest paid workers.
The announcement comes as the party is head down in work on its own 'families package' and Alternative Budget, which are set to re-focus Joyce's scheme to having a greater impact on low-to-middle income families.
Minimum wage boost, aiming to be two-thirds of average wage
On top of promising to boost the minimum wage, Labour is also proposing lifting it to two-thirds of the average wage over time, as economic conditions allow. The proposal matches a call from the Council of Trade Unions earlier this year.
Interest.co.nz's reading of the promise is this would suggest a greater proportion of workers could find themselves on whatever the minimum wage is at that time, than is the case now – albeit perhaps a higher minimum wage than currently.
The average hourly wage is just under $30 a hour, meaning the proposal would imply a minimum wage of just under $20 an hour if introduced today. Median hourly earnings are about $24 an hour. Two-thirds of that is just over $16 an hour - above the current minimum wage but below Labour's $16.50 proposal for the short term before the two-thirds rule comes in.
Meanwhile, Labour has committed to paying all core public sector employees at least the Living Wage, at an extra cost of $15 million, which will be extended to government contractors over time. Labour also promised to double the number of Labour inspectors to 110 at a cost of $9 million.
Fair trial periods
Labour has also promised to replace the National-led government's 90-day rule with trial periods that "include recourse for employees in the event of unjustified dismissal."
"Employers, particularly small businesses, have legitimate concerns that resolving employment disputes can be time-consuming and expensive. So Labour will establish a new referee service for claims of unjustified dismissal during trial periods," the Party said in the policy announcement.
"The referee will hold short hearings without lawyers and be able to make decisions to reinstate or award damages of up to a capped amount. This simple, fast, and fair service will be provided free for the parties involved, at a cost to the Government of $4m."
Fair pay agreements
Labour also announced a desire for Fair Pay Agreements (FPAs) to be agreed by businesses within an industry and the unions representing workers within that industry.
"FPAs will set basic standards for pay and other employment conditions within an industry, according to factors including job type and experience," it said in the announcement.
"The recent care and support workers' settlement is an example of how employers, employees, and government can come together to create an agreement that sets base conditions across an industry. By setting a floor, FPAs will prevent the 'race to the bottom' seen in some industries, where good employers are undercut by some bad employers who reduce labour costs through low wages and poor conditions.
"FPAs will create a framework for fair wage increases where good employers are not commercially disadvantaged for doing the right thing. FPAs will cover all employees and workplaces within the relevant industry. Negotiations on FPAs will begin once a sufficient percentage of employers or employees within an industry call for one. This threshold and the precise implementation of FPAs will be developed in government in consultation with all stakeholders."
You can read and compare all published Election 2017 party policies in our extensive database here. See party lists here.