Newshub poll shows big jump for Labour and Ardern at expense of Greens, National and New Zealand First; Winston Peters still Kingmaker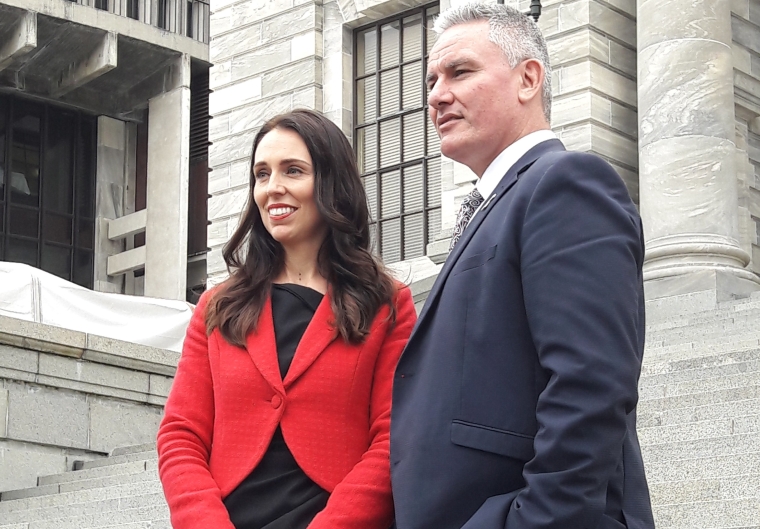 By Alex Tarrant
The Jacinda Ardern effect appears to have shown through in the latest election poll, with Labour taking a big jump at the expense of the Green Party, New Zealand First, and potentially National. Winston Peters' New Zealand First kept the 'balance of power' position.
Wednesday's Newshub-Reid Research poll showed Labour up nine points to 33.1%. Ardern's preferred Prime Minister rating was up nearly 18 points to 26.3%. The poll 1,000 - 750 phone and 250 online - has a margin of error of about 3%.
In contrast, National was down slightly to 44.4%, its lowest in this poll in 10 years. Bill English's preferred PM ranking was up nearly two points to 27.7%.
New Zealand First would be the third biggest party in Parliament, overtaking the Greens, on this poll. This came as the Winston Peters-led party's support did not drop as much as the Greens'. NZF polled down 3.8 points at 9.2%; The Greens down 4.7 points at 8.3%.
Of the minor parties, Gareth Morgan's TOP remained steady at 2%. The Maori Party were up slightly at 1.5% which would allow them a list MP in Parliament if Te Ururoa Flavell holds his current seat, as they have currently. ACT was on 0.6% and UnitedFuture 0.1% - both are expected to get back into Parliament due to electorate seat deals with National.
The poll would give National and current support partners ACT, UF and Maori 59 seats in a 121-seat Parliament, and the Labour-Greens block 51 seats. Support from NZF would allow both to get over the line.
Labour last week installed Jacinda Ardern as leader after a series of polls in the 23%-24% range the week before (including a Newshub poll) led Andrew Little to discuss with front-benchers whether he should resign or not. That morphed into party whip Kris Faafoi 'running the numbers' and Little by Tuesday morning last week was reported to be facing a vote of no confidence in Labour's caucus meeting if he did not stand down. He moved aside and Ardern was effortlessly installed with Kelvin Davis as deputy.
Prime Minister Bill English has remained under the kosh over the Barclay Affair, with Winston Peters trying to apply the pressure on what English knew, and when, regarding a confidential employment settlement between Parliamentary Services and Clutha-Southland constituency office manager Glenys Dickson last year.
The Green Party all that while was being dogged by Metiria Turei's admission that she committed welfare fraud in her 20s. Turei resigned from her co-leadership decision just before the poll was released on Wednesday evening.