NZ First's Winston Peters eyes minimum wage increase to $20 an hour from $15.75 over three years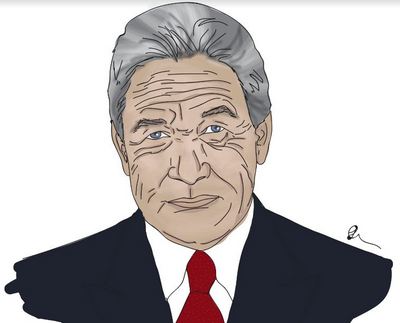 With recent opinion polls suggesting Winston Peters will be king or queen maker after the September 23 election, the NZ First leader has announced that his party wants to increase the minimum wage to $20 an hour.
This would be done over three years, Peters said in a speech in Tauranga, and NZ First would also introduce a tax package for employers and businesses to negate their increased costs.
Interestingly Peters' speech refers to his party's confidence and supply agreement with the last Labour government between 2005 and 2008 that saw the minimum wage increased by $3 an hour.
"We insisted that the minimum wage go from $9 per hour to $12 progressively by 2008. That is the biggest rise ever in the shortest time ever in this country's history," Peters said.
Does this suggest that Peters may be leaning towards backing a Labour Party reinvigorated under new leader Jacinda Ardern? On the surface his minimum wage policy may sound more palatable to Labour than National. But Peters will no doubt keep us guessing up to, and probably beyond September 23.
The minimum wage is currently $15.75 an hour. In June then-Labour leader Andrew Little said Labour wanted to increase it to $16.50 an hour. The Greens want to increase it to $17.75 next year.
The minimum wage was increased by 50 cents to $15.75 an hour from April 1. Announcing this in January, Workplace Relations and Safety Minister Michael Woodhouse said the increase would benefit about 119,500 workers and increase wages by $65 million a year. Woodhouse also pointed out there had been annual increases to the minimum wage since 2009.
Here's more from Peters' speech below.
Increasing minimum wage

New Zealand First will build our economy from the bottom up, creating opportunities for New Zealanders, boosting our economy and increasing productivity.

Our goal is to increase the minimum wage to $20 over three years. Drastically increasing the minimum wage will increase productivity and stimulate the economy.

New Zealand First's record on fair wages in this country is a proud one. In 2005 we campaigned to address the then low minimum wage under the Labour government.

As part of our confidence and supply agreement with Labour in 2005 following the election we insisted that the minimum wage go from $9 per hour to $12 progressively by 2008. That is the biggest rise ever in the shortest time ever in this country's history.

We know that without a change in tax for Employers and Businesses that can't happen.

Employers - Business tax package

Accordingly, we will: - introduce a tax package for New Zealand Employers and Businesses to negate the increased cost to employers and businesses of paying fair wages.

Removing GST on basic food

New Zealand First will lower the family food bill by removing GST on basic essential food. By lowering the cost of the household food basket we will bring much needed relief to thousands of low income New Zealanders.

GST would come off all basic food items – not restaurant and takeaway meals. This is a bold policy which goes to the heart of inequality that is undermining our society.

There are estimated to be 212,000 children in poverty in New Zealand. In April this year the Salvation Army said 20 per cent of New Zealand children were living in a household that regularly goes without essentials such as adequate food, clothing or heating. That's one in every five children in New Zealand.

The cost of removing GST on basic essential food is somewhere  between $600 million and $700 million. And for those armchair critics who have long forgotten, or have never known "struggle street", who don't know what basic or essential food is - I recommend they ask their grandmother.

Clampdown on Tax Evasion Behind closed doors the National government has been heavied by giant multinational bully boys over a proposed tax clampdown and our government buckled like wimps. Multinationals are evading paying tax in New Zealand of between $7 billion to $10 billion a year. It's a rort.

They're getting away with it and the government is letting them. A shady outfit from the United States no-one has heard of, the Digital Economy Group, pressured the New Zealand government and won. The so-called crusher Revenue Minister Judith Collins was crushed. Finance Minister Steven Joyce, huddled behind his desk and waved a white flag.

The giant multi-nationals want to paralyse the OECD. They're now doing the same to the National government. And they're succeeding.

Given the Labour Party's already announced policy on taxing multinational corporations to raise $200 million, it seems that like the National government they have already caved in even without having discussions with the secretive international group. New Zealand First would clamp down on these giants who cheat us.

We are going to clamp down on tax evasion. Multination corporations will be required to pay fair tax in New Zealand. For example Tegel, with its $614 million turnover pays only .38 percent of tax (profit was $34.2 million). This will end under New Zealand First.