National leader Bill English not giving much away ahead of talks with New Zealand First 'to show the respect to Mr Peters'; Plays down Super saga leak speculation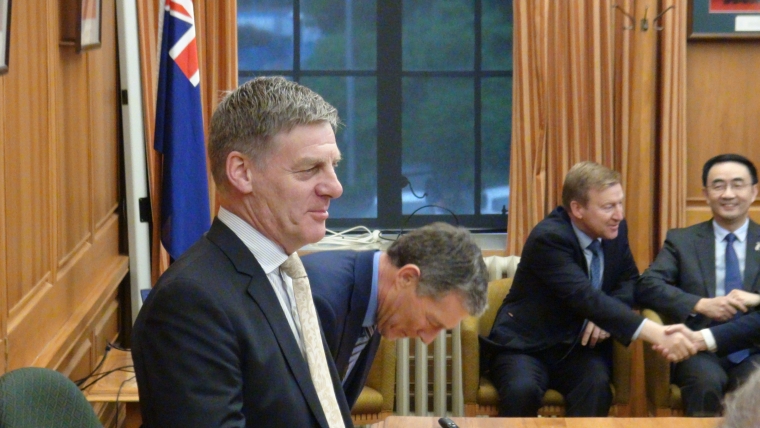 By Alex Tarrant
National Party leader Bill English is not giving much away ahead of talks with New Zealand First, saying he is keeping mum on potential aspects of any coalition agreement out of respect to its leader, Winston Peters.
The plan from National is to make contact with New Zealand First over the next few days, with calls having taken place between staffers trying to find a suitable time for a meeting between English and Peters. English said he was not concerned about the pace the situation was moving at.
Fronting to media on his way into National's first post-election caucus Tuesday morning, English was largely asked about speculation that Peters held National insiders responsible for leaking his Superannuation over-payment details during the election campaign.
Other senior caucus members, Paula Bennett and Steven Joyce, were also asked about the subject, both denying any involvement in any leak. English also defended his retiring chief of staff, Wayne Eagleson, over the matter. Anne Tolley had also been briefed on the over-payments.
Asked how much Peters' suspicion that the leak came from the Beehive could impact coalition negotiations, English said he didn't expect it would have an effect, and that any differences would be put aside with eyes on the main goal of forming government.
"There's all sorts of political pushing and shoving that goes on. We now have the responsibility of forming a strong and stable government," he said.
Meanwhile, another issue put to English was his description of Peters on Monday as a political "maverick", which according to reports didn't go down too well with Peters. "I'm not worried about that," English said. He said he'd known Peters for a long time, and had been in Parliament with him for 27 years.
While there might be some differences of opinion, English said he'd always been clear that he understood Peters' role, "given the result of the election." Peters was an experienced politician who also took his role very seriously, English said. He said it was now up to political leaders to form a government as indicated by the election result.
"Winston Peters knows that as well as anybody, and I'm quite sure that he takes that role…seriously and responsibly," English said.
National winning Northland off Peters should not hurt the relationship between the two parties, English said. Reports have suggested New Zealand First might want National to agree on an electorate deal for the next election as part of coalition negotiations.
English said he wasn't going to answer any questions on aspects of any coalition deal between National and New Zealand First. "Because, I want to show the respect to Mr Peters." English said the negotiating process would be constructed in a way that would suit both New Zealand First and National.
It is thought that Trade Minister Todd McClay, whose father Roger was a close associate of Peters, will be involved in National's team, as will Gerry Brownlee. McClay wouldn't comment on the process on his way into caucus. Meanwhile, National deputy leader Paula Bennett did not seem bothered about whether she'd be part of the negotiations, even seeming to appear prepared to vacate the Deputy Prime Minister role for Peters if required.
"I haven't spent much time with him, so I kind of don't have a relationship with him," Bennett said of Peters. "So there's nothing wrong, there's no particular relationship." Asked if she was prepared to give up the position of Deputy PM, she said: "I just think the negotiations need to happen, and we'll discuss what happens at the end of it." Bennett said she was "not too bothered, to be honest. I love what I do, I'd still be deputy leader of the party - that's the main thing, really."
Bennett was asked whether she was staying out of the negotiating team because Peters suspected her as potentially leaking his Super details. "No, not at all," she said. "I just think he's got better relations; as I say, I just don't have a relationship with him, and I'm sure he'd rather negotiate with people that he knows.
English then addressed the National Party caucus, saying the campaign they ran had been disciplined and purposeful. "We had some times of real pressure," he said. "The public had the opportunity to vote for other parties, in particular the Labour Party, to put them clearly into government. They decided not to do that."
Labour also held its first caucus meeting after the election, with Ardern thanking her team for their efforts. No mention of potential government formation while the media were present, although she's due to hold a press conference later Tuesday afternoon.