CBA chooses internal candidate Matt Comyn as its new CEO, replacing Ian Narev at Aussie banking behemoth that owns ASB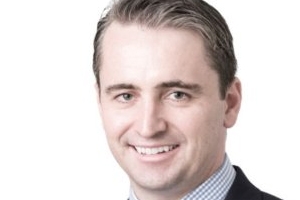 Commonwealth Bank (CBA) has chosen Matt Comyn as its new chief executive.
CBA is the parent of ASB Bank.
Comyn was the internal candidate. He is head of retail banking at CBA.
It chose him over some strong external candidates for the stability signal it sends in the face of a series of upcoming regulatory and legal challenges.
He starts the new role on April 9, replacing his outgoing boss Ian Narev, who announced his retirement last year after six years in the job.
Comyn is 42 and has until now run CBA's biggest division, its flagship retail bank. Prior to that he ran CBA's online stockbroking business CommSec.
Chairman Catherine Livingstone said the board wanted a leader who could deal with the "regulatory and reputational challenges" facing CBA, while also maintaining momentum in the bank.
It is widely expected that Narev will be able to report record annual earnings in excess of AU$10 bln for 2017 is a few weeks. A wholesale change in leadership at this point may have risked the rising tide of profitability at the bank.
"The Board's main priorities in selecting the new CEO were to identify the candidate who will maintain the momentum in the business, and address the regulatory and reputational challenges and recognise evolving community expectations," Livingstone said.
"The candidate also needs to transform the business and adapt the organisational capability and culture to suit the rapidly evolving competitive and technology-centric environment."
The Board has given Comyn a mandate was to make necessary changes at the bank with an "unwavering focus on its customers and delivering outcomes for shareholders."
As well as the royal commission into the financial sector and the money laundering court case, CBA is also facing a powerful investigation into its culture and governance from the prudential regulator.
Comyn's pay will be fixed remuneration of AU$2.2 mln. He will be eligible for an equal additional amount in short-term incentives, plus he could receive almost AU$4 mln in long-term incentives. Best-case scenario for him if the bank meets all targets is total annual compensation of AU$8.4 mln. Of it it meets none, then AU$2.2 mln.
Comyn is not a Kiwi. But he a director of Unicef Australia and a member of MasterCard's Global Advisory Board.
He has an Executive MBA from Sydney University, a Master's degree in Commerce, majoring in finance, and a Bachelor's degree in Aviation, both from the University of New South Wales. He has also completed the General Management Program at Harvard Business School.
He is married with three children.