Immigration Minister Iain Lees-Galloway says the Government never had a specific target for cutting immigration numbers, but National says Labour was beating the anti-immigration drum in the election campaign and is now "backsliding on a grand scale"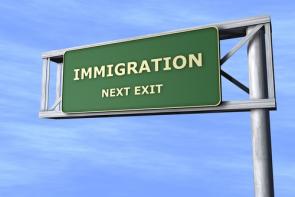 The Government has been accused of "backsliding on a grand scale" on its immigration plans after the Minister in charge said there is no target for an overall reduction in numbers.
Immigration Minister Iain Lees-Galloway says the Government has always said its focus was on getting immigration settings right, not on slashing net migration figures by a specific number.
"I would encourage people not to focus on the overall number. We're not focusing on the number. We don't have a target."
The most recent figures show annual net migration was a whisker over 70,000 in the year to January.
Before the election, Labour's immigration policy said if the party was in power, "we will take a breather on immigration".
Its plans were to limit student and work visas, targeting would-be migrants looking to enrol in "low value" tertiary education courses.
"In total, these changes are estimated to reduce net migration by 20,000-30,000," Labour's policy document said.
Before Prime Minister Jacinda Ardern took over as Labour leader, Andrew Little was striking a much stronger tone on the issue.
"Labour will make changes to immigration settings that will reduce net immigration by 20,000-30,000 a year," he said in a June speech, titled: 'Time for a breather on immigration'.
Lees-Galloway says Labour's modelling before the election, which was done without the "machinery of Government," predicted the policies "could have an impact of between 20,000 and 30,000".
He says Labour needed to have an estimated figure as the first thing the media would have asked after the policy was unveiled was "what's going to be the impact on numbers".
Now that he's the Minister, he says he is still waiting on detailed advice from officials on how the policies will impact immigration.
The Labour/NZ First Coalition document didn't list any targets or estimates of by how much the policies would reduce immigration.
"As per Labour's policy, [the Government will] pursue Labour and New Zealand First's shared priorities to: Ensure work visas issued reflect genuine skills shortages and cut down on low-quality international education courses and take serious action on migrant exploitation, particularly of international students."
In an interview with Reuters late last year, Prime Minister Jacinda Ardern said Labour's migration figures were an estimate, not a target.
Playing politics
Despite this, National's immigration spokesman Michael Woodhouse says the Government is playing politics with the numbers.   
"Iain Lees-Galloway is on record as saying we need to take a breather [on immigration] and we need to turn the tap down.
"For him to turn around now and to say that their goal was not to meet a specific net migration target, but simply to make policy changes that would have that effect, is a form of backsliding on a grand scale."
But Lees-Galloway accuses Woodhouse of "fear mongering" on this issue.
"This is mischievous from National as we were absolutely clear about what the policy was before the election; our intention was to improve the immigration system and we were not fixated on numbers."
Immigration numbers to fall regardless
The Reserve Bank's February Monetary Policy Statement forecasts immigration numbers to fall by around 30,000 over the coming years.
"As the labour market in Australia strengthens, we assume departures from New Zealand will increase. Consistent with an anticipated tightening in visa requirements, arrivals are assumed to fall from their recent elevated levels."
Westpac is expecting immigration to drop by 50,000 "just on natural forces" with the visa changes made by the Government accounting for a further 10,000 fall – taking the total annual net migration to just 10,000 by 2020.
Lees-Galloway acknowledges immigration will soon start to taper off naturally.
"I'm already getting predictions from MBIE that, even without any changes, we can anticipate a fall in long-term migration."
He says that is being driven by fewer students obtaining residency and some of the changes the previous Government made to "tighten up the international education sector".
"We can expect, over the next 12 months, to see a small reduction in overall migration because of those factors and some others as well."