MBIE & IRD staff to strike next month, with nurses also striking and primary teachers mulling possible industrial action in August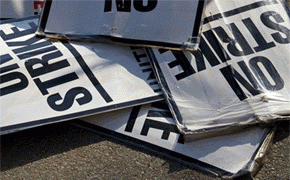 More than 4000 public servants have overwhelmingly voted to strike, with frustrations being levelled against the new Government, the Public Services Association (PSA) says.
PSA members at the Ministry of Business, Innovation and Employment (MBIE) and Inland Revenue Department (IRD) will take part in two two-hour stoppages on July 9 and 23.
National Leader Simon Bridges says Monday's announcement is worrying and will slow the economy and make it harder to do business. 
PSA National Secretary Glenn Barclay says members were "very reluctant" to take this step, but felt they had no other choice.
This is the first time PSA members at IRD have taken industrial action in 22 years.
"Spending millions on contractors while denying our members a cost of living pay increase is poor practice, and it's not in the spirit of the new Government's expectations for the public sector," Barclay says.
He says MBIE is the agency which advises New Zealand businesses on how to conduct their industrial relations – "we expect better of them."
The reason for the strike appears to stem from frustrations around the IRD's Business Transformation Project, which Barclay says will see one in three staff let go by 2021.
"To give just one example – IRD's system is unable to process the Best Start tax credit, which should give lower-income families an extra $60 a week for each child.
"It starts on 1 July, and members are told they will have to process this manually, drastically increasing their workload," Barclay says.
He adds that it is "deeply upsetting" to PSA members to have this happening, while employers refuse to consider a "modest across-the-board pay increase."
The notice of industrial action comes with nurses preparing to go on strike next month. Unions representing primary school teachers are also in the process of deciding whether to take industrial action in August.
Strike notices are being issued to both IRD and MBIE.
More strikes a concern, National says 
Bridges says the worrying increase in strike action under this "union-friendly Government" will slow the economy, make it harder to do business and affect the access of New Zealanders to public services.
"After less than nine months of this Government, 32,000 workers have been involved in industrial action or signalled their intention to be – compared to just over 27,000 that undertook strike action in the entire nine years of the previous Government," he says.
He adds that the situation will only get worse when Labour's proposed employment law reforms are implemented, which are specifically targeted at strengthening unions and weakening the ability of New Zealanders to run their businesses.