New car sales growth may have topped out but there are still fast growing segments and shifts, moving us to a fleet of bigger, beefier personal transport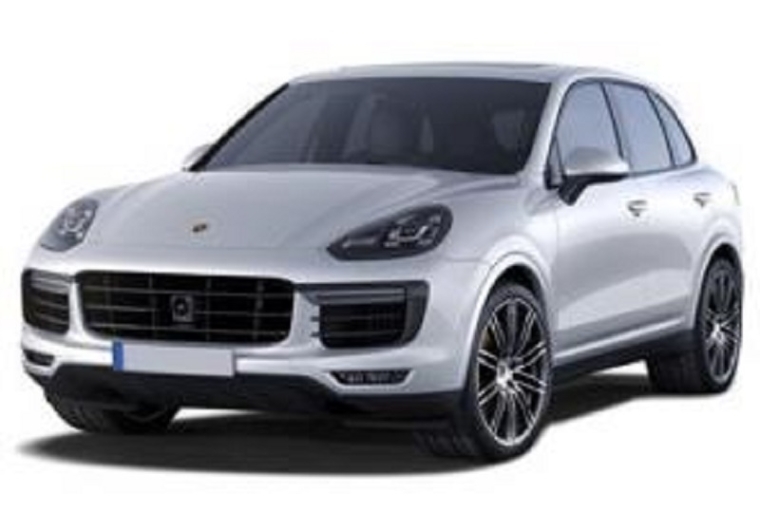 New Zealand's new car market is changing fast - even if the number of new cars sold has topped out.
In the year to June 2018, 108,731 new cars were registered. That is actually less than +1% more than in the year to June 2017.  That is the smallest increase since the year to August 2010.
However, even though there is essentially no growth, there is a big shift going on.
We are choosing SUV's increasingly when we do buy new.
In fact, now more than two-thirds of all new cars sold are SUVs.
The sales of SUVs are growing at +9% year-on-year. Sales of traditional sedans are falling -9% pa on the same basis.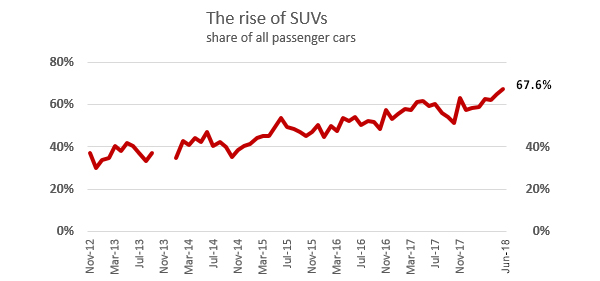 SUVs of course come in various forms; compact, medium, large, and luxury.
Sales of the compact category have been on the move higher, and are now at a bit less than 30% of all SUVs. In the year to June 2017, their sales were up +22%.
The medium-sized category won almost 43% share in June, and that is growing at an +11% rate.
But the large category is losing favour, selling -6% less in the year to June.
Sales of the luxury category (like the oft-maligned Porsche Cayenne plaything, the choice of wealth-flaunters) is small and exclusive as you might expect, but on the same basis, grew +23% in the year to June compared with the prior 12 months. Still, that only involved just over 1000 vehicles out of 64,900 in the whole SUV class in the past year.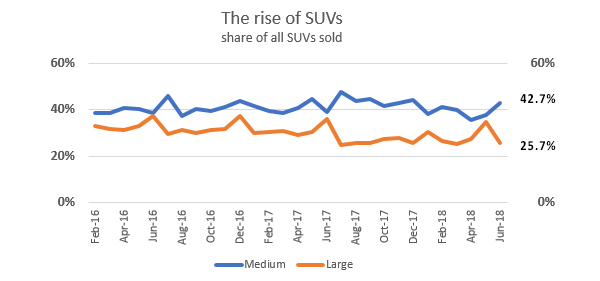 All this activity leaves the traditional sedan car market languishing. Almost -4,300 fewer of these cars were sold in the year to June, than in the equivalent prior period, a -8.9% atrophy.
| | | | |
| --- | --- | --- | --- |
|   | year to | year to |   |
|   | June 2017 | June 2018 | change |
|   | # | # | % |
| SUV - compact | 15,760 | 19,164 | +21.6 |
| SUV - medium | 24,374 | 26,947 | +10.6 |
| SUV - large | 18,826 | 17,774 | -5.6 |
| SUV - luxury | 831 | 1,018 | +22.5 |
| All other passenger cars | 48,093 | 43,828 | -8.9 |
|   |   |   |   |
| Total | 107,884 | 108,731 | +0.8 |