National Party leader Simon Bridges has led more than 70 town-hall style meetings since May in a bid to let people know 'what kind of bloke' he is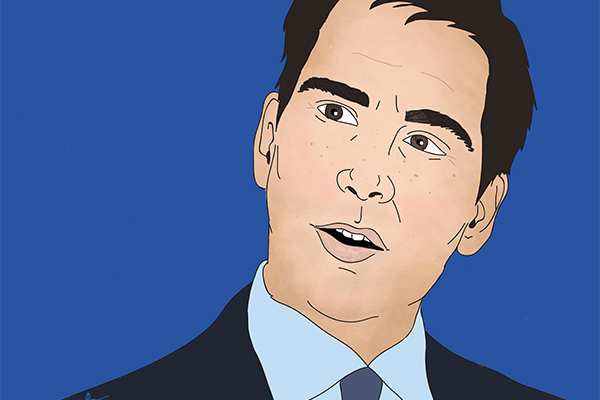 It is fair to say Simon Bridges, National Party Leader, is a bit tired.
Since May, he has led more than 70 meetings in 50 towns and cities, reaching an estimated 10,000 people across New Zealand.
The tour has been part of National's charm offensive to let the country know who Bridges is and what his party's plans are for the country if it wins the next election.
On Saturday, his tour of New Zealand came to an end. His last stop, his Tauranga electorate.
When speaking to Interest.co.nz, Bridges had just finished a public meeting in Auckland's Te Atatu, the area where he grew up.
Finishing his tour with these two locations has a personal touch for Bridges.
"We have literally done a poetic something or rather to it," the usually quite articulate Oxford-educated former Crown Prosecutor says, clearly a bit fatigued by the process.
"The reality is it's been a big job – a lot of meetings over a lot of days... it takes a lot of stamina."
From the depths of the South Island's Invercargill to Kerikeri in the far north, Bridges has spent an enormous amount of time travelling the country in the last two months.
There were a number of reasons he decided the tour was worth it. Gauging the mood of the nation, meeting National supporters, listening to peoples' concerns.
But one reason really sticks out.
"Then there is another part of it, which is ultimately just kind of personal to me – it was a bit of a job audition."
Bridges has been National's leader since March following Bill English's resignation.
But so far, he has struggled to resonate with many voters.
In the most recent Reid Research poll, he was at 9% on the preferred Prime Minister ratings – well below Prime Minister Jacinda Ardern's 40%.
But he is not concerned with those numbers – New Zealand has a Parliamentary democratic system not Presidential, meaning all that matters is the party vote.
On that measure, with 45% support National is the most popular party in Parliament – polling 2.5% higher than Labour.
Getting to know this Bridges bloke
Bridges wanted to let "a bunch of people from all sorts of walks of life get a sense of what kind of bloke I am."
And getting out and about on the tour was the right way to do it, he says.
"I could sit in my office in Parliament or my electorate office, but I wouldn't necessarily be learning a lot from that."
The tour has "sharpened [him] up," he says
"Being out and about has forced me to clarify what I'm thinking in a bunch of areas."
And which areas are those?
One is the way his party does politics – "much of what we do in Wellington doesn't matter a toss."
So much time is spent on seemingly insignificant bits of "stupid political stuff," such as what NZ First Leader Winston Peters has said that day, Bridges says.
"That does not cut through – that's not what matters in New Zealand outside the beltway."
People are talking about the economy, welfare and law and order, he says.
"People are definitely compassionate, they want to see rehabilitation and efforts to keep people out of jail.
"But they also want to see the bad bastards put inside and a deterrent effect so that other people don't do those serious crimes."
The NZ First effect
Traditionally, National has been the dominant party in New Zealand's regions and has performed well in many of the areas Bridges' tour has stopped at.
But recently, New Zealand First has been eyeing the provinces too.
Armed with a $3 billion Provincial Growth Fund war chest, Regional Economic Development Minister Shane Jones has also been up and down the country, spending millions of dollars in the regions.
Bridges says the tour had nothing to do with combating NZ First's attempts to claim the regions.
In fact, he says he has talked to many NZ First voters who have expressed their disappointment in the party.
"There is a fair degree of cynicism and disillusionment within NZ First. [It's voters] feel let down as it hasn't done what it said they would do."
He points to NZ First plans to cut immigration as the main example.
But he does not shy away from the fact New Zealand's regions will be key to National winning back the Treasury benches in 2020.
"I think you would have to say it was true prior to the election, also true today that in rural and provincial New Zealand, we still have very strong support.
"But we need to keep earning that every day."