'What I am doing right now is pretty much career suicide for an economist. There's no going back' - TOP's new leader Geoff Simmons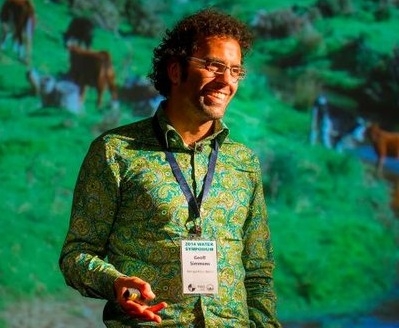 The Opportunities Party is being revived.
Wellington economist and former TOP co-Deputy Leader, Geoff Simmons, has returned to the party and been named Leader.
Meanwhile Gareth Morgan is set to remain out of the political arena, as the "Chair" of the party's "Policy Committee".
Morgan only six weeks ago took aim at New Zealand's "fat, content and complacent" voters, announcing he'd wind TOP up.
A week later he back-tracked a little, saying he'd be happy to fund a credible successor.
Now, TOP is rearing to go again, with Simmons and 2017 TOP candidates, Olly Wilson and Paddy Plunket, on its new board.
The party is however without some of its key former candidates, including Jenny Condie and Jessica Hammond, who have formed a political action group, Civic, and also intend to contest the 2020 election.
While Morgan will continue bankrolling TOP, the party appears keen to diversify the source of its funding.
Interest.co.nz got in touch with Simmons (who's travelling through Italy) and put the following questions to him over email:
Gareth Morgan in July said he'd be happy to fund a TOP successor but the leader would be "personally liable to the funder" if they didn't implement his policies. How do you feel about this?
Evidence based policy is the core of TOP. That is what myself, the new Board and anyone passionate about TOP are all committed to. So I feel liable to our members and myself on this one, as much as to Gareth.
Gareth will be staying on as Chair of our Policy Committee but is not involved in the operational/political side of the party. So I don't envisage any differences over policy.
From the time Gareth Morgan announced TOP was over until now, has TOP received any funding pledges? If so, what is the value of the funding pledged and the funding received?
The sad fact is that political parties need serious money to be a contender these days, especially if they are starting off outside Parliament. It seems sad for democracy, but there it is.
Gareth has endorsed the new Board and he is still contributing some funding, but we can't rely on him competely and are looking to raise funding from other sources. Our first port of call is a crowdfunding campaign with members. Now the changes at TOP are public we will be looking for other major donors, so if anyone else out there is interested in getting involved as a funder, please get in touch.
What is your message to the people who voted TOP in the last election who feel let down by the way the party has since fractured?
There were certainly a lot of people who felt passionately about TOP and were disappointed at the prospect of it winding up. It was their reaction which spurred this whole rebirth – so to those people I say thanks for the passion! I am excited about how TOP is evolving now.
How do you intend to rebuild trust in TOP?
I will be spending the rest of the year doing a series of roadshows around the country (no, not in a Parliamentary limo) talking to members and anyone who is interested in the party. I want to hear from them how they want the party to run in the future.
As part of this process I want members to vote for a representative on the Board and to vote for a leader. I will naturally be running for that position.
The good thing with TOP is that we have a blank slate so we can learn from our own mistakes and the mistakes of other parties in how we are set up. I really like what we are doing with the Policy Committee – it is completely divorced from the political side of the party so that it can be protected from political horse-trading.
It wasn't long ago (December) that you quit the party. What's changed since then? Why have you returned? How can the public be sure you are seriously in it for the long haul?
I quit as co-Deputy Leader, but I left the door open to returning if the circumstances were right. And I would say right now those circumstances are perfect. I think we have struck the right balance between continuity of what worked for TOP at the last election and some evolution and growth as a party to take us to the next level. It has taken some time for everyone's thinking to develop to that point we are at now, but looking back I would say that was time well spent.
How can the public know I am serious about the long haul? When Cortez took on the Aztecs, he trashed his ships to make sure his men had no choice but to fight with everything they had. The reason I bring up that story is what I am doing right now is pretty much career suicide for an economist. There's no going back.
How will TOP be different now that you are Leader?
Honesty is really important to me, so you can count on me to be honest even when it hurts to do so.
Fairness is big for me too, and the current set up just isn't fair for younger generations. We are looking at the first generation that won't have as good a life as their parents. They can't afford a house, yet we expect them to pay the growing NZ Super and health bills and fix the environmental messes they have been left with. When all this causes mental health problems they can't get help and if they turn to cannabis for some solace they are criminalised. It's nuts.
Despite the handicaps mentioned above, there is a lot of incredible stuff happening at the moment. The social enterprise scene for example has incredible potential to solve our social and environmental problems, but needs help to grow. I love this sector, because I am passionate about people being free to set their own goals and pursue them, regardless of what they might be.
Will Sean Plunket manage TOP's media affairs again?
Nope.
Given National needs mates, it might be TOP's ticket to Parliament in the next election. There isn't a whole lot of cross-over between the parties' policies and Gareth Morgan has said he isn't willing to have TOP's policies diluted, but will TOP keep the door open to a partnership with National?   
I wouldn't call either Labour or National "friends". Both parties themselves have overseen two decades of mediocre economic, social and environmental outcomes as set out in Interest by Kerry McDonald.
As we have seen with NZ First, the key to leverage in negotiations is being willing to work with either Labour or National. Anyone involved in TOP is there to change policy, not tread water in Parliament for the sake of it. So I would reject any deal that would see us become a bolt-on to Labour or National. If you want to catalogue the failure of that strategy look at the achievement list of ACT or the Green Party. We will work with whomever is prepared to implement more of our policies, simple as that.
I would question there not being cross over in policies though. Simon Bridges says he cares about the environment and the economy. According to the OECD TOP's environmental policies can improve the environment and the economy. You don't improve the environment and economy by banning things, you change the game to reward the companies that behave well (so they can grow) and punish the dirty ones.
So there is huge crossover there; TOP is definitely in the blue-green space. And if National cared more about the economy than they did about house prices they would implement our tax policy too.