National MP Jami-Lee Ross quits party before Simon Bridges announces he's been expelled; Bridges welcomes police investigation into Ross' claims he's broken donation disclosure rules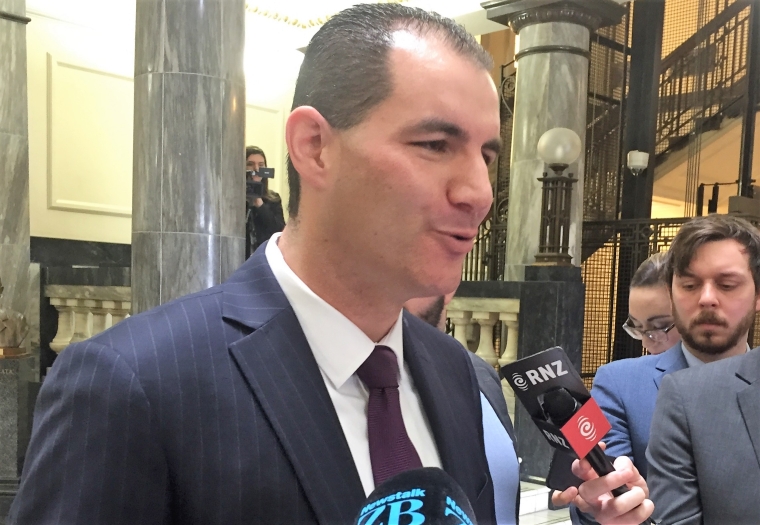 National Party Leader Simon Bridges has denied Jami-Lee Ross' accusations he tried to disguise political donations, saying he welcomes a police investigation into the matter.
The Botany MP, on Monday named by PwC the likely leaker of Bridges' travel expenses, has called Bridges "corrupt" and accused him of breaking the Electoral Act.
Ross claims Bridges tried to disguise a $100,000 donation from a Chinese businessman Yikun Zhang, a $10,000 donation from the Cathedral Club, and a $14,000 donation from an Exclusive Brethren-related company, Cubro Ltd.
He says he'll take his accusations, including a recording he secretly made of Bridges, to the police on Wednesday.
Ross also claims Bridges tried to push him out of the party by accusing him of harassing four women. 
However Bridges says Ross' claims are "baseless" and "entirely false".
Supported at a press conference by Judith Collins, Paula Bennett, Amy Adams, Todd McClay and Mark Mitchell, he clarified the National Caucus has unanimously voted to expel Ross from the party.
As the Caucus met earlier in the morning, Ross announced his resignation from the party.
Bridges says the party has taken the strongest action it can against Ross and is "united" and "strong". 
"Everything about his behaviour – the lies, the leaks, and other matters as well are entirely unacceptable," Bridges says.
However Bridges has been unable to give a straight "yes/no" answer to questions asking him to clarify whether he facilitated a $100,000 donation from Zhang.
Ross has since tweeted pictures of Bridges and Zhang at a "private dinner". 
I said this morning I would release pictures relating to the May events I outlined. The follow pictures are of Simon Bridges at a private dinner on 14 May. I was also there. pic.twitter.com/AsExHDQP2I

— Jami-Lee Ross (@jamileeross) October 16, 2018
Ross says he'll stand in the Botany by-election as an independent.
He claims he has the support of other National MPs, but wouldn't say who. No MPs have expressed support for him. 
"I once thought Simon Bridges was capable of being Prime Minister. Now I see what's he's really like," Ross says. 
"Simon is a flawed individual without a moral compass and without any underlying principles, except power."