National Party leader Simon Bridges and president Peter Goodfellow say they heard second and third hand of dissident MP Jami-Lee Ross being taken by police to a mental health facility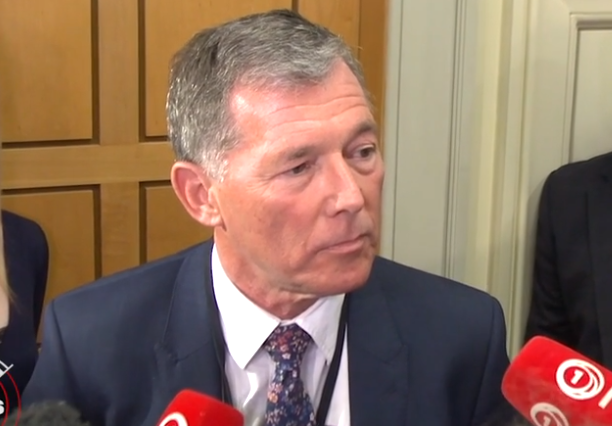 Questions remain over what, if any, National Party involvement there was in Jami-Lee Ross' admission to a mental health facility in Auckland over the weekend.
The New Zealand Herald on Sunday reported that it was told by someone close to Ross that he'd been taken by police to a facility.
It reported Ross had been "sectioned," meaning he'd been taken against his will, and was "not in good shape".
Following a tumultuous week, Ross on Friday announced he was no longer resigning from Parliament. Although he'd been expelled from the National Caucus, he committed to remaining in Parliament as an independent MP for Botany to keep dishing out dirt on National.
Asked on Tuesday about any National involvement in Ross being taken to a mental health facility, both National Party President Peter Goodfellow and Leader Simon Bridges were cagey.
Goodfellow said he had called Ross' wife to offer his support, but her phone was switched off.
"Jami-Lee is also, to the extent that we can, getting support from the party and from people in the party that know him. But at the end of the day, this is a very traumatic time for all of them," he said.
Asked specifically whether National was responsible for calling any emergency services, Goodfellow said, "I'm not going to go into the detail of it."
Pressed further on whether any National MPs were involved, he said, "I'll let them answer."
"This is a matter to do with one of the MPs though, and given those circumstances, I'll just leave it for somebody else to answer that question.
"Everything I've heard is third hand, so it's not appropriate for me to talk about it."
Asked whether National had anything to do with the process that saw Ross end up in care, Bridges said: "Certainly in terms of what has happened, I was only aware after the event, on second hand advice. I had certainly made clear I have not had anything to do with that."
Pressed on whether anyone else in the party was involved, he said: "I'm not going to comment on exactly what's happened for the reasons I've said…
"I'm not entirely certain myself exactly what has happened because I don't think it's appropriate for me to be talking to… the hospital or police…"
Bridges said he wasn't concerned about National being involved, even if he wasn't aware of any involvement.
"I think this is a matter for, in a sense, the relevant players and authorities, whether that be health, whether that be police. They can answer as they see appropriate."
Bridges said he wasn't aware of any allegations made about Ross' behaviour, as Leader, until his expenses leak investigation started.
He said an internal review of the party's culture would be conducted – the findings unlikely to be made public.
'Public has a right to know'
Left-leaning political commentator Chris Trotter believes the public has a right to know what part, if any, "the most obvious beneficiary of Ross's extraction from the political environment" – National – played in his detention.
In a blog post, Trotter questioned: "Who is in possession of Ross' property? His family? The unnamed mental health facility detaining him? The Police? The National Party? What, if any, obligation are those holding Ross's phone, his laptop, his hard-copy files, under to keep them safe from prying eyes?
"What, if anything, has been happening at Ross's home and/or his parliamentary and electorate offices in the time that has elapsed since he was taken into state custody? Has anyone come calling? If so, who was it – and what were they after?
"The public has a right to know the answers to these questions.
"That would not be the case if Ross was just another citizen, but he is much more than that. Ross is someone who has promised to expose what he alleges to be the corruption and moral failings of at least some of this country's leading parliamentarians.
"When a person promising revelations of this kind is suddenly uplifted and immured in a secure mental health facility, the public has a right to know on whose authority it was done; how it was accomplished – and to what purpose?"