Chris Trotter wonders when we as a nation stopped believing in ourselves sufficiently to attempt big heroic state projects such as those completed in the past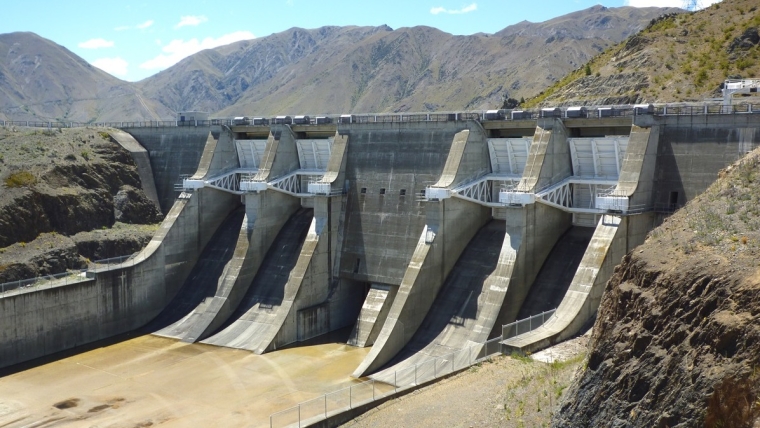 By Chris Trotter*
IT WAS ALWAYS quite a journey. Inland from the North Otago coast where I grew up. Following the Waitaki River valley, my father's grey Super Snipe making short work of the hills. Then we'd see it. Benmore. The biggest earth dam in the Southern Hemisphere. Colossal, even from that first glimpse, many miles distant. A project so large that one of the state's first tasks was to construct an entire town – Otematata – to house its workforce. The closer we approached, the more astonishing the engineering achievement became. What could New Zealanders not accomplish? Even at the age of 8 or 9, my heart swelled with pride.
It would be decades before I again encountered that same "can do" spirit. But, it was not here. It was in Beijing, just weeks before the opening of the 2008 Olympics. A group of New Zealand journalists was being driven around the city by Chinese officials eager to share their nation's architectural achievements. These were considerable – breath-taking even. But, what seized me in China was the same feeling that had taken hold of me all those years ago, as the family car approached the giant Benmore dam. What can human-beings not accomplish?
When did we stop believing in ourselves sufficiently to attempt projects on such an heroic scale? How was the national ambition that built Benmore lost?
Part of the answer is to be found in the humility that inevitably accompanies ecological wisdom. As more and more New Zealanders began to appreciate the environmental cost of projects like Benmore, their faith in the heroism of the big state agencies that conceived, planned and built them began to wane. It was fifty years ago, this year, that the campaign to "save" Lake Manapouri kicked-off. It would change the mindset of a nation.
Even before "Save Manapouri", southern tramping club bards had put new words to New Zealand's "national song" – as God Defend New Zealand was then called.
Down in Benmore's mighty gorge,
Tons of concrete they will forge.
While for Auckland power abounds,
Our South Island slowly drowns.
Dam the Wilkins, flood the Reece!
Will their planning never cease?
We must learn where danger lurks:
Vandals of the public works.
Environmental awareness was, however, just one part of the puzzle. The larger part of the answer lies in the political and economic over-reach that came to be known as "Think Big". Conceived as a way out of New Zealand's crippling dependence on imported fuel (which in 1979 had required the introduction of mandatory "carless days") Prime Minister Rob Muldoon's "Growth Strategy" ranks as the last truly "heroic" attempt to harness the nation's borrowing power to the long-term objectives of making New Zealand less energy dependent, boosting its export income, and reducing the fiscal burden of its import bill.
Muldoon's great misfortune was to launch Think Big at a time when, all around the world, the idea of state-led economic development was falling out of favour. Domestically, it was also time of rising popular discontent with Muldoon's National Government – manifested most dramatically in the massive protests which greeted the 1981 Springbok Rugby Tour. This discontent was extended into new and dangerous political territory when, in a bid to drive down inflation, Muldoon imposed a Wage and Price Freeze across the entire economy.
It was left to the new leader of the Labour Party, David Lange, to give voice to the widespread apprehension that the New Zealand state, controlled by Muldoon, was encroaching far too far upon what was still, overwhelmingly, a capitalist economy.
"You can't run an economy like a Polish shipyard!", bellowed Lange: sealing the fate of Muldoon's government with a single sentence.
Except, by transforming Muldoon into a diabolical lever long enough and strong enough to lift them into government, Lange and his Labour colleagues were forced to foreswear the "heroic state" their socialist predecessors had worked so hard to create. The alternative, kindly supplied in book form by their Treasury advisers, advanced a new hero – the Market. In a nation of less than 4 million, however, the New Zealand Market was never going to be in a position to think, or act, very big at all.
Nevertheless, "Rogernomics" was, in its way, every bit as ambitious and heroic as the state planning agencies and enterprises it dismantled. It takes a great deal of determination to lay low the work of 140 years. Even so, such a destructive mission can produce only one ending: its protagonist becomes the last hero. Roger Douglas and his crew convinced their country that it had no further need for big thoughts, or big deeds, or big individuals. The millions of small decisions made every day in the marketplace, would add up to outcomes that were quite large enough.
Not exactly.
Without the heft that only the state can bring to such a small marketplace, the New Zealand economy could no longer meet all of its people's needs. The best and the brightest departed to make their fortunes elsewhere, swelling the Kiwi diaspora to close to a million ex-patriots.
Lacking the market-balancing influence of large-scale state house construction, the private construction sector skewed itself towards the high end of the marketplace. Younger and less affluent aspirants to home ownership were, increasingly, left stranded on the wrong side of the affordability equation.
The only viable solution to these emerging problems of human supply and demand was to institute a dramatic change in New Zealand's immigration policies. The statistics associated with those changes are sobering.
In 2000, New Zealand's combined ethnic minorities (excluding Maori) totalled approximately 200,000. By 2018 that number had increased fourfold to 800,000. The fastest growing groups are Asian. Thirty years ago, New Zealand's Asian communities numbered just 48,000 people. By 2013 that number had exploded to 472,000. By 2040, New Zealanders of Asian extraction are projected to number 1.2 million.
According to the 2013 Census, persons belonging to the Asian, Middle Eastern, Latin American and African communities comprised 13 percent of the total population. The size of this country's non-Christian religious minorities, particularly the Islamic and Hindu faiths, have grown proportionately.
Very few members of the OECD have sanctioned such rapid and far-reaching alterations to the ethnic and cultural composition of their populations. Even fewer have dared to do so in the absence of an explicit electoral mandate.
The Market will always supply an answer to humanity's problems, even if it isn't always the answer humanity was hoping for. Changing New Zealand in the way state planners used to, in places like the Waitaki Valley, has become a lot harder. Muldoon's over-reach, and the Fourth Labour Government's reaction to it, has left the New Zealand state weaker and considerably less capable of bringing a better future into existence than was the case in the 1950s and 60s. Indeed, those who manage the state in 2019 are by no means convinced that such "heroic" exercises in nation-building are either economically responsible or morally desirable. Perhaps that's why the present government talks such a good game, and delivers such a bad one.
Thinking Big has been replaced by Talking Big. Delivering Big, in the manner that so impressed me as a little boy, looking at Benmore, no longer seems to be an option.
---
*Chris Trotter has been writing and commenting professionally about New Zealand politics for more than 30 years. His work may be found at http://bowalleyroad.blogspot.com. He writes a fortnightly column for interest.co.nz.